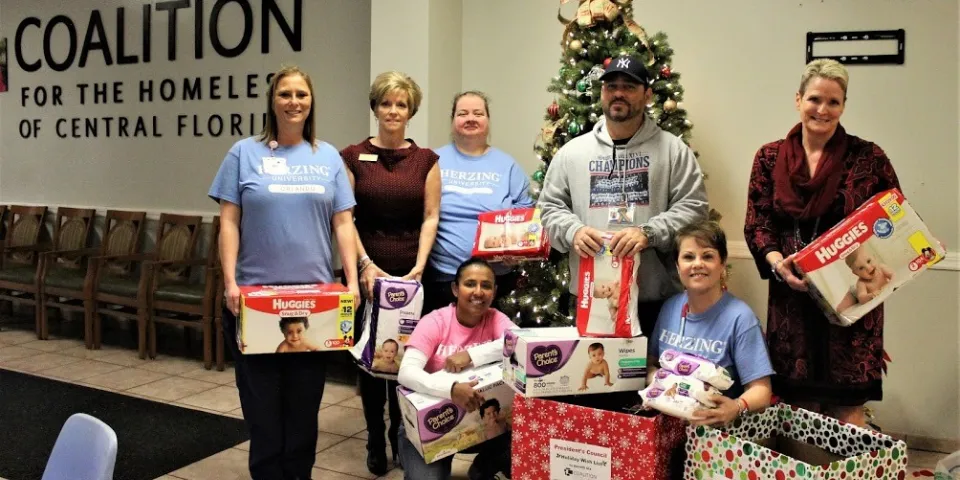 Nursing students representing the President's Council from Herzing University – Orlando Campus donated disposable diapers and related baby items to the Coalition for the Homeless of Central Florida on December 21, 2016.
Making donations is part of the commitment to the Coalition by nursing students and staff from Herzing University – Orlando. In June of 2015, the private, accredited, nonprofit university hired a full-time registered nurse (RN) to staff the health clinic at the family Center as well as the Coalition's separate facility for homeless men aged 18 and up. Currently, Herzing instructor Deborah Martin, RN, works four ten-hour days alternating at each facility, and she's usually accompanied by up to three Herzing nursing students.
"Obviously, volunteering at the Coalition's health clinic helps our student nurses fulfill degree requirements, but it's also a vital part of our real-world approach to healthcare education," says Orlando Campus president Heatherann Antonacci. 
Antonacci noted that having a staffed on-site health clinic reduces the cost for Coalition residents who may not have insurance, thereby avoiding a costly visit to the emergency room or the county health department.  Martin and nursing students provide health screenings, workshops, and treatment for minor illnesses and injuries.
The nursing students who presented the donation were Elaine Hockenberry, Angela Daquila, Diana Valdes, and Victor Jusino. Orlando Campus President Heatherann Antonacci, Lea Kelly, and Carolyn Ralph also helped unload the numerous boxes for the youngest of the 80 children currently residing at the Coalition's Center for Women and Families.
The President's Council serves as the student government for Herzing University – Orlando Campus. Its elected co-chairs, Hockenberry and Daquila, were responsible for raising both funds and awareness to make the donation possible.
"We held two raffles – a full turkey dinner for Thanksgiving and one for Christmas – as well as a cookout," said Hockenberry, who convinced a local retailer to donate the dinners and to contribute a $75 store credit to purchase the disposable diapers. In addition, the group collected diaper donations from students and businesses.
The Coalition for the Homeless of Central Florida has three facilities, including the Center for Women and Families.  The Center serves up to 230 men, women, and children at a time, with a maximum residential limit of one year. There are several births every month, so the need for diapers and wipes is constant.
Both Hockenberry and Daquila have volunteered at the Coalition, with plans to return.
"Just the fact that someone is there to talk to them, or help them monitor their blood sugar or blood pressure, makes residents feel more at ease in discussing their health concerns," said Daquila. 
Both Daquila and Hockenberry will complete their undergraduate degrees and take the RN exam in August of 2017.  Victor Jusino takes his LPN exam and graduates in February, while Diana Valdes just finished her first semester in the RN program.
Orlando Campus president Antonacci said, "We want to expand and enhance our community partnership with the Coalition in 2017 and beyond. It's a mutually rewarding relationship, with the biggest benefit to residents and the community at large."