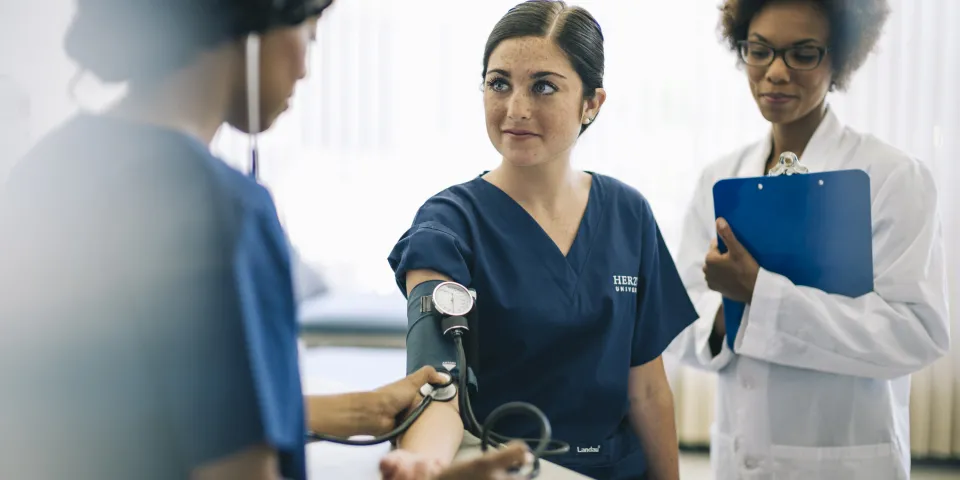 The Commission on Collegiate Nursing Education (CCNE) has approved the maximum 10 years of continuing accreditation for the Bachelor of Science in Nursing (BSN) program at Herzing University's Minneapolis campus.
"Twin Cities-area nursing students and employers expect our program to meet nursing accreditation standards and this 10-year accreditation confirms it," said Jason Morgan, Minneapolis campus president at Herzing. "We know how important a quality nursing program is to our students, and our students look at accreditation when choosing a school. Moreover, our clinical partners want registered nurses who've earned a bachelor's degree from an accredited school."
Accreditation by CCNE shows that Herzing's BSN program is sufficient across a number of criteria including institutional resources, quality curriculum and teaching practices, and program outcomes related to completion rates, pass rates and employment. Herzing also has a systematic evaluation plan that includes ongoing assessments of the programs to show that the university continues to meet CCNE accreditation standards.
The BSN program at Herzing's Minneapolis campus offers year-round study, allowing students to graduate in as little as three years. Theoretical instruction is integrated with clinical experience in a variety of healthcare settings to provide a broad, holistic and reality-based understanding of the roles and responsibilities of a professional nurse. Students also develop the clinical judgment and critical thinking skills required to practice lifelong learning and to provide care to diverse populations across the health-illness continuum.
Officially recognized by the U.S. Secretary of Education as a national accreditation agency, CCNE is an autonomous accrediting agency, contributing to the improvement of the public's health. CCNE ensures the quality and integrity of baccalaureate, graduate, and residency programs in nursing and serves the public interest by assessing and identifying programs that engage in effective educational practices. As a voluntary, self-regulatory process, CCNE accreditation supports and encourages continuing self-assessment by nursing programs and supports continuing growth and improvement of collegiate professional education and nurse residency programs. The CCNE accredits more than 1,000 nursing education degree programs throughout the United States.
In addition to the 10-year accreditation by the CCNE, the BSN program at Herzing's Minneapolis campus is also approved by the Minnesota State Board of Nursing.