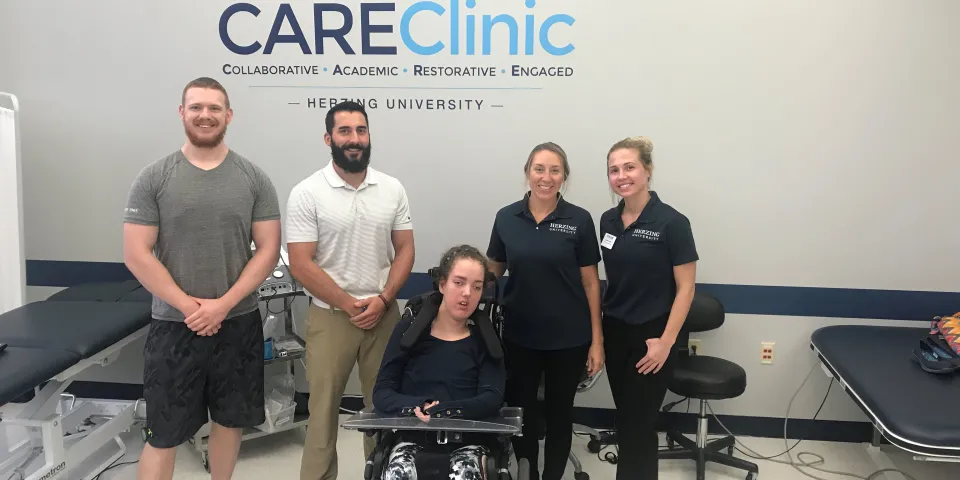 When people can't get insurance coverage for their physical therapy sessions, they might stop getting treatment. Fortunately, Herzing-Brookfield students are helping residents who need therapeutic help for their aches and pains but have difficulty paying for it.
The new pro bono CARE clinic, which offers therapeutic exercises and treatment through Herzing's physical therapist assistant (PTA) program, recently opened on the Herzing-Brookfield campus.
The CARE clinic allows Herzing's PTA students to practice applying the concepts and skills they learn in class to real-life cases, working directly with clients on wellness and therapeutic exercise instruction, chronic pain support, neurological care assistance, orthopedic care and more.
PTA student Nicole Felkl is excited to begin working in the physical therapy field after graduation. Pursuing her associate's degree in physical therapy will also help her expand current service offerings at her massage therapy practice.
"I enjoy being able to teach others different exercises and healthy habits that will allow them take better care of themselves," she said. "At the clinic, we see clients with postural misalignments, chronic pain issues, spinal cord and other neurological deficits and more. It is a great learning experience."
Designed to not only provide valuable learning opportunities for students, but also to help increase access to care in the community, CARE clinic services are offered at no cost to community members.
"The CARE clinic provides our students with the hands-on learning experience that will prepare them to be successful both in their clinical externships and their careers, said Kim DeChant, PTA Department Chair at Herzing University. "At the same time, students are able to give back to the community and learn about the importance of community-based care. It's a win-win for everyone."
"A lot of people think that physical therapy is only for people who are in pain, but it really is to help ensure general wellness," Felkl adds. "Everybody can benefit from this clinic."