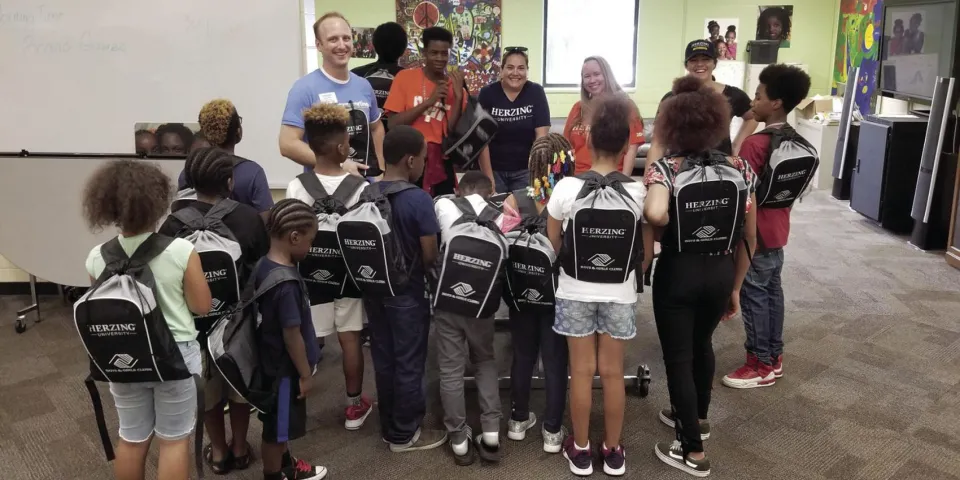 For the third consecutive year, Herzing University provided thousands of backpacks full of school supplies to help prepare children for the upcoming school year. Throughout July and August, Herzing campuses worked in partnership with local chapters of the Boys and Girls Clubs to distribute 5,000 backpacks to children in their communities.
"We believe in the Boys & Girls Clubs and the services they provide to youth near our campus communities. Like the Boys & Girls Clubs, we're committed to changing lives by helping people reach their full potential," said Herzing University President Renee Herzing. "Helping a parent cover basic school supplies lifts a financial burden off their shoulders. Our campus staff and students have come to look forward to this annual event and strive to make the experience fun for the kids."
The backpacks and supplies were provided to children at events in Wisconsin, Ohio, Florida, Georgia, Minnesota, Alabama and Louisiana. Some campuses also hosted back-to-school parties and open house events for local families. 
The Herzing-Orlando campus worked with the Boys and Girls Clubs of Central Florida to give away 500 backpacks to club members.
Herzing-New Orleans celebrated back to school with the Boys & Girls Clubs of Southeast Louisiana, giving away treats and backpacks.
Herzing-Brookfield helped celebrate back to school at the Don & Sallie Davis Branch Boys & Girls Club in Milwaukee. They provided 500 backpacks and Herzing nursing students offered free blood pressure screenings to family members.
The Herzing-Minneapolis campus participated in the National Night Out event at the Jerry Gamble Boys and Girls Club, which featured performances by the club members.
Herzing-Akron took part in a tour of three local Boys and Girls clubs, including the LeBron James Clubhouse, during which backpacks were given away. The day ended with an open house at the university campus featuring free haircuts for kids and emergency vehicles to explore.
The Herzing-Kenosha campus welcomed local boys and girls club members to an on-campus party with a dunk tank, bounce house, face painting, games, snacks and backpacks with school supplies.
The Herzing-Madison campus joined the Black Power Summit at the local Dane County Boys and Girls Club and donated 500 backpacks and school supplies. 
Herzing-Birmingham was able to also attend a local Boys and Girls club event where they donated 500 backpacks and school supplies, while also joining in on the fun. 
Thanks to our campus staff and students for all their hard work!