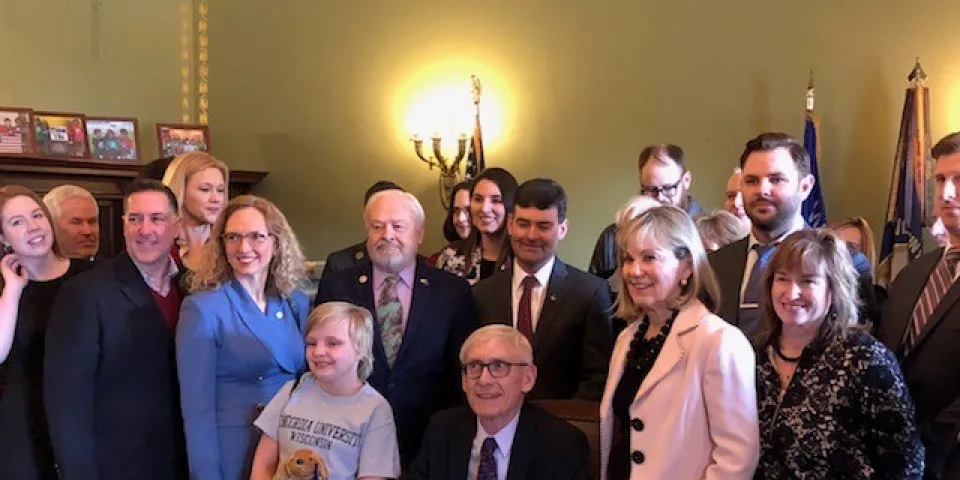 Herzing University President Renee Herzing and Wisconsin Government Affairs Liaison Jarvis Racine recently joined Wisconsin Gov. Tony Evers as he signed a new law that provides state grants for veterans and active duty service members who enroll in bachelor's or graduate degree programs at private nonprofit institutions in Wisconsin.
Racine, who is also the campus president at Herzing-Brookfield, testified in front of the Wisconsin Assembly Committee on Colleges and Universities in support of this legislation in January.
"I want to thank Senator Alberta Darling and Representative Tony Kurtz for being the lead sponsors on this bill as well as all of the other co-sponsors from both sides of the aisle," Racine said. "It's great when the entire state legislature rallies together in making higher education more accessible, especially for individuals who choose to serve our country."
The new law, formally titled 2019 Wisconsin Act 149, requires the Higher Educational Aids Board to provide veteran-related grants for students enrolled in bachelor's or graduate degree programs at private nonprofit institutions that are members of the Wisconsin Association of Independent Colleges and Universities (WAICU). Herzing University is a member of WAICU.
"Having been founded by naval officer Henry Herzing, Herzing University has focused on supporting veterans and active duty service members for our 55-year history," Renee Herzing said. "We're so proud to have been a leading voice on this legislation and we'll continue honoring our commitment to help current and future military students achieve their academic and professional goals."
The tuition grant requirements of the new law, 2019 Wisconsin Act 149, are as follows:
A $2,000 maximum grant must be provided per semester or session for the qualifying veteran, spouse or dependent.
Participating institutions must provide a matching grant for the veteran, spouse or dependent who attends the institution. This match can consist of scholarships, institutional aid or other assistance.
All qualifying federal aid must first be applied before students become eligible for the state grant dollars.
Grants are limited to individual students for the duration of 128 credits or eight semesters of eligibility, whichever is longer.
The Department of Veterans Affairs is required to verify veteran status.