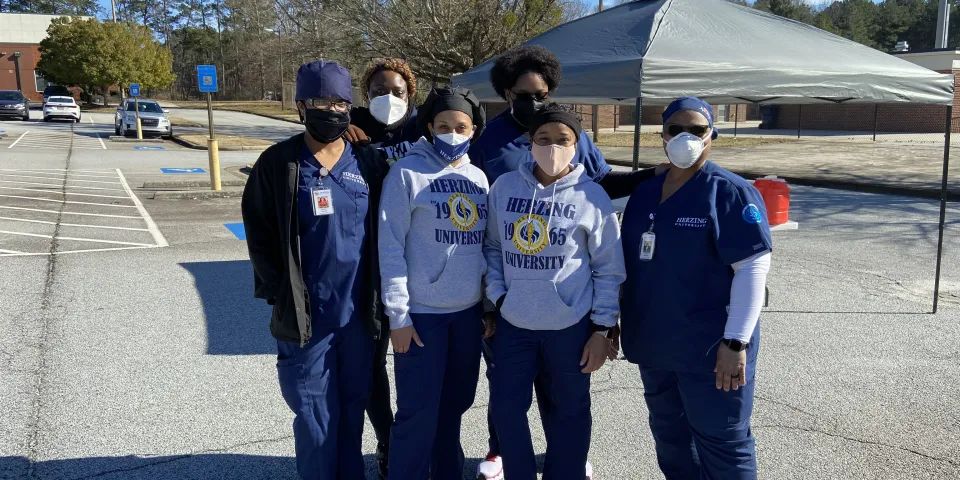 Herzing University's Atlanta campus is once again helping the metro area fight the spread of COVID-19.
Last semester, Herzing-Atlanta Faculty Clinical Coordinator Arleen Revely arranged for BSN students to conduct coronavirus testing at the Clayton County Health Department. In 2021, Herzing students and faculty are volunteering at the health department provide coronavirus vaccinations at its clinics.
"Community service is an important part of our culture at Herzing, and we are grateful for the opportunity to take part in the administration of vaccines for COVID-19," Revely said. "This is what nursing is all about. Over 400,000 lives have been lost to COVID-19 in the U.S., and we want to be a part of the solution. This vaccine is groundbreaking and was given emergency approval to allow for Americans to have access to the vaccine if they choose to get it."
Student volunteers participated in sessions on Jan. 15 and Jan. 23, and their next opportunity is Jan. 29 in Jonesboro, Georgia. The clinics vaccinate about 800 people per day.
"We are not just living through it, but we are fighting a pandemic," Revely said. "Our nursing students have been able to see a side of nursing that many don't see until they are well into their career."