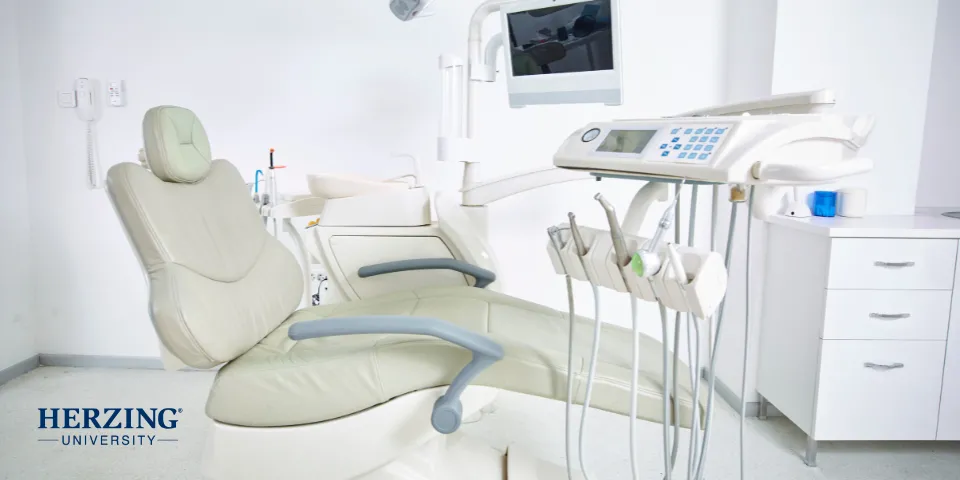 While all aspects of healthcare are feeling the effects of ongoing staffing shortages, one commonly overlooked and understaffed sector is dental care, specifically dental assisting.
To highlight the growth of this much-needed profession, Herzing University Minneapolis' hybrid dental assisting track was the focus of the American Dental Education Association (ADEA)'s latest bulletin of education. The track was first introduced at Herzing University's Minneapolis campus in 2019 and is designed to help prepare students to join the workforce at full speed by earning an associate's degree in dental assisting to then study toward an advanced dental hygiene degree — all while gaining professional experience in dental offices.
"Plenty of work went into developing a viable hybrid option for prospective dental assistants, but the results are real," concluded the article, authored by Stephanie Kurkoski, Dental Assisting Program Chair, Herzing University-Minneapolis. "If more employers and educators work together, similar programs across the country could make a big difference in keeping health care positions filled. This has been the university's way forward, and it would love to work with other institutions on ways to address the same challenges in their communities."
The ADEA is a non-profit group that contributes to the advancement of dentistry through academic dental programs and the education of dental professionals. Their bulletin of dental education highlighted four takeaways from the introduction of Herzing's dental assisting hybrid track: flexible options in education, educational solutions for rural communities, credibility within hybrid programs, and the need for clear paths to career progression. 
With 10 campuses across the country and an extensive online program, Herzing University is uniquely positioned to support community and regional efforts to address staffing shortages, not only dental assisting, but healthcare as a whole. 
To read the entire bulletin from the ADEA, visit their online publication (available now). To learn more about the ADEA, visit www.adea.org.