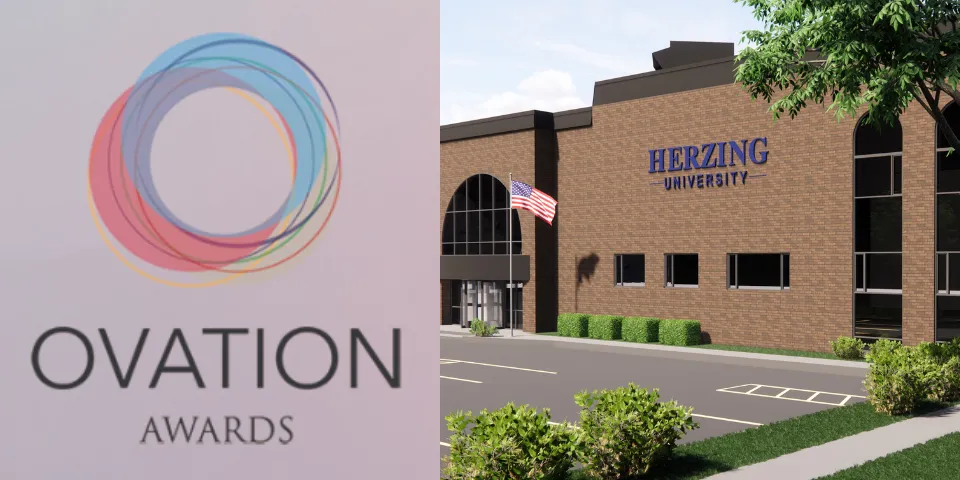 Herzing University was recognized as the recipient of the 2022 Ovation Awards Forward Award by the Kenosha Area Business Alliance (KABA) during the Alliance's annual awards dinner on November 3. KABA's "Forward Award" is an annual honor to recognize organizations and institutions that have positively impacted Kenosha's economic growth.  
"The Forward Awards honors businesses that are both engaged in their community and influencing the growth of local markets," said Becky Noble, KABA's Director of Marketing. "Herzing Kenosha's place at the heart of the city has already positively impacted Kenosha's economy and talent pool. They exemplify what it means to give back to your community, making them an ideal recipient for this award."
The convenient downtown location of Herzing's Kenosha campus continues to provide local, motivated individuals with the resources necessary to acquire critical skills and training while offering Kenosha-area employers a pool of talented, career-ready workers. Since 2013, Kenosha County has seen notable growth, resulting in over 11,000 jobs county-wide.
"We are thrilled to be receiving this award, and to continue working alongside such a strong and successful group of community and workforce partners," said Jeff Hill, president of the Herzing University Kenosha campus. "It feels extra special to be recognized for doing something we're passionate about. We see the results of our work every day in new and existing healthcare workers, and those in other career fields, graduating and returning to support the community they know and love."
Included among Herzing's many contributions to the local community is its partnership with local organizations and talent development groups to open the Kenosha Emerging Leaders Academy (KELA). Part of a large-scale effort to revitalize Kenosha's older neighborhoods, KELA will provide students and young adults — particularly both low-income individuals and young people of color — with the necessary resources to pursue both college and career trajectories. 
Winners of the Ovation Awards were chosen by a committee of community leaders and the event ceremony was held at the De Simone Arena on the campus of UW-Parkside.
Learn more about Herzing University – Kenosha.