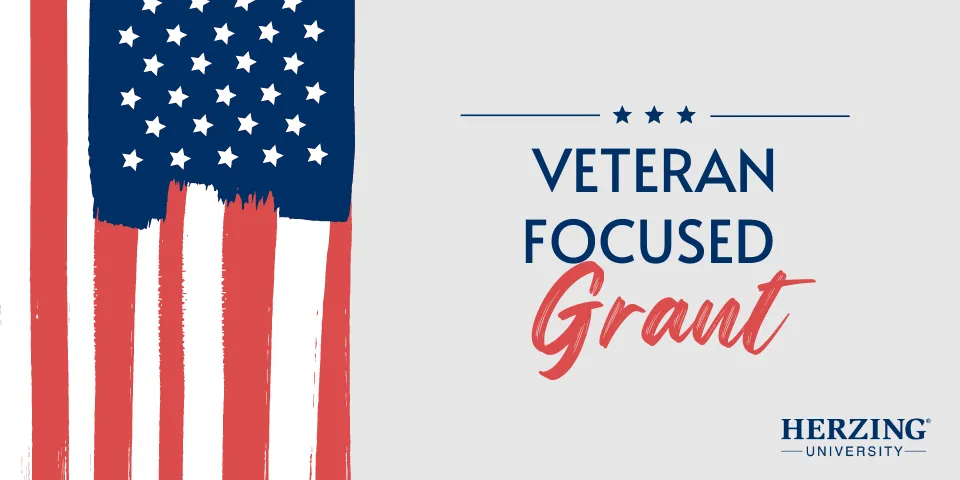 Herzing University was recently awarded a federal U.S. Department of Education grant for the development of additional veteran-related resources as a further demonstration of its dedication to supporting military students and veterans.
The $600,000 grant will be funded over the course of three years and allow Herzing to develop a dedicated Center of Excellence for Veteran Student Success (CEVSS) to expand the institution's ongoing goals of providing valuable resources and opportunities for veterans to both reenter the civilian workforce and locate specialized support services to help them transition back to post-military life.
"This new program will enable veterans to not only transition into their new life but also thrive in it. We hope that through the CEVSS program, we can improve our overall services for veteran students, and better engage in recruiting activities to attract more veteran students to Herzing," said Renee Herzing, President of Herzing University.
Currently, 380 veteran students are enrolled in Herzing programs across the country, including 327 in an online/hybrid modality and 56 who live within commuting distance of the University's Kenosha, Wisconsin campus.
"This program will help to address the compelling gap that exists in the current student services infrastructure. Herzing continues to support the increasing demand for mental health professionals exacerbated by the pandemic," said BriAnne Danielson, AVP of Student Services. 
While Herzing has a strong history of supporting the U.S. military and veterans—its founder, Henry Herzing, himself having served as an officer in the Navy—more efforts are needed to fully support the creation of pathways for students moving from the military to school and then to the workforce. With the help of the new program, individuals unfamiliar with combat experiences can identify support services, make valuable connections and develop valuable job skills. 
"The CEVSS program will provide an on-campus space and online resources designed to offer support, programs, and resources that aim to ensure inclusivity and a sense of belonging across the student lifecycle," said Dr. Beth Gilbertson, Academic Dean and CEVSS program director. As a current member of the Army Reserves and a 1SG with the 863rd Engineer Battalion in Darien, IL, she has a passion for this student population.
"It's about taking care of people. We recognize the service and sacrifice of our military-connected students and their families and are honored to focus on better serving them," Dr. Gilbertson shared. 
To learn more about Herzing University–Kenosha, the University's commitment to veterans, and how to enroll for an upcoming semester, visit www.herzing.edu/kenosha.