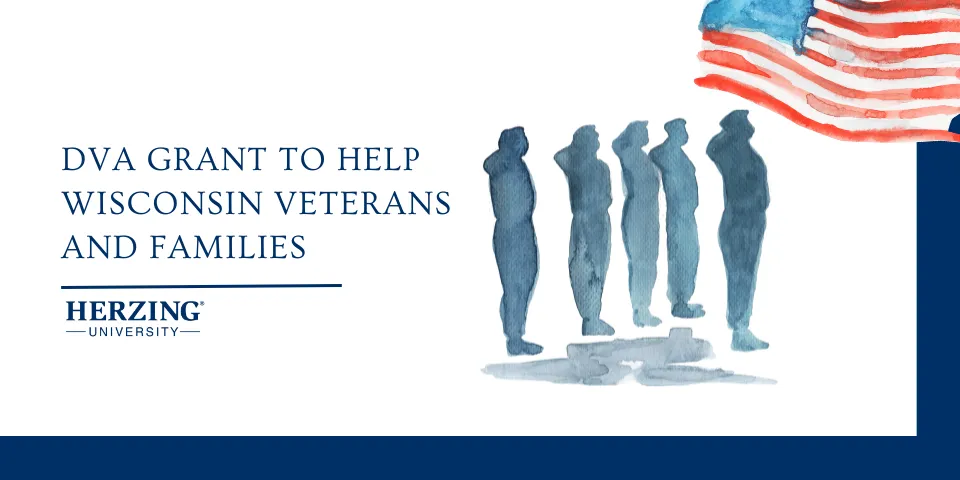 Wisconsin Governor Tony Evers and the state's Department of Veterans Affairs (DVA) announced on January 12 that Herzing University would be awarded a $25,000 DVA grant to provide financial assistance, entrepreneurship training, or other services to Wisconsin veterans and their families. The grant is part of a nearly $425,000 package being awarded to 13 nonprofit organizations across Wisconsin.
"As a state, Wisconsin is a national leader in providing for our veterans, and we continue to strive to provide our nation's heroes with the support and resources they've earned through their service," said Gov. Evers, in the official press release. "These organizations do great work, ensuring Wisconsin's more than 300,000 veterans and their families have the services they need to be successful, and they deserve to be recognized for being a vital part of ensuring our veterans are cared for and uplifted."
According to the official announcement, Herzing University will receive $25,000 to provide funding for a scholarship to help Wisconsin veterans with school-related expenses like testing fees, scrubs, or technology needs. A portion of the funds will be used to dedicate a Veteran Student Services Advisor to offer specialized support for veteran students for eight hours per week. The remaining funds will be used to provide professional development to Herzing staff so they can better support Wisconsin veteran students, especially those from underserved communities and populations.
"Herzing University remains committed to doing everything we can as an educational institution to help prepare our country's veterans with the skills training and opportunities to ensure they can enter into exciting careers once their valued service to our nation is complete," said Jarvis Racine, Vice President of Workforce Development and Government Affairs for Herzing University. "We greatly appreciate both Governor Evers' administration and the Wisconsin DVA for creating this grant and their recognition of Herzing as a leading statewide educator and a proud supporter of our military and veterans. This funding will help to offset many of the challenges veterans face when returning to the civilian workforce, including course-related costs and the types of unique support systems that are not always immediately accessible to them."
Since starting in 2015, DVA's grant programs have been funding organizations that aim to ensure Wisconsin veterans and their families have the resources they need, as well as nonprofit organizations that provide entrepreneurship, technical, business, or other assistance to veteran entrepreneurs to improve employment outcomes.
"DVA is proud to work with these organizations to provide vital services to Wisconsin veterans and their loved ones," said DVA Secretary James Bond. "From providing basic necessities to entrepreneurship training, these grants will directly fund bettering and enriching the lives of those who have served."
Learn about all thirteen recipients of this grants package here.