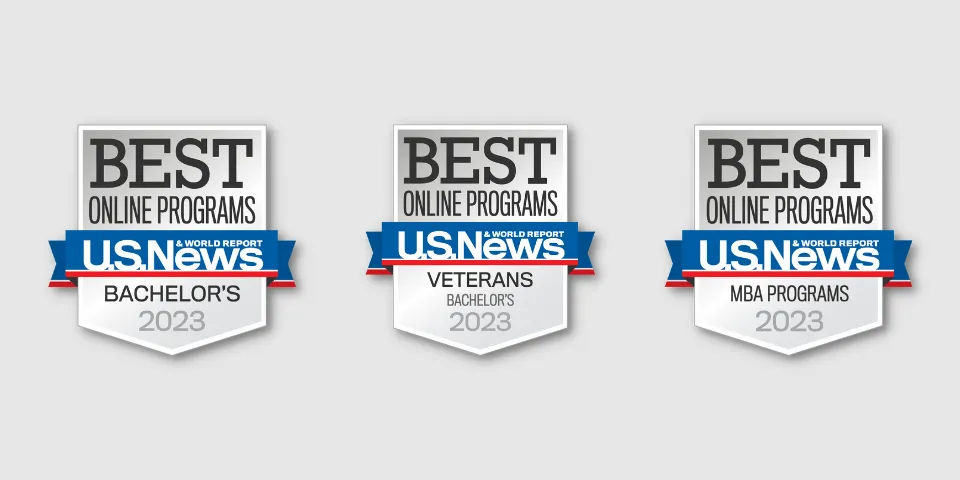 U.S. News & World Report has again ranked Herzing University's online learning programs among the best in the nation, now for the eleventh consecutive year. 
Herzing, an accredited, private nonprofit institution, was recognized by U.S. News & World Report's 2023 Best Online Program Rankings for its online Bachelor's program, online MBA program, and online Master's program for nursing. Both Herzing's Bachelor's and Master's programs were also recognized as top online degree programs for veterans.
This honor is awarded to exemplary higher education programs that are deemed affordable, accessible, and reputable for students with military experience. A two-time recipient of the Military Friendly® School designation by VIQTORY, publisher of G.I. Jobs® and Military Spouse®, Herzing has demonstrated a longstanding dedication to supporting veterans in their educational journeys and helping them reach their long-term goals.  
"Herzing was built on a commitment to support students of all backgrounds, including adult learners, individuals looking to change careers, and our nation's dedicated servicepeople," said Jeff Cross, Online President for Herzing University. "We are so proud to again receive this honor by U.S. News & World Report and we share the publication's belief that online learning is an integral part of higher education. We will continue to provide students across the country with the tools and experience necessary to succeed in a format that complements their lifestyle and advances them to their career of choice." 
Designed for individuals looking to complete or further their education, this year's edition evaluates more than 1,800 online bachelor's and master's degree programs.
The Best Online Programs include rankings of bachelor's programs as well as the following master's-level disciplines: MBA, business (non-MBA), computer information technology (including computer science), criminal justice/criminology, education, engineering, and nursing. While the methodologies are different for each discipline, they all incorporate metrics specific to online learning. The rankings only include degree-granting programs that are offered primarily online by regionally accredited institutions.
For more information on the rankings, visit https://www.usnews.com/rankings 
About Herzing University
Herzing University is an accredited, private nonprofit institution with 11 campuses across eight states and an online division. Founded in 1965 and headquartered in the heart of Milwaukee, more than 40,000 students have graduated from the University's career-focused and flexible master's, bachelor's, and associate degree, and diploma programs. Fields of study include nursing and a first-of-its-kind Doctor of Nursing Practice (DNP) program through Herzing's School of Nursing, as well as programs across healthcare, technology, business, and public safety. Since 2013, U.S. News & World Report has recognized Herzing University annually for having some of the nation's top online programs. Herzing University is accredited by the Higher Learning Commission. More information about Herzing University is available at www.herzing.edu. 
About U.S. News & World Report
U.S. News & World Report is the global leader in quality rankings that empower consumers, business leaders and policy officials to make better, more informed decisions about important issues affecting their lives and communities. A multifaceted digital media company with Education, Health, Money, Travel, Cars, News, Real Estate and 360 Reviews platforms, U.S. News provides rankings, independent reporting, data journalism, consumer advice and U.S. News Live events. More than 40 million people visit USNews.com each month for research and guidance. Founded in 1933, U.S. News is headquartered in Washington, D.C.