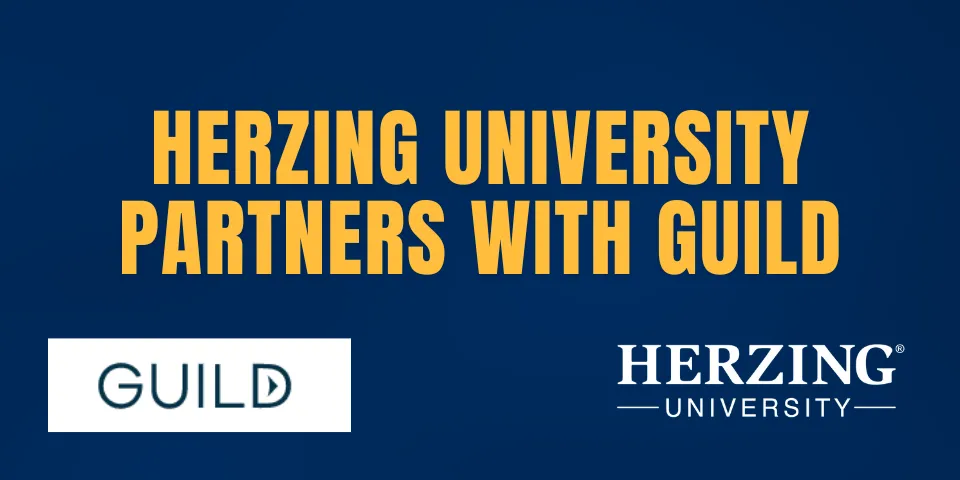 Herzing University, an accredited, private non-profit institution today announced a new partnership with Guild, the leader in opportunity creation for America's workforce. 
Through this new partnership, employees at leading healthcare organizations including Bon Secours Mercy Health, Sentara Healthcare, and Trilogy Health Services will now have employer-funded access to Herzing's career-focused healthcare programs.
"Innovative institutions like Herzing have a crucial role to play in helping to combat ongoing staffing challenges across the healthcare sector," said Hanna Patterson, Senior Vice President of Healthcare and Applied Learning at Guild. "Herzing's programs are designed to meet learners where they are today, whether they're embarking on a new healthcare career or pivoting into an in-demand discipline, and will help leading healthcare organizations as they create pathways in support of a broader, more diverse workforce." 
In response to the COVID-19 pandemic, Herzing expanded their nursing programs, spanning entry-level to DNP, to provide more degree pathways for students and to help address the global nursing shortage. 
Although the RN population is growing in diversity, minority nurses remain underrepresented. Findings show that nurses from minority backgrounds represent 16.8% of the RN workforce but make up more than a third (38%) of the U.S. population. 
"At Herzing University, we believe that if you want to improve access to quality healthcare for all communities, you need to change the face of who works in healthcare to more closely represent the communities they serve," said Jarvis Racine, Vice President of Strategic Partnerships, Workforce Development, and Government Affairs at Herzing University. "We are proud to partner with Guild in their mission to create cultures of opportunity and build the workforce of the future, a workforce full of healthcare professionals that are able to meet the social, cultural and linguistic needs of their patients." 
In 2021, 52% of students enrolled in Herzing nursing programs came from minority backgrounds. 
About Herzing University
 Herzing University is an accredited, private nonprofit institution with 11 campuses across eight states and an online division. Founded in 1965 and headquartered in the heart of Milwaukee, more than 40,000 students have graduated from the University's career-focused and flexible master's, bachelor's, associate degree, and diploma programs. Fields of study include nursing and a first-of-its-kind Doctor of Nursing Practice (DNP) program through Herzing's School of Nursing, as well as programs across healthcare, technology, business, and public safety. Since 2013, U.S. News & World Report has recognized Herzing University annually for having some of the nation's top online programs. Herzing University is accredited by the Higher Learning Commission. More information about Herzing University is available at www.herzing.edu.
About Guild
Guild unlocks the talent and economic potential of America's workforce for employees and their companies. Guild partners with the nation's largest employers—including Walmart, Chipotle, Discover, Hilton, Macy's, Target, and The Walt Disney Company—to create cultures of opportunity that help them attract and retain top talent while building the workforce of the future from within. By using Guild's proprietary Career Opportunity Platform to connect workers to a marketplace of education and learning programs that work in the real world, employees at those companies can gain the skills, knowledge, and guidance they need to build a brighter future for themselves and their families—all without paying for tuition or career services on their own. For more information, visit https://www.guildeducation.com/