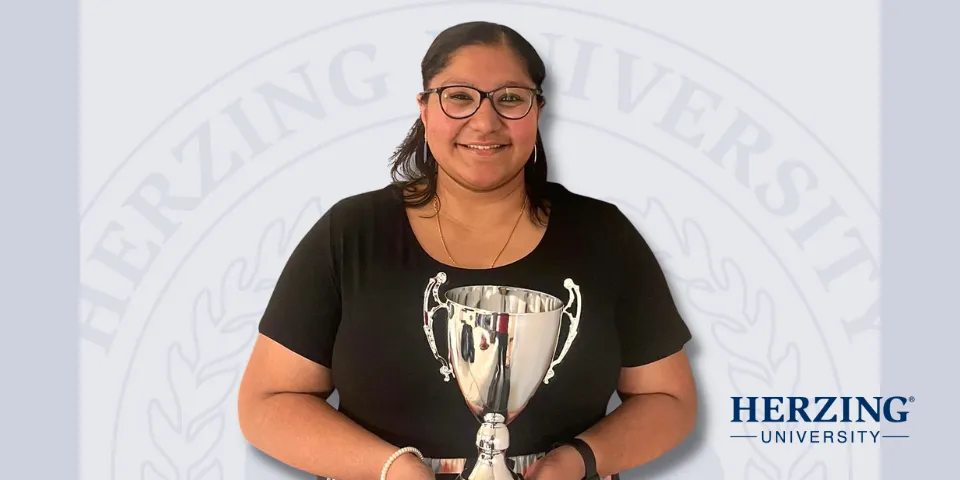 Every student's journey from enrollment to graduation is unique, but every student will face moments where they need help from others and moments when they will support others. Herzing University and external associations are always looking for students who push past adversity and act as role models for other students and their community.  Herzing-Brookfield's Reni Raju is one such student and her continuing efforts were recognized in 2023 as the recipient of the Herzing Cup and the Johnson & Johnson Our Race to Health Equity Diversity Nursing Scholarship through the Foundation of the National Student Nurses Association (FNSNA).
For years, the Herzing Cup has recognized students in the Herzing community who exemplify the P.R.I.C.E. success model, which stands for Professionalism, Respect, Integrity, Caring and Engagement and is a focal point of the lessons and skills taught across the school's 11 ground campuses and online programs. The Johnson & Johnson scholarship is part of the company's broader effort to rebuild healthcare from a diverse perspective by supporting solutions that systemically address racial health equity.
Reni is pursuing her Bachelor of Science in Nursing with plans already to continue toward a Master's degree and eventually a DNP. Herzing professors hope for students that acquire both a degree and a strong sense of leadership and purpose that will benefit themselves, their patients, and their communities throughout their careers. With this in mind, Reni was the ideal recipient of such prestigious honors. 
"I am continually impressed by Reni's ability to embody the Herzing P.R.I.C.E model in all that she does," said Megan Tinsley, Lead Faculty Advisor of Herzing's Brookfield campus. "Her passion for her work, dedication to her community, and unwavering commitment to excellence make her a shining example of what it means to be a Herzing student."
In addition to being a full-time student, Reni also works at the front desk of Brookfield's campus, serving as a helpful mentor to other students. She also serves as the President of Herzing's Student Nurses' Association Brookfield Chapter most recently working to organize a food drive that collected non-perishable food items for the community, a continuing demonstration of her commitment to helping others.
"I love and appreciate the opportunity to try new things, get involved, and perfect my skills," Reni shared. "I am always looking for new experiences, and being able to identify ways in which I can challenge myself to become a stronger student, healthcare provider and human being."
As she prepares to enter the healthcare field, the Herzing community is proud to have Reni continue to act as an outstanding representative of Herzing, and an inspiration to those around her.
"I am so grateful for this recognition and for the scholarship," Reni said, adding some advice to others who may be taking a similar path at Herzing. "Be flexible. Take every opportunity to learn and grow. These are the moments that will help you become your best self. Keep working for it."