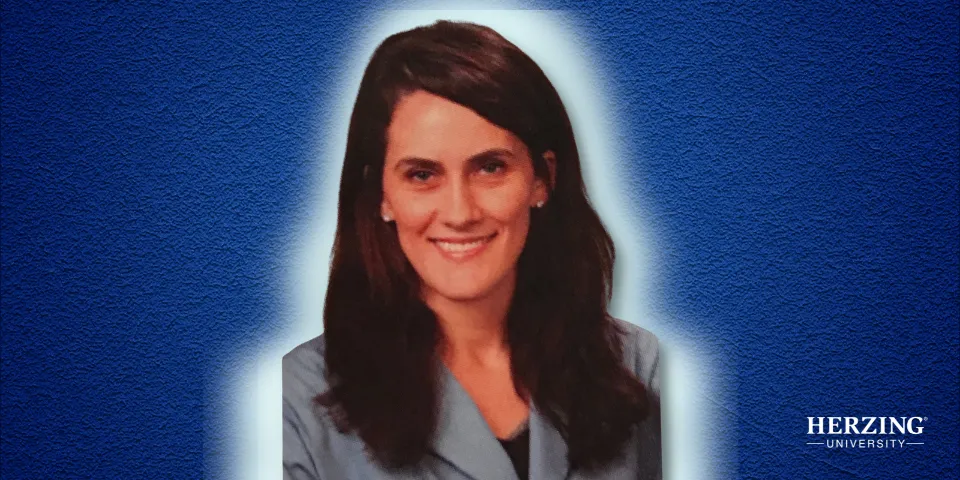 Herzing University Program Chair Laura Liggett was recently selected as a member of the prestigious National Organization of Nurse Practitioner Faculties (NONPF) Leadership Mentoring Cohort. As one of the 13 national leaders chosen for the program's 8th cohort, Dr. Liggett embarks on a transformative journey that will provide a platform for collaboration with educators and nurse practitioners from diverse backgrounds and institutions. Through this program, Dr. Liggett will expand Herzing's network and engage in crucial discussions about the challenges faced in the evolving landscape of advanced practice nursing education.
We spoke with Dr. Liggett about her hopes for the cohort and what it could mean for the broader efforts being done across Herzing to impact the current and future generations of healthcare professionals.
Congratulations, what does this selection mean for you and the role and reputation of Herzing University within the nursing education community?
Dr. Liggett: "For me, this cohort is not only making me a better leader for our students, but it is also enabling me to be a more supportive partner in jumpstarting new healthcare careers. By being involved in the larger conversation, I can gain a better perspective on the entire field of healthcare, and it fuels my passion to elevate nurse education and create positive change. For Herzing and its national reputation, this experience and opportunity fully align with our long-term goals of supporting student success by exploring new avenues, such as research and scholarships. Overall, this affords all of us the chance to do more in service to the next generation of healthcare professionals."
Why is mentorship important?
Dr. Liggett: "Mentorship provides guidance, support, and inspiration that can shape an individual's trajectory in immeasurable ways. As a nurse educator, I recognize the power of mentorship in preparing future healthcare professionals. Mentorship creates a ripple effect, as those who have been mentored become mentors themselves, perpetuating a culture of learning and high-quality care. I am grateful for the mentors who have shaped my path, and I am honored to pay it forward by being a mentor and fostering a supportive environment where individuals can thrive and reach their fullest potential."
What have you learned so far by working with other members of the cohort?
Dr. Liggett: "Working alongside the talented individuals in this cohort has been a tremendous learning experience. I've gained valuable insights into how schools collaborate and create projects and curricula together. Being part of these conversations and engaging with experts from different institutions has expanded my perspective and equipped me with fresh ideas to implement at Herzing. It's an ongoing exchange of knowledge and innovation that helps us stay at the forefront of nurse education."
What have been some of the biggest learning curves in this experience so far?
Dr. Liggett: "Being part of this cohort has provided me with an abundance of new perspectives and learning opportunities. As I develop myself as a nurse educator within this cohort, I'm constantly exposed to innovative ideas and best practices that I can bring back to Herzing. This experience fuels my desire to give back to the communities we serve and support student success. Engaging in discussions and collaborations with esteemed professionals puts me in a better position to expand my knowledge and skills, ultimately enhancing the quality of education we provide."
What is one key strategy you'd want to identify as a priority of the leadership mentoring cohort?
Dr. Liggett: "One of the key strategies we're implementing is regular networking with other schools. By connecting with professionals from different institutions, we gain valuable insights into what works effectively and what doesn't. Reinforcing positive leadership and mentorship in virtual formats is now more important than ever. By actively participating in this cohort, we contribute to the growth and success of our faculty and organization as a whole."
The healthcare shortage continues to impact communities, how is the cohort addressing this?
Dr. Liggett: "The cohort dedicates specific workshops and discussions to address the pressing issue of the healthcare shortage. One particular area of focus is the shortage of preceptors, which is affecting the clinical training of aspiring healthcare professionals. Through a designated committee, we are actively exploring and implementing toolkits and action items to alleviate this shortage. By addressing this challenge head-on, we aim to create solutions that enhance the training and education of our students, ultimately contributing to a stronger healthcare workforce."
What are some other challenges you see being addressed with this cohort?
Dr. Liggett: "One of the significant challenges we are addressing within this cohort is the integration of artificial intelligence (AI) in healthcare education. We are actively collaborating on experiences and exploring potential uses of AI in our curriculum. While there may be some apprehension surrounding AI, I believe it has several beneficial applications. For instance, some schools are encouraging students to grade AI's answers to clinical questions. However, we also recognize that a computer can never truly replicate the human aspect of healthcare. As we incorporate AI, we are ensuring that students receive comprehensive training that encompasses the integrity and emotional intelligence necessary to become well-rounded healthcare providers."
How does this opportunity support the Herzing community?
Dr. Liggett: "This opportunity has allowed me to establish regular connections with other nurse educators around the country. By networking, we foster a dynamic exchange of ideas and insights that benefit our entire faculty and organization. Staying informed about the latest developments in the field, such as emerging technologies and educational strategies, allows us to adapt and improve our curriculum. Through this cohort, I can contribute to the growth and success of Herzing by fostering a supportive and innovative environment."
What do you hope people take away from this exciting news?
Dr. Liggett: "I am genuinely thrilled to be part of this cohort, as it allows me to reach more students and make a greater impact on the community through nurse education. Being chosen for this cohort not only fills me with immense pride but also highlights the elevated status of Herzing University within the broader landscape of higher education. It's an honor to represent our institution and contribute to the vital discussions and themes relevant to the higher ed sector. Together, we can make a lasting impact and help shape the future of nurse education."
If you are interested in learning more about the NONPF Leadership Mentoring Program, visit www.nonpf.org/page/MentoringProgram. You can also visit Herzing's website to learn more about available programs and upcoming events.