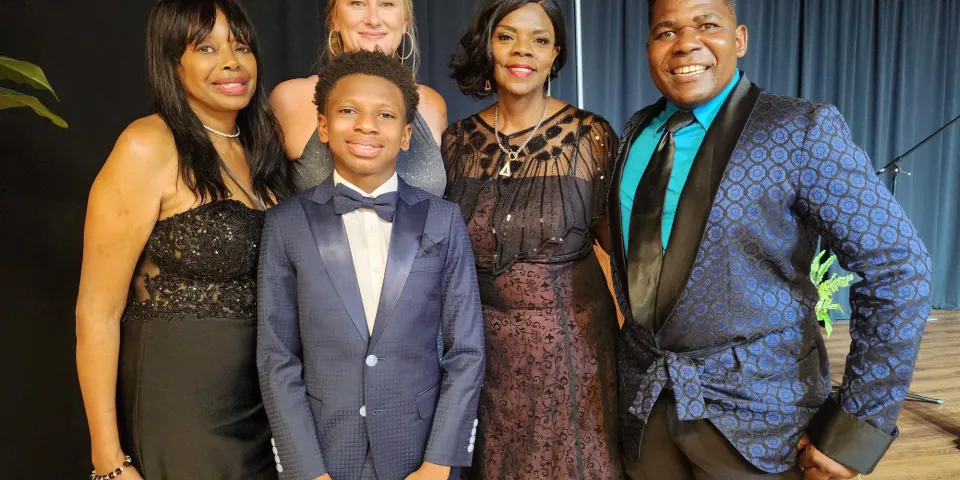 Herzing University shared the stage with Stanford University and many of Atlanta's leading educators and educational supporters to provide more than $1,000,000 in combined scholarships during Chase W. Dillon's third annual Youth Humanitarian Awards in September. Dillon, now 13, is an actor who has starred in television and movie roles, including The Underground Railroad. He is a philanthropist with a purpose to build specialty children's hospitals and bridge the opportunity gap through his nonprofit, Kingdom International Economic Development Corporation (KIEDC).
A weekend event featuring a charitable scholarship night, celebrity golf tournament, comedy show, concert, and awards show, the Awards were founded by actor Chase W. Dillon as a way to help other driven, young talent pursue their dreams. The Youth Humanitarian Awards scholarship program supports and encourages young people to make a positive impact in the world.
"The Herzing University Scholarship is intended to support students who want to pursue a career in healthcare, allied health fields, or other degrees that will allow them to take that education back to their community and inspire others," said Sarah E. Higgins, MBA, M.A. Ed., President of Herzing University's Atlanta and Birmingham campuses.
The scholarship applications are reviewed by a scholarship committee before being submitted to a team of five judges consisting of two federal judges, two corporate executives and one member of the entertainment industry, a nod to Dillon's background and the original intent of many of the scholarships awarded.
"Founded in 1965, Herzing University is dedicated to educating and strengthening the bright future of the next generation through health equity across both our nursing and behavioral health programs — we are so proud to be here tonight," said Karen Nelson, Herzing's Vice President of Inclusion and Community Impact.
The event also was highlighted with the honoring of Humanitarian Award recipients, including Dr. Jennifer Cantor, J.D., M.A., the chair of Herzing-Atlanta's Legal Studies program.
"Jennifer Cantor, a legal advocate for the voiceless is honored for her relentless pursuit of justice and her dedication to protecting the rights of the marginalized," said Dillon in his award presentation.
When asked in an interview with Herzing University the reason he founded KIEDC and continues to advocate on behalf of young people, Dillon pointed to how he has been able to follow his dream thanks to the support of family and others who were there as he was discovering his talents and career interests. Now, having the opportunity to give back, he hopes to help others open doors and overcome obstacles to their own dreams.
"There's a lot of genius kids in the world and there's a lot of kids who are capable of changing the world. They can be doctors, nurses, lawyers; there's so many opportunities out there," said Dillon. "As I was starting my career at an early age, I thought "how can I help others get that head start and get that education that they need?" This is a way for me to provide that helping hand and continue to give back to people who are going to go on to do great things."
For more information on the Youth Humanitarian Awards event, visit the event website. If you are interested in learning more about Herzing University's Atlanta campus, or degree programs across behavioral health, nursing, healthcare, and legal studies, please visit herzing.edu.