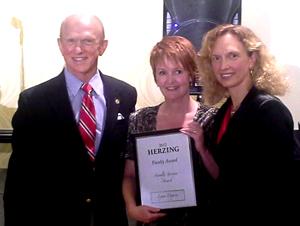 MADISON, WIS (MARCH 4, 2013) ─ Herzing University - Madison's Associate Professor Lynn DuPree, Sun Prairie, was awarded the Herzing System Faculty Service Award. She was selected from over 625 faculty members at 12 locations across the United States for performing the most and best community service in 2012.
For this award, DuPree was nominated by her peers in the faculty and staff departments at Herzing University's Madison campus and then submitted for final consideration for the system-wide award. DuPree is involved in volunteer efforts both on campus and in the community. Through Herzing, her participation includes serving as chair of the Faculty Assembly as well as serving on the President's Leadership Council and the assessment committee for the Humanities and General Education programs. She has also volunteered through the Community Action Center and tutored for Schools of Hope and Herzing University.
"Lynn's dedication expands beyond the classroom," states Brian Willison, academic dean for Herzing University - Madison. "She gives of her time and talent to enrich the University experience for students and the community. She truly embodies Herzing's "give back" philosophy and is an excellent example of community involvement for both students and coworkers." Not only is DuPree dedicated to teaching full course loads each term as a faculty member, she also exemplifies community involvement and a passion for enriching the lives of others through education.