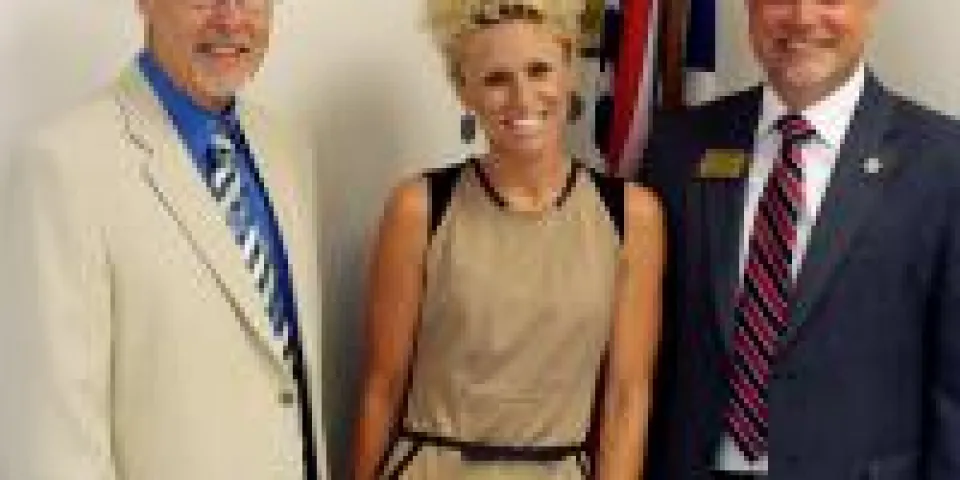 TOLEDO, OH (July 15, 2013) Two local schools have joined forces to help make obtaining a bachelor's degree more affordable. The presidents of Herzing University - Toledo and Northwest State Community College held a signing ceremony to announce a new P.A.C.E. program, which gives students an education option that is Progressive, Attainable, Convenient, and Economical. The collaboration offers students the best of both worlds: the cost efficiencies of a Northwest State education combined with the career-focused recognition of Herzing University.
The cost of higher education, the challenges of a work-school-family balance, and other potential obstacles are discouraging many students from pursuing a college education. This initiative looks to remove some of those barriers, making students' dreams to better their lives through education a reality.
 "While many colleges and universities are usually in competition to enroll students, we recognize that collaborations should be happening instead to make higher education more affordable and accessible," said Greg Guzman, president of Herzing University's Toledo campus. "The P.A.C.E. program is all about the student—which is the way it should be."
 "As a community college, Northwest State is pleased to be working with Herzing to provide new opportunities that will allow our students to move forward with their education beyond the associate degree," said Dr. Thomas Stuckey, Northwest State Community College president. "Our students are looking for flexible options that will build on their current skills and gain the knowledge needed to advance in their chosen career field."
 Currently students are able to pursue the Bachelor of Science in Business Administration degree, which includes the highly-sought after SAP educational component, and already there are plans to add degrees in technology, healthcare, and public safety to the program offerings.
To take advantage of the P.A.C.E. program, students would complete two-thirds (or three years) of their coursework through Northwest State Community College, which offers a lower per-credit hour cost of a community college. Students would then finish the final third (or one year) of their bachelor's degree through Herzing University - Toledo. The two schools are compatible because both institutions are regionally accredited by the Higher Learning Commission and are members of the North Central Association.
As a matter of convenience, Herzing University - Toledo has the ability to offer a student's remaining business courses either in the classroom or online. As Lucas County's first SAP University Alliance Institution, Herzing University - Toledo also is in a unique position to offer training that is in great demand by local corporations and businesses.  
"Herzing's bachelor's in business management degree helps to bridge the gap between higher education and the needs of Northwest Ohio's employers," said Guzman. "Those who pursue this business management degree will position themselves competitively for any future openings at some of the region's largest and most prestigious companies." Sixty percent of all businesses globally run on the SAP Enterprise Resource Planning (ERP) platform.  Locally, companies such as Owens-Illinois, Owens Corning, The Andersons, The City of Toledo, Marathon Oil, Cooper Tire, Rexam, Chrysler, Ford, and Pilkington use the software platform to manage their businesses. Their need for a qualified and trained workforce is well-established. 
Those interested in learning about the P.A.C.E. initiative should contact Herzing University - Toledo Director of Admissions Corey Heiserman at 419.776.0300 or the Northwest State Community College admis