Join a rapidly growing career path
If you are a nurse looking for more responsibility, excellent earning potential and a greater sense of purpose and professional fulfillment, becoming a family nurse practitioner (FNP) might be the path that leads you there.
Your services will be in high demand and you'll have what it takes to be a difference-maker in healthcare across America.
If this sounds good to you, here are the steps you need to take to make it happen: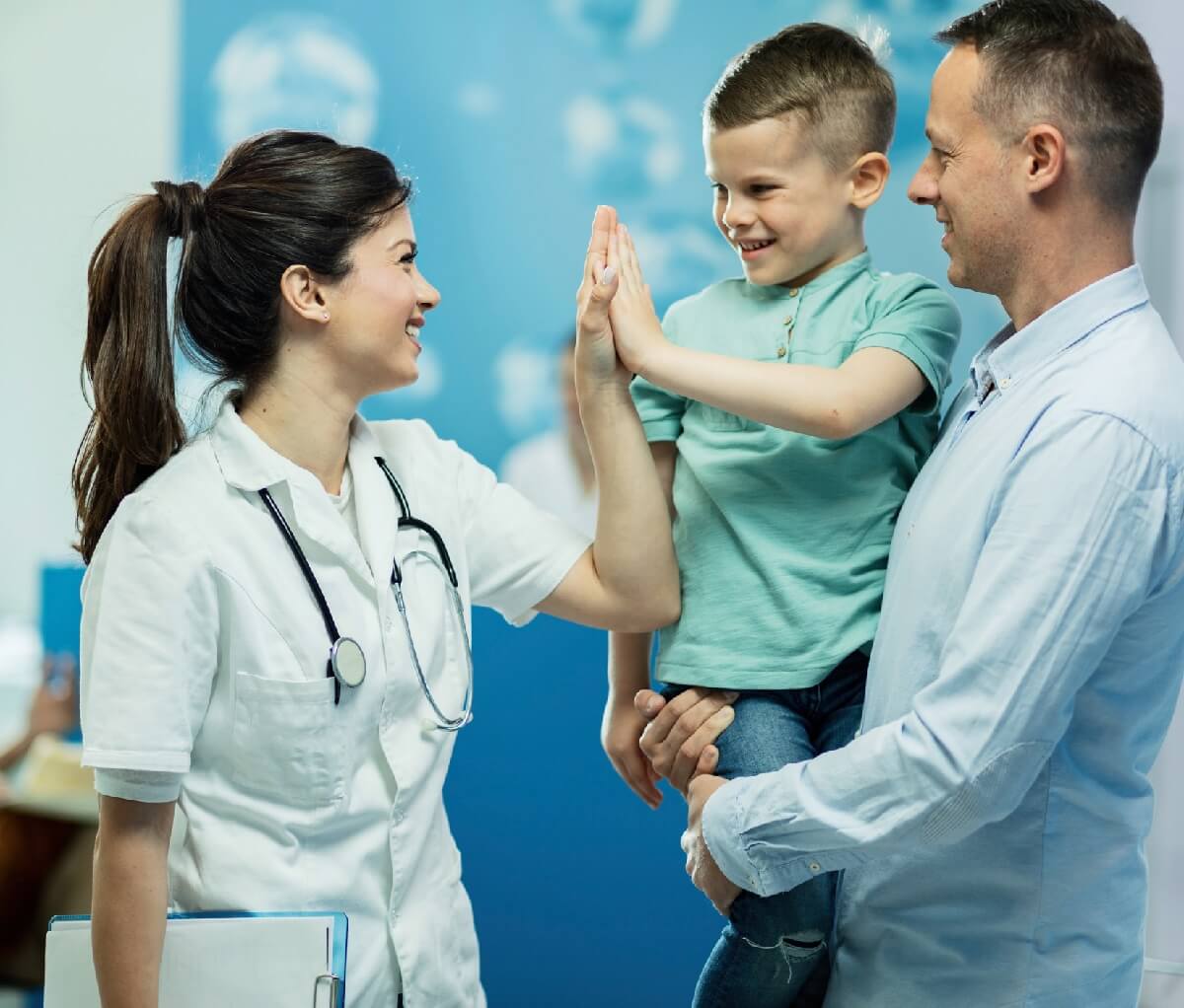 Roles & Responsibilities
1. Understand the role: What does a Family Nurse Practitioner do?
Traditionally healthcare delivery has centered around physicians to diagnose illness, prescribe treatment and medication and assume responsibility for a patient's well-being. Today the roles of healthcare providers have evolved. With the changes in healthcare reform, family nurse practitioners are serving an increasingly vital role in caring for families.
As our population continues to grow and age, the corresponding need for qualified providers to efficiently and effectively care for patients is skyrocketing. This has led to new and expanded roles for nurse practitioners who are trained to assess, diagnose, treat and manage illnesses in various patient populations.
Nurse practitioners are Advanced Practice Registered Nurses (APRN) educated at the master's level or higher. They typically work in emergency rooms, primary care clinics, urgent care centers, and hospitals treating patients with a range of illnesses and/or life-threatening conditions. The primary care FNP is certified and licensed to treat patients of all ages in a variety of settings.
Learn everything you need to know about what a family nurse practitioner is and what they do.
Life as a family nurse practitioner: career profile
U.S. News and World Report ranked nurse practitioner #1 on its 2023 list of Best Health Care Jobs and #2 on its list of the 100 best jobs in America. It ranks so highly, in part, because of the tremendous job satisfaction FNP-trained nurses report as they gain more and more autonomy as primary healthcare providers. The annual report also factors in growth potential, work-life balance and salary.
Increasingly, a family nurse practitioner provides services for which patients would have historically waited weeks to see a physician, especially in rural areas where there is a shortage of primary family practice providers.
Where can you work?
As an FNP, you'll have a lot of options when it comes to choosing the type of setting where you'll work every day. Whether you choose to focus your career in family practice, geriatrics, pediatrics, Ob-Gyn, neonatal (ICU), urgent care, surgical/OR, internal medicine or primary care, you'll be a valuable addition to a staff at a broad range of healthcare facilities, including:
Urgent care sites
Private physicians or NP practices
Nursing homes
Home health agencies
Outpatient clinics
Hospice and palliative care centers
Schools and colleges
Public health departments
Women's health facilities
Veteran's Administration
There are many different nurse practitioner concentration programs you may choose from. Take our online nursing personality quiz to find out what type of nursing specialties are best suited for you.
What is the job market like for FNPs?
There is a great deal of demand for Family Nurse Practitioners. The Bureau of Labor Statistics projects overall employment for nurse practitioners to grow by 52% from 2020-2030. This is much faster than the national average for all occupations and is largely due to the increasing emphasis on preventive care and the burgeoning need for healthcare services for our aging population.
Overall, job opportunities for nurse practitioners are expected to remain excellent. Now might be the ideal time to earn the credentials necessary to elevate your career in this highly rewarding field.
How long it takes to become a family nurse practitioner
Becoming an FNP may take approximately 2-5 years depending on where you are now in nursing, the number of credits you can transfer, and whether you choose a full or part-time schedule. After attaining your master's degree you'll need to get certified and obtain licensure in your state before officially becoming a nurse practitioner.
Become an RN
2. Become an RN with a nursing degree (ADN, BSN)
There are several different routes you can take to become a nurse practitioner depending on where you are in your current career and the amount of transferrable credits you already have from a prior degree.
To enroll in one of Herzing University's FNP program options, completion of an associate degree, bachelor's degree or RN diploma is required, and you'll need to hold a current, active and unencumbered license as a registered nurse.
Educational paths to becoming an RN:
If you are new to nursing and do not have degree, you can pursue an associate degree or a bachelor's degree designed to accelerate your path to a graduate nursing program. We offer a BSN program online, eligible for enrollment in select U.S. states.
If you already have a bachelor's degree in a different field, you can choose an accelerated BSN program designed to prepare you for professional nursing practice in as few as 20 months.
After completing your education you'll need to pass the NCLEX-RN and meet the board of nursing requirements in your state to become an RN. How long it takes to become an RN depends largely on your prior education and chosen degree path.
Regardless of where you are on the nursing continuum, there's a path you can follow with Herzing University to achieve your career goal of becoming a family nurse practitioner.
Earn an MSN
3. Enroll in a Specialized Master's Degree Program
The path to become a nurse practitioner typically begins when a registered nurse decides to advance into a specialized area of nursing. To do so, you'll need to earn a master's degree that includes both classroom education and clinical experience.
Choose a highly respected nursing school
Fortunately, there are nursing schools offering CCNE accredited1 online master's programs that balance immersive online classes with rich, hands-on clinical experiences. One such curriculum is the FNP program at Herzing University, which has been educating and training career-motivated students since 1965.
Education in the classroom & clinical hours
The Herzing FNP program includes 675 clinical hours and also 500 patient encounters to ensure that you have excellent skills in caring for patients. Upon completion of your program, you will need to pass a national certification exam.
For example, graduates from Herzing's FNP program are eligible to sit for certification exams offered by either the  American Nurse Credentialing Center (ANCC) or the  American Association of Nurse Practitioners (AANP).
Find the program that works for you and your schedule
Yes, you can get your nurse practitioner degree online! Both the Accelerated RN to FNP and BSN to FNP pathways at Herzing are delivered online and therefore allows working nurses the ability to manage their coursework without disrupting their current work responsibilities.
Are you ready to start focusing on your long-term career goals? If so, you should know it's possible to become a family nurse practitioner in as few as 20 months. Herzing's curriculum is based on a five-semester calendar for full-time students. Your situation may vary based on transfer credits and whether you choose a full or part-time schedule.
One significant advantage of choosing Herzing is that our program has six start dates throughout the year, ensuring you can start soon, but allowing enough time to make any necessary adjustments to your personal and work schedules to accommodate your studies. We also offer a Post Master's DNP program designed for MSN graduates for those who want to earn the terminal degree in nursing and reach for the top of the nursing profession.
Ensure the program is accredited and legitimate
One of the main reasons Herzing University has become a go-to school for today's career-focused nursing professionals is that its CCNE-accredited1 curriculum is designed and regularly updated to meet the expectations of FNP employers across the country.
Officially recognized by the U.S. Secretary of Education as a national accreditation agency, the Commission on Collegiate Nursing Education (CCNE) is an autonomous accrediting agency, contributing to the improvement of the public's health. CCNE ensures the quality and integrity of baccalaureate, graduate, and residency programs in nursing.
Clinicals
4. Complete your clinicals and graduate
One of the most important elements of becoming a nurse practitioner is the FNP program clinicals. At Herzing, you'll complete 675 hours of precepted clinical experience with a preceptor that you have identified in your local area and 500 individual patient encounters to practice your skills of assessment, diagnosis, treatment and evaluation.
Finding a preceptor can be one of the biggest challenges many nursing students face. Our guide to finding an nurse practitioner preceptor can answer many of your questions about the process and what's expected of you. With Herzing University you are never alone. We support you in your search for a preceptor for your clinical practicum.
A distinct advantage of earning your master's degree at Herzing is the university's vast network of partnership sites. At Herzing you'll have a clinical coordinator who will help you locate clinical sites and preceptors. There is a clinical guidance process to help you along the way as well as online nursing orientation and clinical readiness modules to ensure you have the tools you need to be successful along the way.
Certification Exam
5. Pass the certification exam
Graduates from the Herzing University FNP program are eligible to sit for one of two FNP certification exams:
You may choose the exam you'd like to take. Both organizations are widely recognized certifying boards and passing either exam makes you a certified FNP.
The MSN faculty are invested in your success on the certification exam. From the time you start your program at Herzing University until graduation day, you will receive tips for certification success. There are educational touchpoints with an academic advisor as needed and exams that are placed strategically throughout the curriculum to ensure that you are meeting the appropriate benchmarks in the program.
If you are able to meet specific requirements and pass the certification exam on the first attempt, you will receive reimbursement for the cost of the exam.
Obtain Licensure
6. Obtain licensure in your state
Licensing is handled by your state's board of nursing. There are very few states allowing nurse practitioners to practice without certification – but even in those cases employers and insurers often require nurse practitioners become certified.
In order to practice in another state you will be required to become licensed there as a registered nurse if you are not currently in a compact state. Then you may become licensed as an advanced practice nurse.
Contact the board of nursing in your state to find their requirements for FNP licensure.
Frequently Asked Questions
The answer really depends on the state where you'd be working. There are a few basic levels of practice: full, reduced and restricted.
Explore this map from the American Association of Nurse Practitioners to discover your state's standards and get an understanding of what it means.
Over the course of your education, you'll learn much more detail about the scope of practice for family nurse practitioners vs. other roles in healthcare.
According to the Bureau of Labor Statistics, nurse practitioners earn an average salary of $118,040 per year ($56.75 per hour). Pay depends on many factors, including your location, what healthcare institution you work for and your level of experience.*
Discover the average nurse practitioner salary by state and find out what nurse practitioners make on average near you.
No, an FNP is not a doctor, or physician. Their duties, roles and responsibilities are very different, along with their required education and certification.
However, family nurse practitioners are more and more regularly acting as primary care providers, especially in rural locations and certain states where there is less restrictions on what nurse practitioners can and can't do. FNPs are often given independence and autonomy in the right circumstances.
According to the Bureau of Labor Statistics, the need for nurse practitioners is expected to rise 52% from 2020 through 2030, an expectation far surpassing the average across all occupations.*
Expect your skills and abilities to be in very high demand by the time you get your master's degree.
If you are already an APRN having earned a Master of Science in Nursing (MSN) in another specialty, we can help you transition into becoming a certified nurse practitioner faster. Our online post graduate FNP certificate program is built for you.
Enroll full-time and you can complete the program in as few as 16 months. Coursework is delivered 100% online with a 675 clinical hour requirement to fully prepare you to thrive in your new career as a family nurse practitioner.
7. Start Your Career as a Family Nurse Practitioner
Becoming a Family Nurse Practitioner can be life-changing for you as well as for the patients you treat and the community in which you live.
If you're ready to be part of the solution to the challenges faced by today's healthcare industry, there's never been a better time to get started on the path to an exciting new career as a Family Nurse Practitioner.
1. The master's degree program in nursing at Herzing University Online is accredited by the Commission on Collegiate Nursing Education (http://www.ccneaccreditation.org).
---
* Bureau of Labor Statistics (BLS), U.S. Department of Labor, Occupational Outlook Handbook 2021. BLS estimates do not represent entry-level wages and/or salaries. Multiple factors, including prior experience, age, geography market in which you want to work and degree field, will affect career outcomes and earnings. Herzing neither represents that its graduates will earn the average salaries calculated by BLS for a particular job nor guarantees that graduation from its program will result in a job, promotion, salary increase or other career growth.
Classes Start March 6th
Learn More Today