Nursing vs. social work: the biggest differences
You want to help people—and the fields of nursing and social work are two excellent career paths with select combined skills where you can do just that. If you are weighing leaving the field of nursing to switch to social work (or vice-versa), or considering a career change to either field, there are a few things you should know before choosing your path.
These are the primary differences between a career as a social worker and registered nurse:
Please keep in mind job tasks can vary widely by position and employer, so there are potential exceptions to generalizations made below.
Banner Image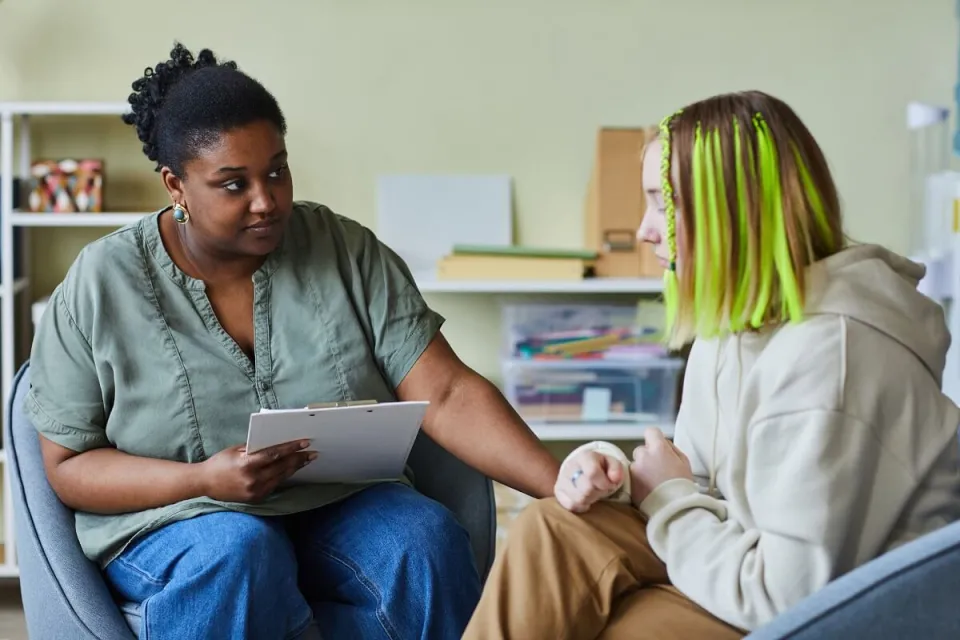 1. Clinical tasks - do you love healthcare?
The primary difference between nursing and social work is the practical nature of the work. While social workers can certainly play a role in healthcare by working in hospitals or other outpatient environments (and even work closely with RNs), their role extends well beyond strictly clinical health.
While nursing continues to evolve into a more holistic discipline, a traditional RN remains focused on clinical care, addressing a patient's immediate healthcare needs in terms of treatment and medication.
Social workers can have clients who have little to no clinical health issues, and focus much more on mental health, helping patients adjust to lifestyle changes, assessing support networks, facilitating community resources, and much more. Social Workers can work in several clinical settings including hospitals, outpatient clinics, rehabilitation centers, long-term care facilities, but can also work in non-clinical settings such as schools, community centers, government agencies and even in private practice.
If you have a passion for clinical care but do not want to be a nurse, you may be best suited for medical or mental health social work.
If you are looking for a change from bedside nursing and want to utilize skills you've developed as a nurse in a career path with a broader scope, becoming a social worker can be a great option.
2. Daily routine and structure
RNs and social workers have very different day-to-day experiences.
RNs tend to have more clearly defined daily tasks. You typically have a certain number of patients with specific, quantifiable needs—and a healthcare team around you to provide support. While RNs certainly must be able to adapt quickly to change and stay calm under stress, there is more structure and routine in their day-to-day.
Social workers, on the other hand, can have a harder time sticking to a daily routine. They less commonly work in a team structure with stronger support structures and must define their own daily tasks. Some days you will be in the office, others you will be on the road. Your daily schedule can be unpredictable based on your clients' needs, which can be very diverse.
That being said, medical social workers can have clearly defined tasks day-to-day. Medical social workers provide an array of services for patients in their care. Depending on the patient needs and the type of medical setting they work in, medical social workers may provide crisis counseling, biopsychosocial assessments, resource planning, family therapy and other supportive services that enhance quality health outcomes.
If you are routine-oriented and work best in a role where daily tasks are clearly defined, you may prefer nursing. If you thrive in a job that keeps you on your toes with something new to look forward to every day, you may prefer social work.
3. Number of patients
This one ties in with #2. Generally speaking, the more patients or clients you have to deal with, the more variable and unpredictable your day-to-day can get.
Nurses typically have fewer patients/clients to be concerned with on a daily basis, especially in an acute care environment. When patients have chronic health conditions, they need constant monitoring from an RN and full healthcare team to ensure they successfully recover. Serious problems can arise when nurses are stretched too thin with too many patients.
Social workers tend to have a higher number of clients. Because a social worker's client may not always be in an emergency situation, they don't always need the constant monitoring like an RN must provide to many of their patients.
However, while a social worker may not engage directly with all of their clients every day, they may need to be working on their behalf behind the scenes. Social workers must balance their attention across more clients based on their individual needs and prioritize daily tasks accordingly.
Nurses interested in adopting a more variable workload based on a larger number of clients may find social work to be a better fit.
4. Administrative tasks
Nurses are certainly responsible for their share of paperwork and administrative duties.
So much of the day-to-day as a social worker involves keeping excellent documentation of client interactions, or working with healthcare institutions, local social services, or local government entities. Paperwork and administrative tasks can pile up fast.
Documentation is important in both professions and essential in providing professional services. The types of documentation differ – social workers may conduct bio-psycho-social-cultural assessments and document client needs, strengths, and resources. Social Workers also carefully document client interactions and progress in treatment plans, client notes, summary reports and treatment plans.
If you hate the paperwork you're already doing in nursing, social work will not relieve you of the administrative burden. Nurses who don't mind paperwork and enjoy organizational/administrative work are much more likely to enjoy a career in social work.
5. Average salary
On average, registered nurses make a higher wage than social workers.
According to the Bureau of Labor Statistics, the median annual wage for social workers is $50,390 per year, compared to $77,600 for registered nurses.* However, salaries can vary by state, employer, education, and experience.
While average salaries favor working as an RN, your personal strengths, skills, and drive play the biggest role in your pay—and you can earn a good salary in the field of social work.
6. Short vs. long-term feedback
One of the biggest differences between nursing and social work is how you witness the impact of your work.
Input vs. output can be more visceral and immediately gratifying in nursing than in social work, especially in a traditional clinical or hospital environment. The fruits of a social worker's labor may not be seen for years. Nurses can see it within hours.
This might seem to favor nursing—but nurses can experience both extreme highs and lows on a daily basis, which can be either invigorating or taxing based on your personality.
While social workers can experience similar highs and lows, these moments tend to be stretched out over longer periods. Social work is the art of conceiving an effective long-term plan, remaining patient, and seeing it through every day until you've succeeded for your client.
If you get satisfaction from executing a long-term plan—and can measure and feel the impact of your work over time—you can find tremendous fulfillment as a social worker.
Make your impact
You can make a significant difference in people's lives as either an RN or a social worker.
The path you choose depends on who you are and who you want to be. We exist to help you discover that best version of yourself you've always wanted to find. Join us and begin earning the education you need to find your new career path.
We offer several undergraduate and graduate nursing programs, and social work degree options for both BSW holders and bachelor's degree holders in a non-BSW major. You are possible with Herzing University.
---
* Bureau of Labor Statistics (BLS), U.S. Department of Labor, Occupational Outlook Handbook 2021. BLS estimates do not represent entry-level wages and/or salaries. Multiple factors, including prior experience, age, geography market in which you want to work and degree field, will affect career outcomes and earnings. Herzing neither represents that its graduates will earn the average salaries calculated by BLS for a particular job nor guarantees that graduation from its program will result in a job, promotion, salary increase or other career growth.
Classes Start October 30th
Learn More Today