Becoming a family nurse practitioner (FNP) is a great way to boost your earning potential as a nurse. Across various specialties, nurse practitioners earned an average salary of $124,680 per year ($59.94 per hour) in the US, according to the Bureau of Labor Statistics (BLS).*
The job outlook for nurse practitioners is also very positive. The BLS projects 52 percent employment growth for nurse practitioners from 2020 through 2030, well above the national average across all occupations.
If you're interested in advancing your nursing career and expanding your scope of practice—and considering an RN vs. Nurse Practitioner (NP) career path—then becoming an NP might be a good track for you.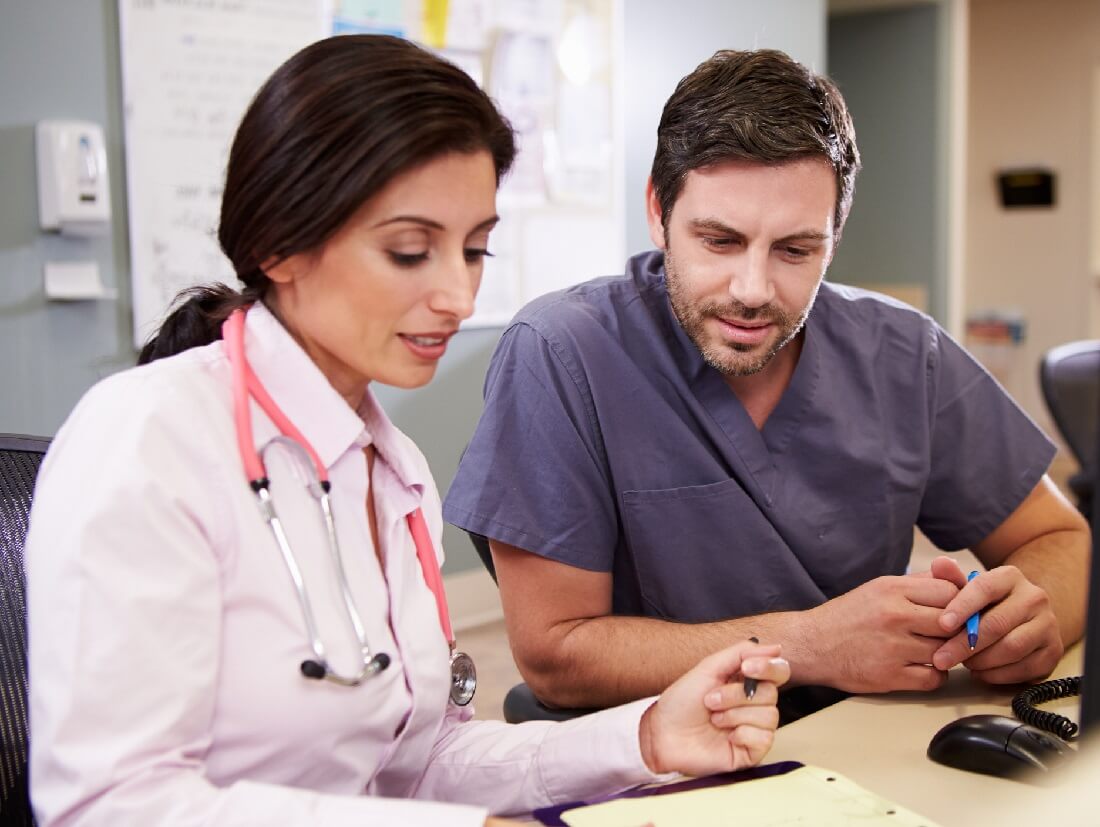 Family nurse practitioner average salary by state
One of the most important determining factors in how much you can make is the state of employment. Find the average annual salary for a nurse practitioner by state:
 
Average salary
Median salary
State
Per hour
Per year
Per hour
Per year
Alabama
$51.26
$106,610
$48.63
$101,150
Alaska
$55.96
$116,390
$61.96
$128,870
Arizona
$58.37
$121,410
$57.92
$120,480
Arkansas
$51.50
$107,110
$49.46
$102,880
California
$76.02
$158,130
$75.56
$157,160
Colorado
$55.98
$116,440
$57.01
$118,590
Connecticut
$63.22
$131,490
$62.54
$130,090
Delaware
$57.97
$120,570
$58.91
$122,530
District of Columbia
$63.11
$131,270
$60.28
$125,370
Florida
$53.04
$110,310
$51.73
$107,600
Georgia
$55.50
$115,440
$53.89
$112,090
Hawaii
$61.69
$128,310
$65.27
$135,760
Idaho
$56.60
$117,720
$56.11
$116,710
Illinois
$58.81
$122,310
$60.02
$124,840
Indiana
$58.53
$121,730
$57.29
$119,160
Iowa
$61.62
$128,180
$59.35
$123,460
Kansas
$53.69
$111,670
$52.09
$108,350
Kentucky
$52.54
$109,290
$50.30
$104,630
Louisiana
$56.83
$118,210
$55.59
$115,620
Maine
$56.88
$118,300
$53.95
$112,210
Maryland
$57.53
$119,650
$56.51
$117,540
Massachusetts
$66.68
$138,700
$63.96
$133,030
Michigan
$54.70
$113,780
$52.52
$109,250
Minnesota
$61.62
$128,160
$61.55
$128,020
Mississippi
$56.38
$117,260
$52.37
$108,920
Missouri
$54.41
$113,180
$51.27
$106,640
Montana
$57.67
$119,960
$61.23
$127,350
Nebraska
$57.20
$118,970
$55.73
$115,920
Nevada
$65.49
$136,230
$62.52
$130,050
New Hampshire
$60.47
$125,780
$60.31
$125,450
New Jersey
$68.87
$143,250
$65.61
$136,480
New Mexico
$62.29
$129,560
$60.19
$125,190
North Carolina
$55.03
$114,450
$53.44
$111,140
North Dakota
$54.78
$113,940
$51.77
$107,680
Ohio
$56.46
$117,440
$54.35
$113,040
Oklahoma
$58.53
$121,740
$58.18
$121,010
Oregon
$65.51
$136,250
$63.57
$132,230
Pennsylvania
$57.96
$120,550
$56.24
$116,980
Rhode Island
$60.21
$125,250
$58.32
$121,310
South Carolina
$52.47
$109,130
$49.98
$103,950
South Dakota
$55.58
$115,610
$52.05
$108,250
Tennessee
$47.75
$99,330
$49.56
$103,080
Texas
$59.93
$124,660
$58.31
$121,270
Utah
$55.58
$115,610
$54.08
$112,490
Vermont
$56.06
$116,610
$55.74
$115,940
Virginia
$56.24
$116,980
$53.30
$110,860
Washington
$65.19
$135,590
$64.52
$134,200
West Virginia
$51.34
$106,790
$50.14
$104,290
Wisconsin
$58.27
$121,210
$58.03
$120,700
Wyoming
$55.40
$115,230
$54.21
$112,770
Where do family nurse practitioners work?
NPs can practice in all kinds of different settings, such as outpatient clinics, hospitals, emergency departments, private physician or NP offices, nursing homes, schools and colleges, and public health departments.
Salary for a FNP depends largely on the state where you're employed and what kind of medical institution you're working in (physician's office, private practice, hospital, clinic, urgent care center, etc.). Find out where nurse practitioners most often work and the average salary estimates for each type of healthcare facility.
What kind of nurse practitioners get paid the most? It's highly variable depending on where you work. According to the BLS, the highest paid nurse practitioners work in the home health care services industry, averaging $148,960 per year ($71.62 per hour).
Industries with the highest level of nurse practitioner employment
Industry
Employment
Per year
Per hour
Offices of physicians
122,830
$121,880
$58.60
General medical and surgical hospitals
58,080
$129,330
$62.18
Outpatient care centers
23,760
$134,030
$64.44
Offices of other health practitioners
10,950
$112,660
$54.16
Home health care services
7,460
$148,960
$71.62

Employment and wage data courtesy of the Bureau of Labor Statistics.
Increase your earning potential with a DNP
You can potentially earn a higher salary as an FNP by enrolling in a post master's DNP program and expanding on your graduate-level nursing education.
Medscape's 2021 APRN Compensation Report states nurse practitioners with a doctorate make about 5% more than those with a master's degree.1
What is a family nurse practitioner and what do they do?
A family nurse practitioner (FNP) specializes in family practice and sees patients of all ages. Their role includes health promotion, wellness and disease management, and also treating chronic, episodic illnesses.
Due to demand for medical care and a relative shortage of doctors, nurse practitioners are more and more acting independently in primary care, especially in rural locations. FNP's have much more autonomy over patient care than most other types of nurses.
The difference between FNP and NP
The difference between general nurse practitioners and family nurse practitioners is:
Nurse practitioners may specialize in psychiatric, pediatric, geriatric, women's health, or dermatologic care, among many other possibilities. As an alternative, we offer online NP programs with multiple different concentrations.
A family nurse practitioner specializes in family practice, which can cover one or many of these specialties.
Rather than focusing on a particular age group or medical area, an FNP's responsibilities include primary and comprehensive care through the patient's lifespan. A career as an FNP could be right for you if you are interested in providing a higher level of care for a diverse patient population and in a variety of healthcare settings. Learn more about the skills needed to succeed as a nurse practitioner.
How do you become a family nurse practitioner?
You won't find an entry level job as a nurse practitioner starting at the range of salaries listed above. This represents one of the highest heights in the nursing profession, and you'll need years of schooling to reach this level. Going from non-nurse to nurse practitioner represents a long journey, but can also open doors to all sorts of different opportunities.
Herzing University offers several online FNP programs, including an FNP program for BSN nurses and an accelerated RN to FNP program for ADN/ASN holders looking to reach the next level of education and advance their career. With Herzing, you can complete your MSN-FNP in as little as 20-24 months. Not including the clinical component, you can complete your nurse practitioner degree 100% online.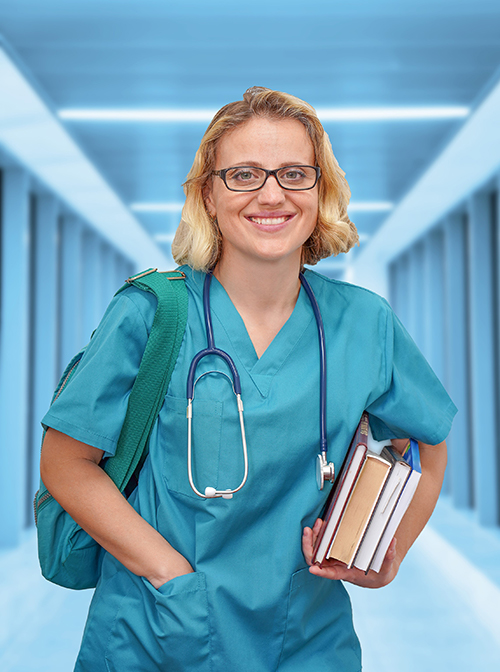 Take the next step.
We've put together a 7-step guide on how to become a family nurse practitioner:
Board certification is required for NPs in most states after completing the program of study. The two main board certifying bodies are the American Association of Nurse Practitioners (AANP) and the American Nurses Credentialing Center (ANCC).
Both certifications enable FNPs to work in any clinical setting in any state. The ANCC certification is also designed to certify nurses for educator roles in an academic setting.
Learn more about our nursing degree pathways and get started on your journey today!
---
* Bureau of Labor Statistics (BLS), U.S. Department of Labor, Occupational Outlook Handbook 2022. BLS estimates do not represent entry-level wages and/or salaries. Multiple factors, including prior experience, age, geography market in which you want to work and degree field, will affect career outcomes and earnings. Herzing neither represents that its graduates will earn the average salaries calculated by BLS for a particular job nor guarantees that graduation from its program will result in a job, promotion, salary increase or other career growth.
Classes Start January 8th
Learn More Today