Banner Image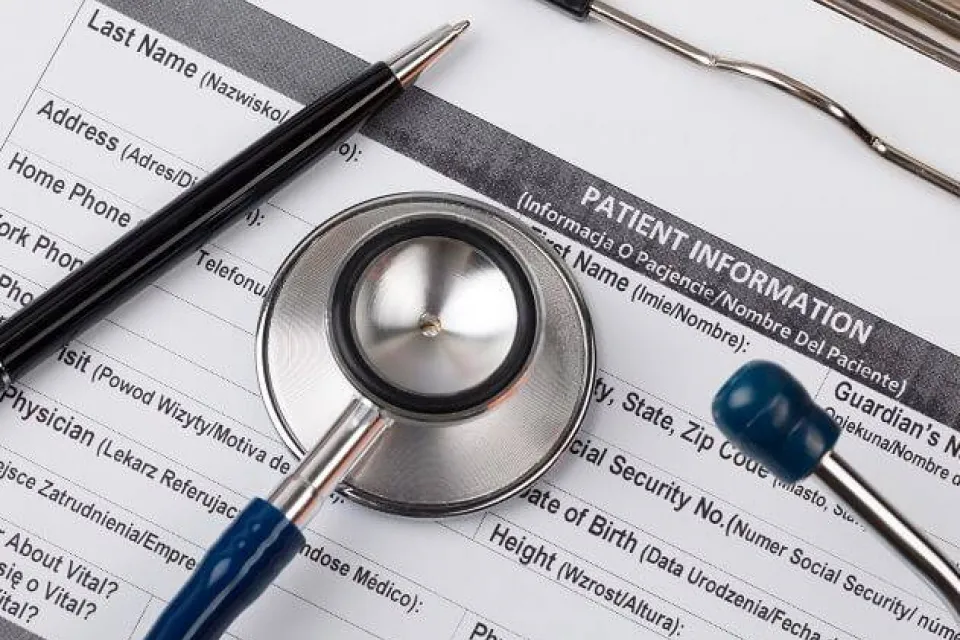 Earning an associate or bachelor degree in health information management equips you with the knowledge and skills to thrive in a variety of healthcare careers, from medical coding to healthcare management. Which degree path is best for you? That depends on your goals. Below, we've put together a list of the most common careers in health information management below so you can see a range of what you can expect for salary in each position.
Medical Records and Health Information Technicians
How much you can make: On average, HIM professionals in these careers earn $61,410 per year ($29.53 per hour). The top 10 percent of health information technologists earn more than $95,000, according to BLS data.*
What you'll do: It's your job to ensure patient data and information is recorded and catalogued correctly – all in compliance with billing and coding standards of practice and healthcare industry regulations. Job titles include medical records technician, health information technician, medical coder and cancer registrar.
What degree you'll need: Some roles may require an associate degree in HIM to become a medical records technician/clerk. If you want to be ready to enter the job market as soon as possible, you can earn your diploma in medical coding or diploma in insurance billing and coding in as few as 8 months as an alternative.
Average salary by state
Your average starting wage will depend on the level of degree you've attained, your prior experience in the industry and your state of employment. See the estimate for your state below:
State
Per hour
Per year
Alabama
$19.20
$39,930
Alaska
$28.18
$58,620
Arizona
$22.30
$46,390
Arkansas
$19.77
$41,110
California
$26.45
$55,020
Colorado
$24.31
$50,570
Connecticut
$26.15
$54,390
Delaware
$23.49
$48,870
District of Columbia
$29.10
$60,530
Florida
$21.04
$43,750
Georgia
$22.97
$47,770
Hawaii
$26.34
$54,790
Idaho
$21.70
$45,130
Illinois
$25.07
$52,150
Indiana
$22.67
$47,150
Iowa
$21.70
$45,140
Kansas
$20.93
$43,530
Kentucky
$21.26
$44,230
Louisiana
$19.63
$40,830
Maine
$21.84
$45,420
Maryland
$24.53
$51,020
Massachusetts
$27.23
$56,650
Michigan
$22.61
$47,020
Minnesota
$26.66
$55,450
Mississippi
$18.20
$37,860
Missouri
$22.67
$47,160
Montana
$21.28
$44,260
Nebraska
$22.10
$45,980
Nevada
$22.75
$47,320
New Hampshire
$23.17
$48,200
New Jersey
$26.06
$54,210
New Mexico
$22.13
$46,030
New York
$26.53
$55,180
North Carolina
$20.21
$42,030
North Dakota
$24.89
$51,770
Ohio
$21.97
$45,690
Oklahoma
$21.30
$44,300
Oregon
$26.06
$54,200
Pennsylvania
$21.95
$45,660
Rhode Island
$25.69
$53,440
South Carolina
$20.24
$42,100
South Dakota
$21.50
$44,720
Tennessee
$23.07
$47,990
Texas
$21.20
$44,100
Utah
$22.10
$45,970
Vermont
$22.42
$46,620
Virginia
$22.94
$47,710
Washington
$27.35
$56,890
West Virginia
$20.53
$42,710
Wisconsin
$22.09
$45,940
Wyoming
$23.01
$47,860
Further career opportunities in Health Information Management
A job in medical records or as an information technician is only the first step for a careerist HIM professional. With a bachelor's degree in health information management and experience in the healthcare industry helping organizations better serve their patients, HIM professionals can become qualified to graduate to roles with more responsibility.
Health Educator
How much you can make: Health educators earn an average salary of $64,930 ($31.22 per hour), according to BLS data.
What you'll do: Your role as a health educator depends quite a bit on where you work. Health educators can work for a healthcare facility, nonprofit, business, college or public health department. Part of your job may be to educate your community about wellness and disease prevention, or to provide training and education for community health workers. Potential job titles include health educator, health education specialist, or "teacher" if you teach health classes in middle school or high school.
What degree you'll need: A bachelor's degree in HIM or a related healthcare field is required for health educator positions. Some employers also require you to earn your Certified Health Education Specialist (CHES) credential.
Medical and Health Service Manager
How much you can make: Medical and health services managers earn an average salary of $119,840 per year ($57.61 per hour) according to BLS data.
What you'll do: You'll coordinate health services and execute high-level strategy for hospitals, clinics, nursing care facilities, outpatient care centers or other organizations. Job titles include nursing home administrator, clinical manager, health information manager, HIM director and HIM supervisor.
What degree you'll need: A bachelor's degree in HIM and prior experience in health information management and technology is a requirement. You will likely need to pursue additional certification as a Registered Health Information Administrator (RHIA).
There are many more HIM jobs out there.
Health information management is a home for analytically minded individuals eager to make a difference in healthcare. Skills needed to excel in health information management include clear communication, problem solving, attention to detail, critical thinking and ability to smoothly adapt to an ever-changing landscape in healthcare technology. Learn more about some of the most common jobs you can get in health information management.
It all starts with your education.
These careers are only a sample of what you can achieve. A degree in health information management can take you in many different directions, including branching off into information technology or business management. If you're looking to take your career even further, you could combine a bachelor's degree in HIM with an MBA in healthcare management to position yourself for leadership and executive-level roles, such as Chief Operations Officer. Discover the primary difference between HIM and HCM.
Earning your degree is the first step to a lucrative career in health information management. Given the projected growth in the industry and increasing need for data-driven decision making, getting a health information management degree is a good career choice and absolutely worth the time and energy needed to earn it. Discover your healthcare degree options and become possible with Herzing University.
---
* Bureau of Labor Statistics (BLS), U.S. Department of Labor, Occupational Outlook Handbook 2021. BLS estimates do not represent entry-level wages and/or salaries. Multiple factors, including prior experience, age, geography market in which you want to work and degree field, will affect career outcomes and earnings. Herzing neither represents that its graduates will earn the average salaries calculated by BLS for a particular job nor guarantees that graduation from its program will result in a job, promotion, salary increase or other career growth.
Classes Start May 8th
Learn More Today