Becoming an HIM manager
Health Information Management (HIM) is a critical component of the healthcare industry, ensuring that valuable patient information is accurately collected, stored, and utilized. Health Information Managers play a vital role in overseeing the management of medical data and Electronic Health Records (EHR).
In this article, we'll detail the steps and requirements to become a Health Information Manager, including education, experience, and career prospects.
Banner Image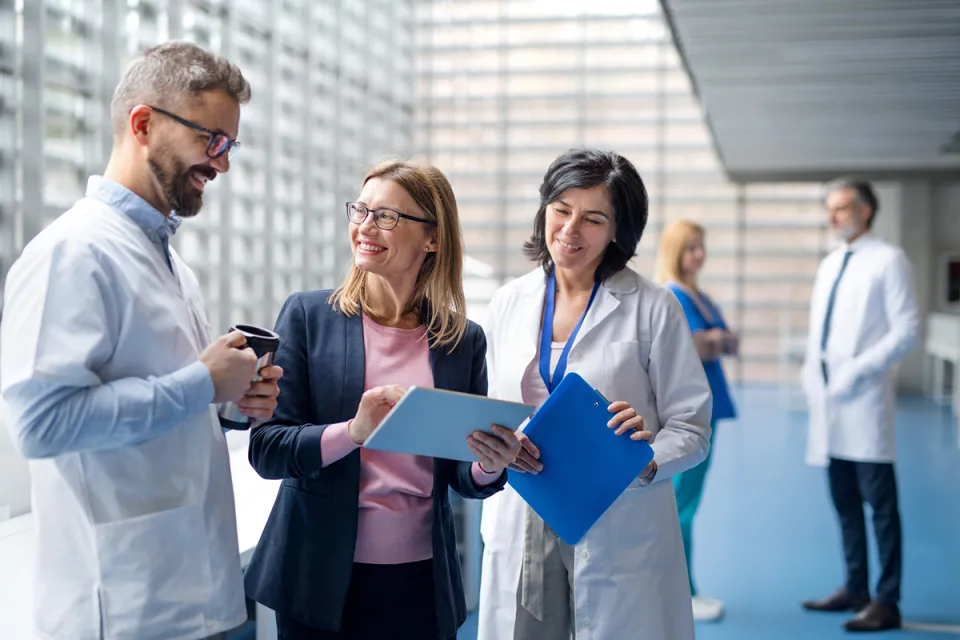 1. Understand the role and responsibilities
Before pursuing a career in Health Information Management, it's essential to have a clear understanding of the role and its responsibilities.
Health Information Managers are responsible for managing medical records, ensuring the accuracy and security of patient information, and overseeing the implementation of electronic health record systems. They play a crucial role in the efficient functioning of healthcare facilities, including hospitals, clinics, and other healthcare organizations.
Additional responsibilities can include:
Ensure compliance with regulations, such as the Health Insurance Portability and Accountability Act (HIPAA)
Supervise HIM staff
Manage budgets
Implement security protocols to protect sensitive data
Analyze data and present findings
Collaboration with other healthcare professionals
Contribute to risk management and qualify improvement initiatives
2. Average salaries and job outlook*
Salaries in health information management can vary based on factors such as location, experience, education, and the type of healthcare facility.
According to the Bureau of Labor Statistics, the average annual salary for Medical and Health Services Managers, including Health Information Managers, is $127,980 per year ($61.53 per hour).
The BLS also estimates a 28% increase in employment of these professionals from 2022-2032.
3. Meet educational requirements
To become a Health Information Manager, obtaining the right education is crucial. Many positions require at least a bachelor's degree in health information management, health informatics, or a related field.
Coursework in a bachelor's HIM program covers topics such as medical terminology, healthcare laws and regulations, health data management, and information systems.
Some individuals may pursue a master's degree for advanced opportunities and specialization—but a bachelor's degree is sufficient to become certified as a Registered Health Information Administrator (RHIA) and potentially qualify for managerial-level positions.1
4. Gain relevant experience
In addition to education, gaining practical experience is vital for becoming a successful Health Information Manager.
Many professionals start in entry-level positions, such as Health Information Technician or Medical Records Clerk, to gain hands-on experience in the field.
As they progress their education and attain relevant certifications, they can take on more specialized roles and eventually advance to managerial positions.
5. Earn the Registered Health Information Administrator (RHIA) certification
One of the essential steps in enhancing your credentials as a Health Information Manager is obtaining the Registered Health Information Administrator (RHIA) certification.1
Offered by the American Health Information Management Association (AHIMA), the RHIA certification validates your expertise and competency in health information management. This certification proves your commitment to maintaining high standards in healthcare information and record management, helping you become a highly sought-after professional in the field.
You'll need to earn a bachelor's degree in health information management to qualify for the RHIA exam, among additional eligibility requirements.
6. Embrace the evolution of Health Information Technology (HIT)
In today's healthcare landscape, proficiency with technology and EHR systems is essential.
Health Information Managers should stay updated with the latest advancements in healthcare technology to effectively manage patient information and records within electronic systems.
As a leader in health information management, you need to be in the know about the latest innovations in the field and understand how it applies to the systems and people you manage.
7. Explore specialization and advancement opportunities
Health Information Management offers a range of career paths and specializations.
Professionals can specialize or emphasize in areas such as data analysis, health informatics, or healthcare IT project management.
As you gain experience and expertise, you can pursue jobs with titles such as Health Information Supervisor, Health Information Administrator or HIM Consultant.
8. Network and utilize career resources
Networking within the healthcare industry is crucial for career growth. Attend industry events, join professional associations, and connect with other HIM professionals. Utilize career resources such as job boards, industry directories, and healthcare organizations to explore job opportunities and stay informed about the latest trends and developments in the field.
We offer lifelong career coaching to all of our graduates and want to do everything we can to help you find a great job and discover the career you've always wanted. You are never alone! Learn more about our career development services.
Step into a new career path
Once you have the necessary education, certifications, and experience, you can start applying for Health Information Manager positions. Look for job openings in hospitals, clinics, healthcare organizations, and consulting firms. Tailor your resume and cover letter to highlight your relevant skills, experience, and certifications that make you a strong candidate for each unique position.
We are here to help you every step of the way. Choose Herzing University and become possible!
1. Certification enhances employment opportunities but is not a state specific requirement.
---
* Bureau of Labor Statistics (BLS), U.S. Department of Labor, Occupational Outlook Handbook 2022. BLS estimates do not represent entry-level wages and/or salaries. Multiple factors, including prior experience, age, geography market in which you want to work and degree field, will affect career outcomes and earnings. Herzing neither represents that its graduates will earn the average salaries calculated by BLS for a particular job nor guarantees that graduation from its program will result in a job, promotion, salary increase or other career growth.
Classes Start January 8th
Learn More Today