Banner Image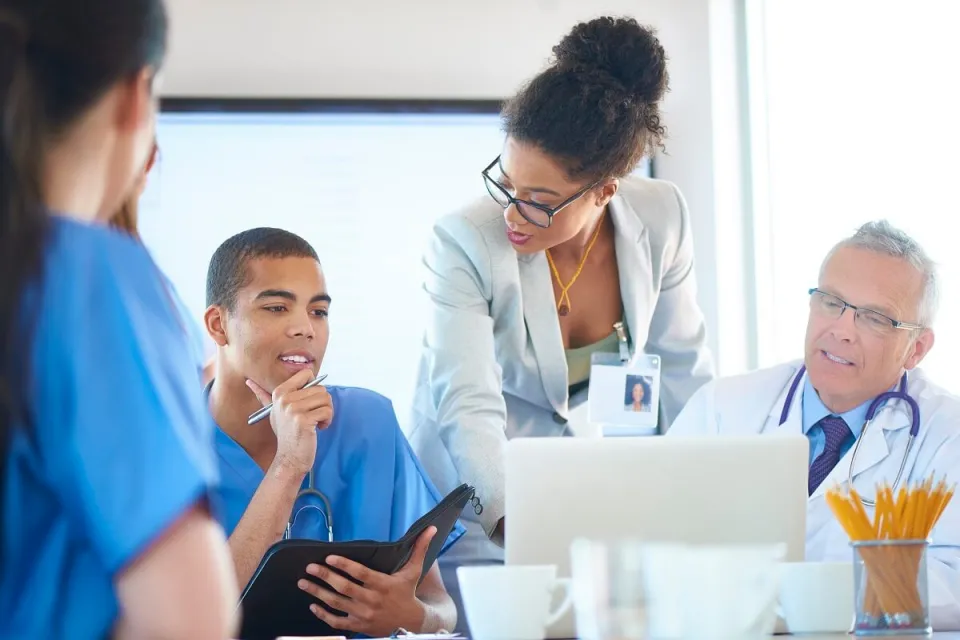 Ready to advance your nursing career? If your talents lie in management and leadership, consider becoming a nurse administrator. Demand for nurse administrators is growing along with the rest of the healthcare sector, and salary prospects for management roles in the field are strong.
Nursing administrators fall under the U.S. Bureau of Labor Statistics' (BLS) medical and health services manager category. According to the BLS, the average salary for medical health and service managers is $119,840 per year ($57.61 per hour).*
State
Per hour
Per year
Alabama
$44.87
$93,330
Alaska
$58.86
$122,430
Arizona
$59.40
$123,540
Arkansas
$43.12
$89,700
California
$66.36
$138,030
Colorado
$58.70
$122,090
Connecticut
$62.75
$130,510
Delaware
$62.65
$130,300
District of Columbia
$75.77
$157,590
Florida
$52.95
$110,130
Georgia
$49.58
$103,130
Hawaii
$67.14
$139,650
Idaho
$48.00
$99,830
Illinois
$60.07
$124,940
Indiana
$49.74
$103,470
Iowa
$43.83
$91,160
Kansas
$47.18
$98,140
Kentucky
$45.48
$94,600
Louisiana
$50.86
$105,790
Maine
$48.12
$100,100
Maryland
$63.50
$132,090
Massachusetts
$65.83
$136,930
Michigan
$52.24
$108,660
Minnesota
$53.54
$111,360
Mississippi
$48.40
$100,680
Missouri
$54.09
$112,500
Montana
$48.46
$100,790
Nebraska
$59.65
$124,080
Nevada
$58.38
$121,420
New Hampshire
$57.93
$120,490
New Jersey
$61.24
$127,380
New Mexico
$61.66
$128,250
New York
$75.07
$156,140
North Carolina
$57.72
$120,060
North Dakota
$60.84
$126,560
Ohio
$51.28
$106,670
Oklahoma
$45.76
$95,180
Oregon
$62.36
$129,710
Pennsylvania
$51.78
$107,710
Rhode Island
$62.80
$130,620
South Carolina
$51.14
$106,360
South Dakota
$51.85
$107,850
Tennessee
$50.18
$104,380
Texas
$53.30
$110,870
Utah
$51.76
$107,660
Vermont
$53.19
$110,640
Virginia
$56.98
$118,530
Washington
$63.76
$132,620
West Virginia
$53.42
$111,120
Wisconsin
$57.32
$119,220
Wyoming
$50.25
$104,510
Bear in mind that nursing administration salaries will vary depending on the employer, the local job market, and the candidate's qualifications and experience. While many factors can determine an individual's wage, nurse administrators who hold a master's degree, such as a Master of Science in Nursing Leadership and Administration as well as a certification may be more likely to qualify for higher paying roles.
Demand for nurse administrators
The BLS reports that over the 2020-2030 period, the healthcare industry is projected to add jobs at a faster rate than any other sector of the economy. While overall job openings should grow by 8%, healthcare jobs are expected to grow by 16%, or 2.6 million new job openings. This demand is driven by general population growth and the baby boom generation, who will require more care as they reach retirement age and beyond.
Growth for the medical and health services managers category, which includes nurse administrators along with other medical and health leaders, is expected to be 32% over the 2020-2030 period, adding 139,600 new jobs nationwide.
What does a nurse administrator do?
Nurse administrators work in large hospitals, nursing homes, and in an increasing number of medium-sized care facilities such as outpatient clinics. They direct the activities of other nurses and make leadership decisions for the nursing department on issues including:
Finances, budgets and purchasing
Clinical operations, including patient care, research, and more
Quality assurance
Hiring, training and retaining staff
Nursing administrators may also represent their departments at board meetings, collaborate with other clinical managers and develop strategic plans for nursing care. They may also represent a population group or a "cause" in the community by serving on a board of directors. Learn more about what you can do with a master's degree in nursing administration.
How to become a nurse administrator
Nurse administrators generally have several years of practice as a registered nurse (RN) under their belts, along with both a Bachelor of Science in Nursing (BSN) and Master of Science in Nursing (MSN) degree. Some smaller facilities may consider highly experienced candidates without a master's degree, but MSN graduates can have a considerable competitive edge.
If you are interested in earning an MSN to become a nurse administrator or manager, choose a Nursing Administration-focused program. Herzing University's online MSN in Nursing Leadership and Administration programs offer the blend of advanced clinical knowledge and management capabilities employers need in their nursing leaders, all in a convenient online format. We offer an MSN-NLA program (BSN to Nursing Leadership and Administration) for BSN holders, an accelerated RN to MSN-NLA program for RNs with an associate degree, and a post master's certificate option for current MSN holders.
After completing your MSN program, you also have the option to pursue certification as a nurse administrator. There are multiple certification options available, including:
Nurse Executive board certification (NE-BC) from the American Nurses Credentialing Center (ANCC)
Certified in Executive Nursing Practice (CENP) or Certified Nurse Manager and Leader (CNML) certification from the American Organization for Nursing Leadership (AONL)
Step up to nursing leadership with Herzing
Take the next step in your nursing career: train to become a nursing administrator with Herzing University. Learn more about our online MSN in Nursing Administration and Leadership today!
---
* Bureau of Labor Statistics (BLS), U.S. Department of Labor, Occupational Outlook Handbook 2021. BLS estimates do not represent entry-level wages and/or salaries. Multiple factors, including prior experience, age, geography market in which you want to work and degree field, will affect career outcomes and earnings. Herzing neither represents that its graduates will earn the average salaries calculated by BLS for a particular job nor guarantees that graduation from its program will result in a job, promotion, salary increase or other career growth.
Banner Image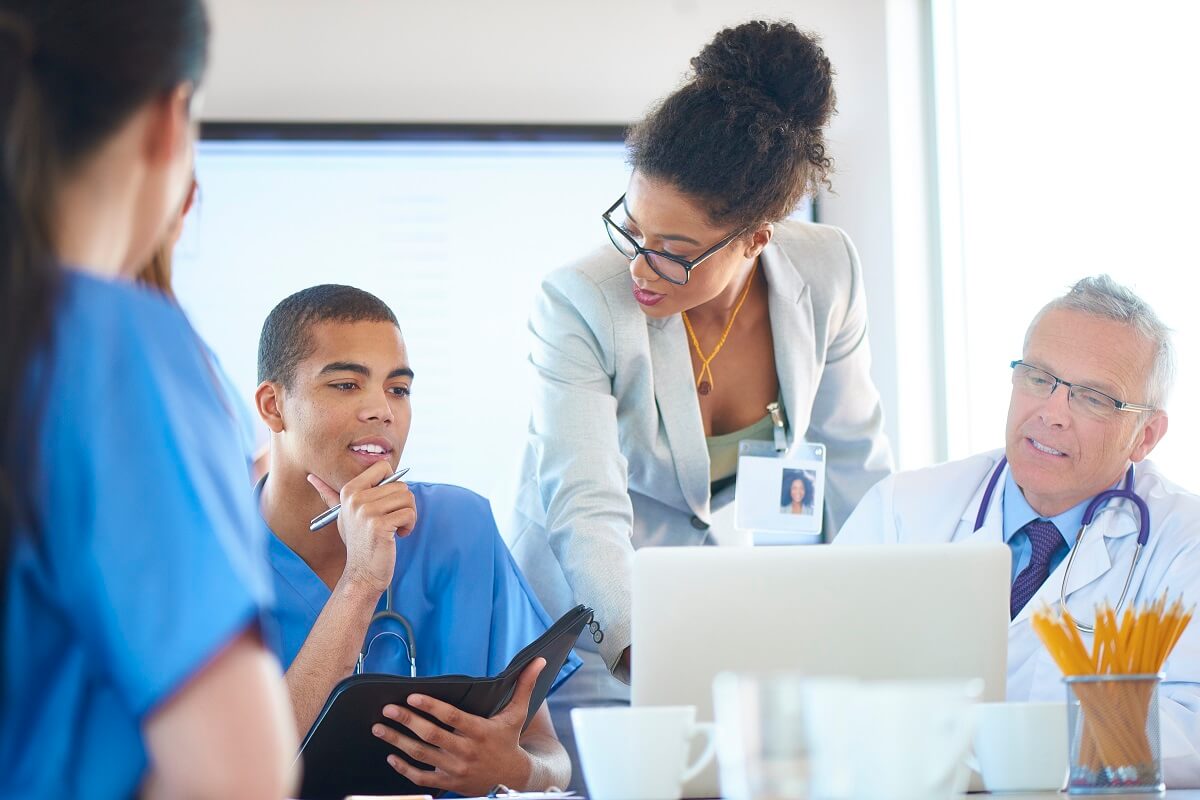 Classes Start July 10th
Learn More Today