Thinking of advancing your nursing career? You may be considering moving away from the clinical setting and into leadership. Becoming a nurse administrator is one option for experienced nurses with the right qualifications. Also regarded as nurse managers, nurse executives, nurse directors or clinical nursing managers, nurse administrators perform different duties than RNs, providing strategic direction and planning, as well managing day-to-day operations for nursing departments, organizations, and healthcare facilities. In a nursing administration career, you can draw on your clinical expertise as you make decisions about staffing, finance, operations, and care procedures to provide high-quality, cost-effective care for patients.
In this article, we offer an overview of how to begin a career in nursing administration, including education requirements, salary estimates, a general job description & duties, job prospects and more.
Steps to become a nurse administrator: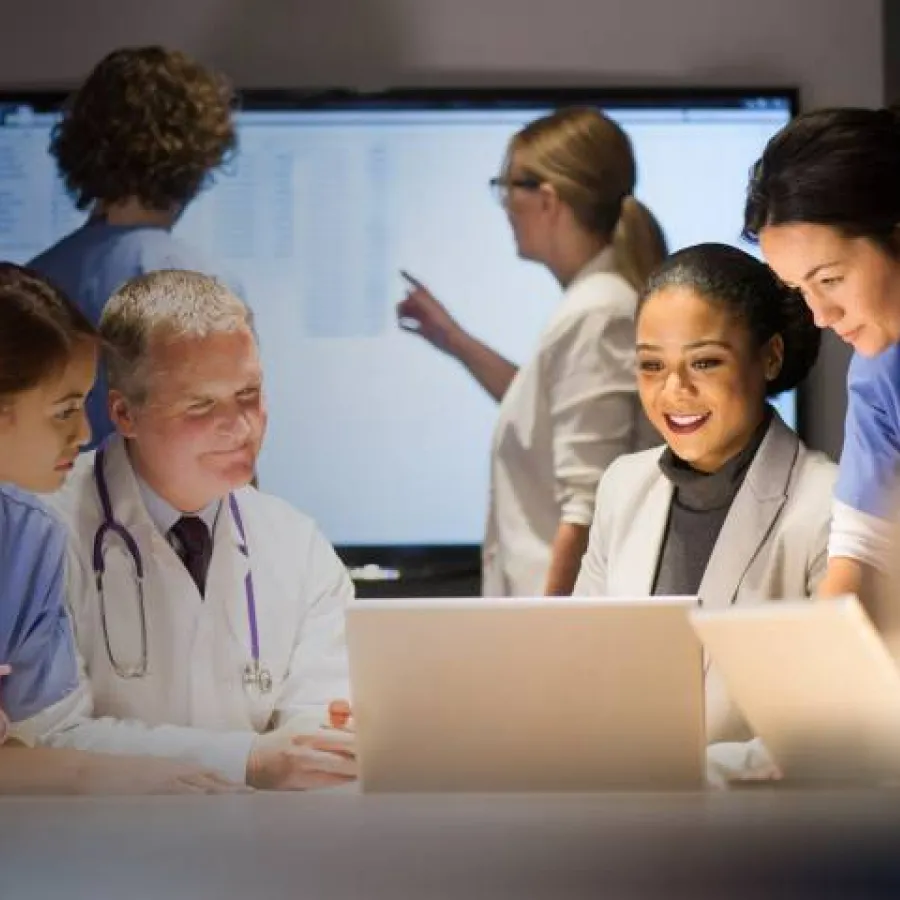 1. Know the role: what do nurse administrators do?
Nurse administrators provide leadership for nursing departments in hospitals, long-term care facilities, private practices, and more. In addition, nurse administrators draw on their knowledge and experience from clinical practice, as well as management skills to carry out their duties and provide effective direction for their departments. Nurse administrators work in office settings within hospitals, private practices, home health care agencies, and other organizations. Their duties usually span both strategic leadership and operational management.
Strategic leadership duties, roles and responsibilities can include:
Setting budgets
Defining policy and procedure
Working with boards and committees to set performance goals for nursing staff
Operational management duties may include:
Recruiting, hiring, and arranging professional development for nursing staff
Setting work schedules
Conducting performance reviews of nurses and taking disciplinary action where needed
Managing departmental budgets
Nurse administrators also coordinate with medical staff and represent their nursing department in meetings with hospital or other healthcare executives.
Salary: how much does a nurse administrator make?
The U.S. Bureau of Labor Statistics (BLS) does not track average salaries for nurse administrators specifically. They are grouped in the "medical and health services managers" category, regarded as clinical managers.
According to data from the BLS, the average annual salary for medical and health services managers is $127,980 per year or $61.53 per hour.* Earning potential can vary widely by factors such as location, employer, seniority of the position, experience of the applicant, and the scope of responsibility. Discover how much nurse administrators can make by state and see an estimate of what medical and health managers earn on average near you.
Job outlook for nurse administrators
Job growth prospects for nurse administrators are strong. According to the Bureau of Labor Statistics, job openings for medical and health services managers, which includes nurse administrators, are projected to grow by 28% over the 2022-2032 period, much faster than the overall job growth rate.*
2. Become a registered nurse (RN)
A job as a nurse administrator is not an entry level position. You can only be qualified for a job in management or administration with valuable experience as a registered nurse with a unique, educated approach to offer potential employers.
There are many paths Herzing University offers to get the education you need to become a registered nurse:
Associate degree in nursing program. Earn your Associate of Science in Nursing (ASN) to get in the field fastest.
Bachelor's degree in nursing program. Enroll in a 3-year program to earn a Bachelor of Science in Nursing (BSN) and look ahead to potentially advancing into a master's degree program. The BSN program is available online and on-campus. We also offer an RN to BSN online program for current associate degree RNs looking to transition from RN-ADN to BSN, and a second degree nursing program for applicants with a BS in another field looking to transition into nursing.
Bridge options for healthcare professionals. We offer shorter ASN and BSN pathways for LPNs, paramedics, military medics, Respiratory Therapists (RT), and Cardiovascular Technologists (CVT).
* Program availability at Herzing varies by campus. Click through to each program for details.
Once you have earned an associate or bachelor's degree, you'll be qualified to sit for the NCLEX-RN, meet the board of nursing requirements in your state, and become a registered nurse.
3. Gain experience as an RN
Once you have earned a degree and gone through the steps to become a registered nurse, you will need to gain experience in clinical practice as a registered nurse to be considered for a role as a nurse director or administrator.
Every employer will have their own unique requirements and prerequisites for experience in nursing when hiring for an administrative role. Rather than target a predetermined number of years of experience, work towards being the best at what you do, never stop learning, and remain open to new opportunities.
4. Earn your master's degree
Some senior nurse administrator roles may also require nurses to hold a Master of Science in Nursing (MSN) or a BSN plus a master's in business or management. A master's degree is an excellent credential you may use to become qualified for greater roles in nursing leadership.
Herzing University offers a master's degree program built for registered nurses looking to step into an administrative role. Our Master of Science in Nursing – Nursing Leadership & Administration (MSN-NLA) programs equip you with the education to help you reach the next professional level in nursing in a management role. You may also consider a concentration in public health as an alternative.
Learn more about some of the jobs you can get with an MSN in nursing administration.
If you are interested in the business side of not only nursing but healthcare in general, we also offer an MBA program in healthcare management. This can be a great alternative career direction for nurses looking to transition from clinical practice to management.
5. Certification for nurse administrators
While it's not required, obtaining nurse administrator certification may make you more competitive for advanced roles or with certain employers. Certification is usually offered to nurses who hold a master's degree. Options include:
Career options: possibilities to advance your career
Exploring options to take your nursing career to the next level? We offer multiple master's degree concentrations for RNs looking to take the next step.
If you are currently a registered nurse and want to become a nurse administrator, we recommend pursuing your BSN degree (if you haven't earned it already) and pursue an MSN focused on nursing administration.
Take the leap and become a new you.
Our goal is to help you get the education you need to reach the next level in your career. We are your lifelong learning partner, eager to empower you to better yourself and become possible.
---
* Bureau of Labor Statistics (BLS), U.S. Department of Labor, Occupational Outlook Handbook 2022. BLS estimates do not represent entry-level wages and/or salaries. Multiple factors, including prior experience, age, geography market in which you want to work and degree field, will affect career outcomes and earnings. Herzing neither represents that its graduates will earn the average salaries calculated by BLS for a particular job nor guarantees that graduation from its program will result in a job, promotion, salary increase or other career growth.
Classes Start January 8th
Learn More Today