Banner Image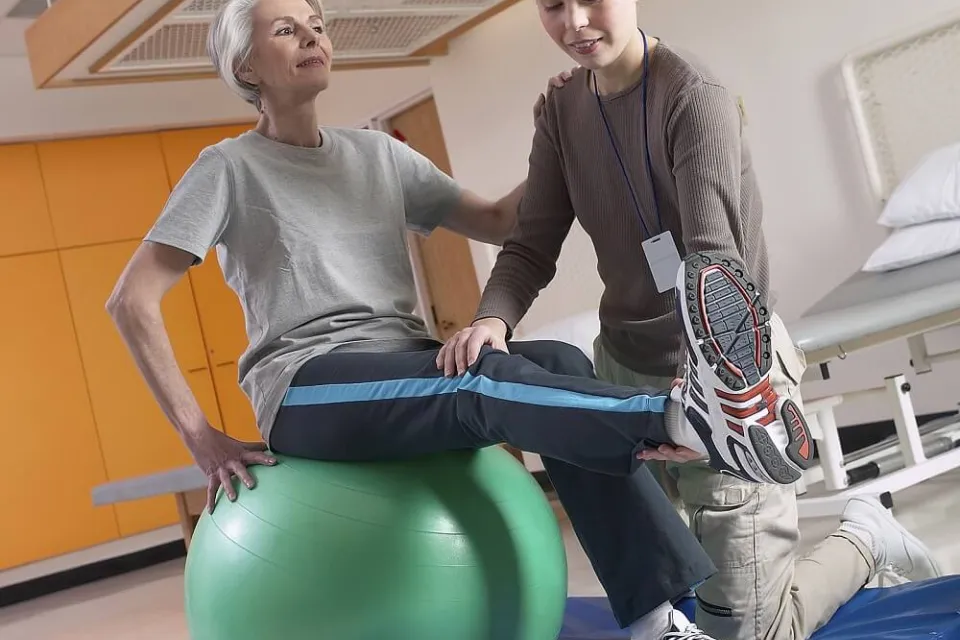 According to 2020 data from the Bureau of Labor Statistics, the average annual salary for physical therapist assistants is $59,440 per year ($28.58 per hour). Salaries can vary based on location, education, and experience. This average is not entry level – recent graduates will need to earn experience and work their way up to earn a higher salary.
Jobs outlook
The overall employment of PTAs is expected to grow 33% from 2019-2029, much faster than the average U.S. occupation (Bureau of Labor Statistics). The need for more PTA jobs is due in part to an aging population and a greater need for physical therapy care.
State
Per hour
Per year
Alabama
$28.09
$58,430
Alaska
$28.48
$59,230
Arizona
$21.91
$45,580
Arkansas
$28.89
$60,080
California
$33.93
$70,570
Colorado
$26.83
$55,810
Connecticut
$33.62
$69,940
District of Columbia
$20.93
$43,540
Florida
$30.27
$62,960
Georgia
$27.37
$56,920
Hawaii
$27.67
$57,560
Idaho
$24.08
$50,080
Illinois
$29.12
$60,580
Indiana
$28.05
$58,330
Iowa
$25.82
$53,700
Kansas
$28.54
$59,370
Kentucky
$26.50
$55,120
Louisiana
$27.31
$56,810
Maine
$25.97
$54,020
Maryland
$26.20
$54,490
Massachusetts
$30.44
$63,320
Michigan
$26.08
$54,240
Minnesota
$27.85
$57,920
Mississippi
$24.10
$50,120
Missouri
$25.15
$52,320
Montana
$26.95
$56,060
Nebraska
$26.06
$54,200
Nevada
$28.44
$59,160
New Hampshire
$30.03
$62,460
New Jersey
$33.32
$69,310
New Mexico
$24.47
$50,900
New York
$26.55
$55,220
North Carolina
$29.34
$61,020
North Dakota
$22.95
$47,740
Ohio
$29.54
$61,440
Oklahoma
$27.40
$57,000
Oregon
$29.51
$61,370
Pennsylvania
$27.32
$56,820
Rhode Island
$32.36
$67,300
South Carolina
$28.56
$59,410
South Dakota
$20.58
$42,810
Tennessee
$27.79
$57,790
Texas
$33.61
$69,900
Utah
$25.04
$52,080
Vermont
$29.19
$60,710
Virginia
$28.34
$58,960
Washington
$29.73
$61,850
West Virginia
$26.41
$54,930
Wisconsin
$25.45
$52,930
Wyoming
$26.65
$55,440
Frequently asked questions
What do physical therapist assistants do?
Physical therapy assistants (PTAs) provide physical therapy services while being directed and supervised by a licensed physical therapist. PTAs may assist patients of all ages who need physical rehab or have medical issues or health-related conditions that limit their ability to perform daily activities.
PTAs provide care focusing on patients' mobility, strength, and coordination and may help patients with exercises geared toward strengthening these abilities. PTAs may train patients for activities such as walking with a mobility device including crutches, canes, or walkers. They may also fit or adjust supportive devices, such a leg braces or crutches. In addition, PTAs are also trained to conduct therapeutic exercises and provide therapeutic massage using ultrasound or electrical stimulation for treatment.
Working with physical therapists, PTAs can help measure changes in patients' performance and assist with clerical duties, including documenting progress, completing forms, and ordering supplies.
PTAs work in a variety of settings including hospitals, outpatient clinics, nursing homes, sports facilities, schools, and more.
Read more about what physical therapist assistants do.
What is the difference between a PTA and Occupational Therapist Assistant (OTA)?
Physical therapist assistants (PTAs) work under the direction of a physical therapist (PT) to help people return to daily activity which may encompass movement related recreational pursuits, work, or sports. PTAs also offer patients injury prevention strategies related to fitness and movement. They help implement plans established by a PT to promote movement, reduce pain, restore function and prevent disability.
Occupational therapy assistants (OTAs) work under the direction of an occupational therapist (OT) to help people of all ages who have a disability, condition or injury which interferes with their ability to carry out daily self-care, school or work tasks. OT/OTAs work on cognition as well as the physical aspect of care.
* Salaries can vary based on location, education, and experience. This average is not entry level – recent graduates will need to earn experience and work their way up to earn a higher salary.
Both OTAs and PTAs may be able to increase their earning potential by earning a bachelor's degree in health science. Completing a bachelor's degree can help OTAs and PTAs qualify for more jobs within their field and advance their career.
Learn more about the primary difference between OTA and PTA.
How can I become a PTA?
To become a PTA, you'll need to earn an associate's degree from a physical therapy assistant program. Generally, these programs take approximately 20 months to complete and focus on medical terminology, kinesiology, patient care, and anatomy/physiology. As a complement to online coursework, you'll also participate in hands-on clinicals and lab work, which will help build your practical experience in physical therapy assisting.
Once you have graduated, it's important to become certified. You can sit for the National Licensing Examination for Physical Therapy Assistants, which is administered by the Federation of State Boards of Physical Therapy (FSBPT). Passing the exam and earning your PTA certification is a requirement for working as a PTA.
Ready to make a difference? Start your path to a new career as a physical therapy assistant. Learn more about Herzing University's PTA program - available at three campus locations in Orlando, Florida and Brookfield, Wisconsin.
---
* Bureau of Labor Statistics (BLS), U.S. Department of Labor, Occupational Outlook Handbook 2020. BLS estimates do not represent entry-level wages and/or salaries. Multiple factors, including prior experience, age, geography market in which you want to work and degree field, will affect career outcomes and earnings. Herzing neither represents that its graduates will earn the average salaries calculated by BLS for a particular job nor guarantees that graduation from its program will result in a job, promotion, salary increase or other career growth.
Classes Start August 9th
Learn More Today