Known as the "unsung heroes of the operating room," surgical techs play a critical role in many life-saving surgeries every day. If you're interested in working in the OR, but not sure that the life of a surgeon is right for you, then becoming a surgical technologist (ST) might be the perfect career match.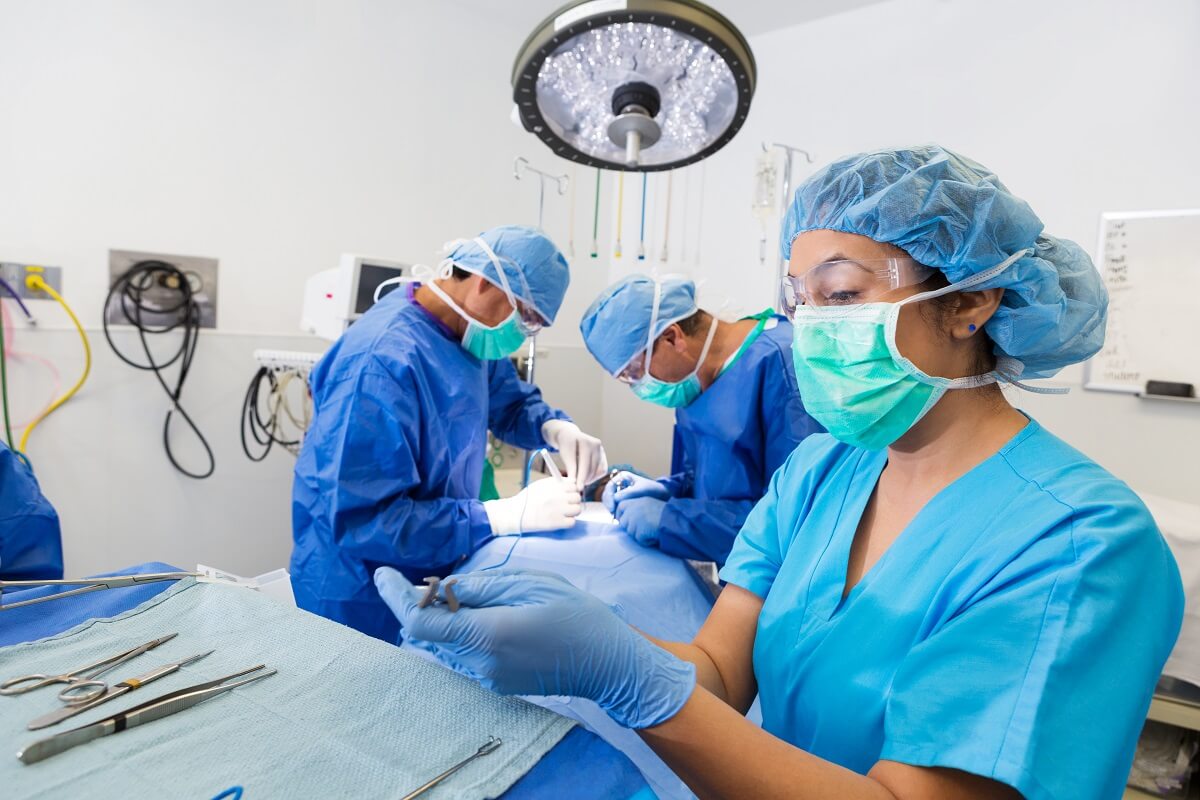 What is the average salary for a surgical technologist?
According to the Bureau of Labor Statistics (BLS), the average annual salary for surgical technologists is $57,500 per year ($27.64 per hour).
 
Average salary
Median salary
State
Per hour
Per year
Per hour
Per year
Alabama
$20.89
$43,440
$19.28
$40,100
Alaska
$35.56
$73,960
$36.39
$75,690
Arizona
$28.33
$58,920
$29.36
$61,070
Arkansas
$22.47
$46,740
$22.52
$46,840
California
$35.03
$72,860
$36.13
$75,150
Colorado
$30.64
$63,740
$30.38
$63,180
Connecticut
$34.34
$71,430
$36.01
$74,900
Delaware
$26.85
$55,850
$27.65
$57,520
District of Columbia
$30.66
$63,760
$30.87
$64,210
Florida
$25.11
$52,230
$24.46
$50,880
Georgia
$26.43
$54,970
$26.07
$54,230
Hawaii
$27.47
$57,140
$26.59
$55,310
Idaho
$27.10
$56,370
$28.28
$58,820
Illinois
$26.74
$55,630
$24.93
$51,850
Indiana
$26.43
$54,980
$27.06
$56,280
Iowa
$25.11
$52,220
$23.41
$48,690
Kansas
$24.61
$51,200
$23.39
$48,660
Kentucky
$24.05
$50,030
$23.73
$49,360
Louisiana
$22.82
$47,470
$22.97
$47,780
Maine
$27.10
$56,360
$26.07
$54,220
Maryland
$28.77
$59,840
$28.90
$60,110
Massachusetts
$31.11
$64,700
$30.57
$63,580
Michigan
$24.89
$51,780
$24.42
$50,790
Minnesota
$31.59
$65,700
$31.23
$64,960
Mississippi
$21.32
$44,340
$21.48
$44,680
Missouri
$26.62
$55,370
$24.49
$50,940
Nebraska
$25.31
$52,640
$24.06
$50,040
Nevada
$33.32
$69,300
$32.52
$67,640
New Hampshire
$29.14
$60,620
$29.76
$61,890
New Jersey
$31.86
$66,270
$30.16
$62,730
New Mexico
$23.46
$48,800
$22.92
$47,670
New York
$31.08
$64,640
$30.66
$63,780
North Carolina
$23.80
$49,500
$23.67
$49,220
North Dakota
$25.37
$52,780
$24.20
$50,330
Ohio
$26.55
$55,230
$24.83
$51,650
Oklahoma
$23.83
$49,560
$23.18
$48,210
Oregon
$31.62
$65,760
$31.43
$65,370
Pennsylvania
$25.47
$52,980
$24.05
$50,020
Rhode Island
$29.47
$61,290
$30.45
$63,340
South Carolina
$24.33
$50,610
$23.81
$49,510
South Dakota
$22.88
$47,590
$23.51
$48,900
Tennessee
$25.14
$52,290
$24.41
$50,780
Texas
$25.93
$53,930
$25.70
$53,460
Utah
$24.34
$50,630
$23.94
$49,790
Vermont
$25.38
$52,800
$22.98
$47,810
Virginia
$28.53
$59,350
$28.09
$58,420
Washington
$32.01
$66,590
$30.62
$63,700
West Virginia
$22.18
$46,140
$22.52
$46,850
Wisconsin
$29.24
$60,830
$29.34
$61,040
Wyoming
$23.69
$49,270
$23.68
$49,250
Puerto Rico
$11.57
$24,070
$11.00
$22,880

All salary data courtesy of the Bureau of Labor Statistics.
What is the job outlook for surgical technologists?
The BLS projects 5% employment growth for surgical technologists from 2022-2032. Employment growth will be driven by advancements in medical technology, which have continued to make surgery safer and more common.
Additionally, the aging baby boomer population is expected to increase demand for a wide range of healthcare services, including operations. Individuals are remaining active later in life and may need surgeries to increase mobility. Hip and knee replacements, for example, are common surgeries among older individuals.
Surgical technologists work alongside surgeons and nurses to ensure that surgical procedures run smoothly. Surgical techs are involved in every aspect of an operation and can even assist the surgeon during certain parts of a procedure.
During a typical day, a surgical tech will:
Set up the operating room. STs are in charge of preparing all the needed supplies and instruments for an operation. They must memorize each surgical procedure so that they know what tools are needed and in what order the surgeon will need them.
Sterilize surgical equipment. A large part of the ST's job is to sterilize all the equipment in the operating room, set up sterile drapes, and to make sure that the surgeon and other staff members follow proper aseptic technique. This minimizes the risk of infection after a procedure and ensures a smooth recovery for the patient.
Prepare the patient. Some STs are called "circulating technologists" and it's their job to interview and debrief the patient before the procedure. During the surgery, they assist with anesthesia and open packages for other team members to maintain the sterile field.
Assist during the surgery. During the procedure, STs assist the surgeon by passing instruments, holding retractors and cutting sutures. A circulating ST will keep a written account of the surgical procedure and answer the surgeon's questions about the patient during the surgery. An experienced ST might also be able to assist with wound closure at the end of a procedure.
Clean up and prepare for the next procedure. Once the procedure is over, the ST cleans the room and all the equipment and begins preparing for the next operation.
Most surgical techs work on operating room teams in hospitals, clinics and other healthcare facilities. Some STs are in charge of managing central supply departments in hospitals, or they might take positions with insurance companies, sterile supply services, and operating equipment firms.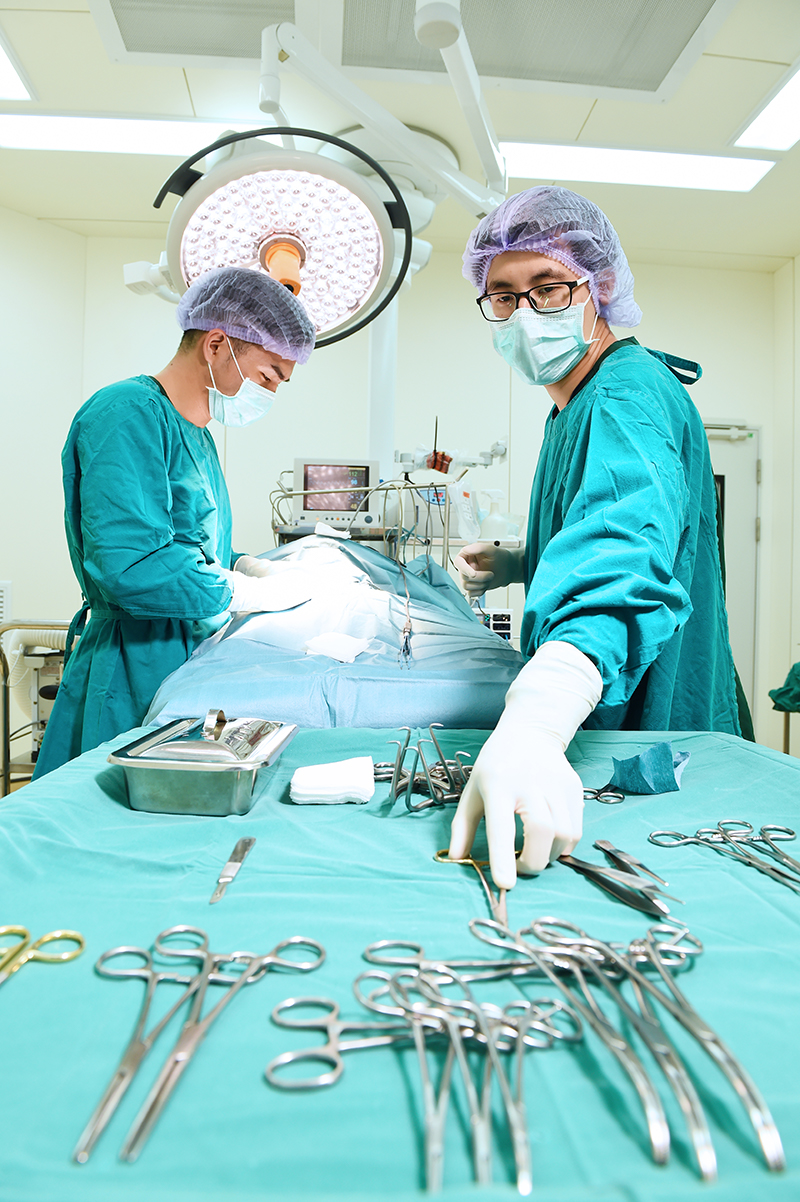 What skills do I need to be a surgical technologist?
Critical thinking and communication are crucial for success in the operating room. The operating room team relies on the ST, in part, to ensure positive outcomes for the patient.
"The two most important skills for any ST to demonstrate are the ability to remain calm under pressure and to anticipate the surgeon's needs before he or she even knows what's next," says Stephanie Allen, a surgical technologist.
It's important to know that the ST is not just passing instruments, continues Allen. The ST is essentially the surgeon's right hand.  They must know everything about a surgical procedure and the patient in order to provide adequate support.
How do I become a surgical technologist?
An associate degree in surgical technology is required for entry-level surgical tech positions. After completing an associate degree program, STs must take the Certified Surgical Technologist (CST) examination offered by The National Board of Surgical Technology and Surgical Assisting.
Herzing University offers an accredited surgical technologist degree program that prepares you for entry-level positions in the operating room. You will also be eligible to take the CST examination after graduation.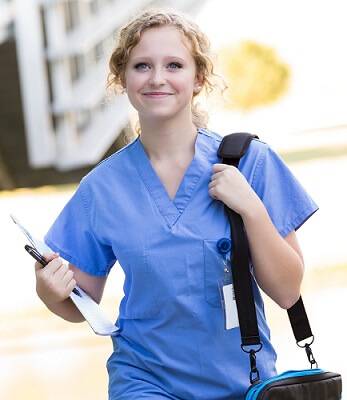 How long does it take to become a surgical technologist?
You can graduate from Herzing's surgical technologist program in as little as 20 months. Entry-level job titles for surgical technologist graduates include:
Surgical technologist
Lead surgical technologist
Travel surgical technologist
Scrub tech
Material manager
With experience and additional education or training, STs can advance by specializing in a particular area, such as neurosurgery or open-heart surgery.
"The greatest advice that I have for students that are interested in surgical technology is to have fun and be open to learning every day," says Allen. "This is such a great career with so many growth opportunities."
---
* Bureau of Labor Statistics (BLS), U.S. Department of Labor, Occupational Outlook Handbook 2022. BLS estimates do not represent entry-level wages and/or salaries. Multiple factors, including prior experience, age, geography market in which you want to work and degree field, will affect career outcomes and earnings. Herzing neither represents that its graduates will earn the average salaries calculated by BLS for a particular job nor guarantees that graduation from its program will result in a job, promotion, salary increase or other career growth.
Classes Start January 8th
Learn More Today