Banner Image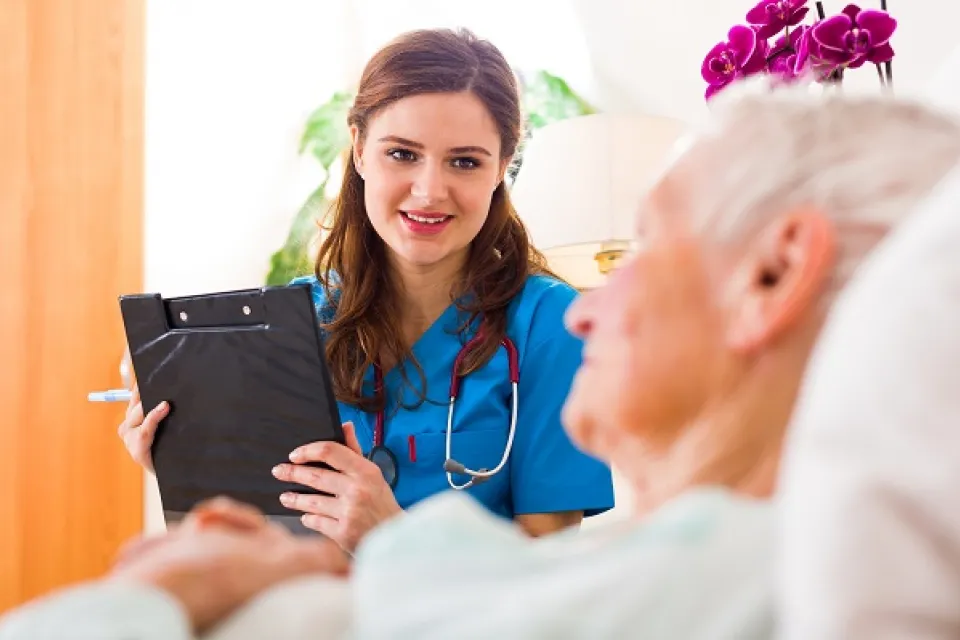 Pursuing a career in medicine doesn't have to require many years of schooling and a career as a doctor or a nurse. In fact, there are plenty of people who work behind the scenes at hospitals and healthcare facilities to ensure quality patient care. Medical assistants, in particular, play a vital role in the day-to-day success of the healthcare team.
Ranked #11 on the U.S. News list of best healthcare support jobs for 2023, medical assistants help ensure a positive, streamlined experience for patients and make it possible for physicians to attend to more patients on a given day.
These 4 medical assisting skills make you perfect for the job
1. You're detail-oriented.
Physicians rely on medical assistants to perform routine administrative and clinical duties, such as recording a patient's personal information, measuring vital signs or helping with initial examinations. Being attentive to detail is imperative, especially when transferring medical records to an electronic database or recording a patient's medical history.
2. You have strong interpersonal skills.
Whether you're working primarily in an administrative or clinical role, you will likely be one of the first and last faces a patient sees during an appointment. Medical assistants must be able to keep a calm composure and help put patients at ease by relaying information in terms they can understand.
3. You enjoy working with others.
Medical assistants are dedicated team players. In addition to having a good bedside manner, medical assistants need to work well within a day-to-day care team that can include peers as well as doctors and nurses.
4. You want a fast track to a career in healthcare.
As a medical assistant, you'll have the opportunity to make a difference in the lives of patients and contribute to the overall success of a hospital, doctor's office or healthcare facility. Learn more about what comes next after medical assisting and the unique paths you can carve in your healthcare career.
What does a medical assistant do?
The duties and responsibilities included in the job description for a medical assistant vary widely based on the type of job, including clerical, administrative/office, clinical and customer service roles. Learn more about what medical assistants do from someone who's done it for 20+ years.
Can I become a medical assistant with no experience?
It is very rare to be hired as a medical assistant with no formal training or schooling. Your medical assisting resume will be far stronger if you've earned a diploma or associate degree in medical assisting.
Medical assistant salary & job outlook
As the demand for medical services continues to grow and hospitals and healthcare facilities must accommodate the needs of an expanding patient population, medical assistants are becoming an increasingly important part of the healthcare team. The Bureau of Labor Statistics predicts that employment for medical assistants will grow by 14% from 2022-2032, much faster than average for all occupations. Learn more about how much medical assistants make and find the average estimate in your state.
While physicians must spend several years in school before they can begin practicing medicine, you can earn a diploma in medical assisting and begin your career in as little as 10-12 months. Some medical assistants choose to advance their career with an associate degree in medical assisting. Others may move from medical assisting into leadership or management positions in healthcare by earning a bachelor's degree in healthcare administration.
---
* Bureau of Labor Statistics (BLS), U.S. Department of Labor, Occupational Outlook Handbook 2022. BLS estimates do not represent entry-level wages and/or salaries. Multiple factors, including prior experience, age, geography market in which you want to work and degree field, will affect career outcomes and earnings. Herzing neither represents that its graduates will earn the average salaries calculated by BLS for a particular job nor guarantees that graduation from its program will result in a job, promotion, salary increase or other career growth.
Classes Start October 30th
Learn More Today