Social work is a demanding and rewarding profession that requires a variety of skills and traits. That's because social workers help people improve their well-being in many ways, through counseling, education and advocacy. They also assist people with mental health, substance abuse and socio-economic challenges, such as unemployment. Different types of social workers must exhibit unique skillets to succeed in their work.
Social workers must possess certain skills in order to help people improve their wellbeing. These characteristics can help social workers be successful in the different aspects of their job, from advocate to counselor to cheerleader.
Here are 10 key skills that can benefit you as a social worker.
Banner Image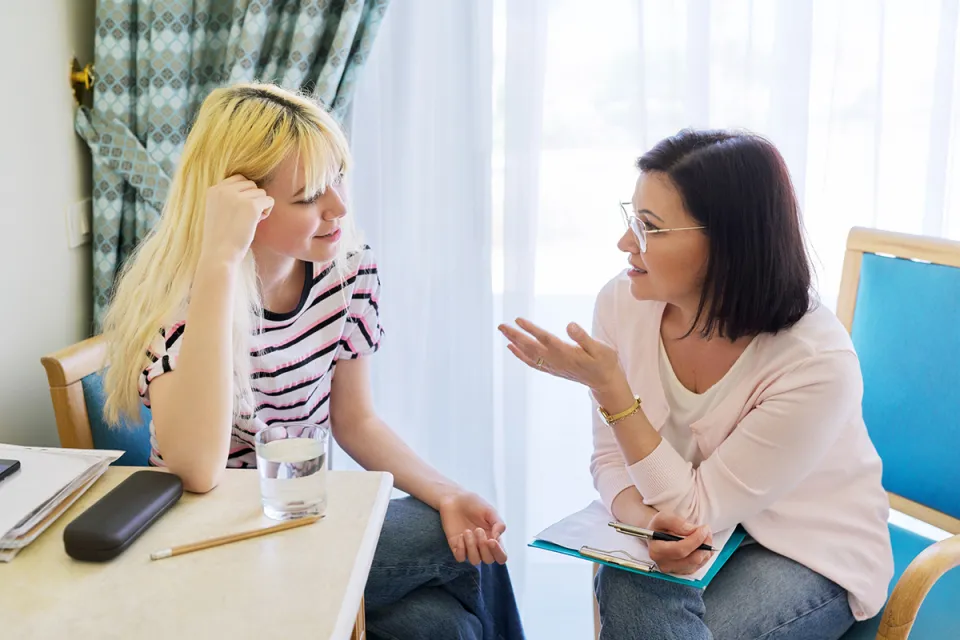 1. Communication
It's no surprise interpersonal communication skills is at the top of the list. Examples include verbal communication, active listening and even non-verbal communication, such as body language.
In order to help their clients, social workers need to understand their unique needs. This means communicating clearly and appropriately with people of different ages and genders, with varied cultural, educational and religious backgrounds. Having well-rounded communication skills is essential to helping clients with their challenges.
Additionally, social workers also must have strong written communication skills. This is because they must often write documents such as case notes, clinical assessment reports, letters of support and care plans.
2. Empathy
Empathy is crucial for social work practice. Empathy is the ability to understand and share another's feelings so they feel understood and recognized. By exhibiting empathy, social workers demonstrate their ability to recognize what someone is going through and understand with how they feel.
This can help build trust between social workers and their clients so they can tackle challenges together.
3. Collaboration
As a social worker, you'll work closely with your clients and their families. Having strong collaboration skills can help you effectively provide the care your clients need.
Social workers also collaborate with individuals who work in related environments, such as community centers, healthcare clinics and government agencies. By working together, the groups can coordinate their efforts and play to their strengths. This way, social workers can provide a more integrated approach to helping individuals and their communities.
4. Advocacy
Social workers advocate, or publicly support, policy changes on behalf of individuals, families and communities that are often underserved by government or social services. This may include working with local government agencies or community health centers to support service programs.
Social workers can benefit from strong advocacy skills because they often work closely with local, state and federal groups to develop programs. Advocating with other groups can help build engagement within local communities. Additionally, having a master's degree in social work can give you a broader foundation of social policy and services.
5. Cultural awareness and competence
Social workers meet with clients from different socioeconomic, ethnic and racial backgrounds. By having a sincere sense of cultural awareness and respect for your clients' different cultures and customs, social workers can best support their clients' unique needs.
The National Association of Social Workers (NASW) identified cultural competence as one of the key ethical standards for social workers in the 2021 NASW Code of Ethics. Social workers must understand their clients' culture and guide their practice accordingly.
6. Organization
Being organized is an important skill to keep social workers on track. Social workers have busy schedules and a wide variety of daily tasks and responsibilities.
In addition to working one-on-one with clients, social workers must manage tasks such as scheduling, paperwork, and billing.
7. Problem solving
Each client's needs—and challenges—are different. That's why social workers often act as a personal coach, helping the client describe a problem and what they would like to change.
Working together, they can determine what resources are needed, create an action plan and carry out a solution.
8. Critical thinking
Critical thinking allows people to analyze information objectively, taking the emotion out of situations. This is helpful for social workers who have to look at many different aspects of a situation—including who is involved and what options are available—and make the best decisions for their clients.
Having strong critical thinking skills can help social workers make educated decisions that help their clients.
9. Desire to learn
As a social worker, it's essential to stay informed of new social policies and practices and a desire to possess new knowledge is key. One good way is by earning an online master of social work (MSW) degree.
An MSW program can strengthen your knowledge of core competencies, while helping to prepare you for advanced opportunities.
10. Self-awareness and boundaries
Social work can be a rewarding, but taxing job. Because it is a mission-driven career field, people may have a hard time "turning off" work at the end of the day, so burnout can happen.
Self-awareness can help social workers realize when they need to take a break or set some boundaries. This practice can help social workers do their best work for, and with, their clients.
You can build these skills with Herzing
There is no single personality or list of talents that makes a great social worker. Instead, it is a combination of a variety of traits and skills that can be gained through both education and experience.
Are you ready to take the next step toward a rewarding career in social work?
---
* Bureau of Labor Statistics (BLS), U.S. Department of Labor, Occupational Outlook Handbook 2022. BLS estimates do not represent entry-level wages and/or salaries. Multiple factors, including prior experience, age, geography market in which you want to work and degree field, will affect career outcomes and earnings. Herzing neither represents that its graduates will earn the average salaries calculated by BLS for a particular job nor guarantees that graduation from its program will result in a job, promotion, salary increase or other career growth.
Classes Start January 8th
Learn More Today