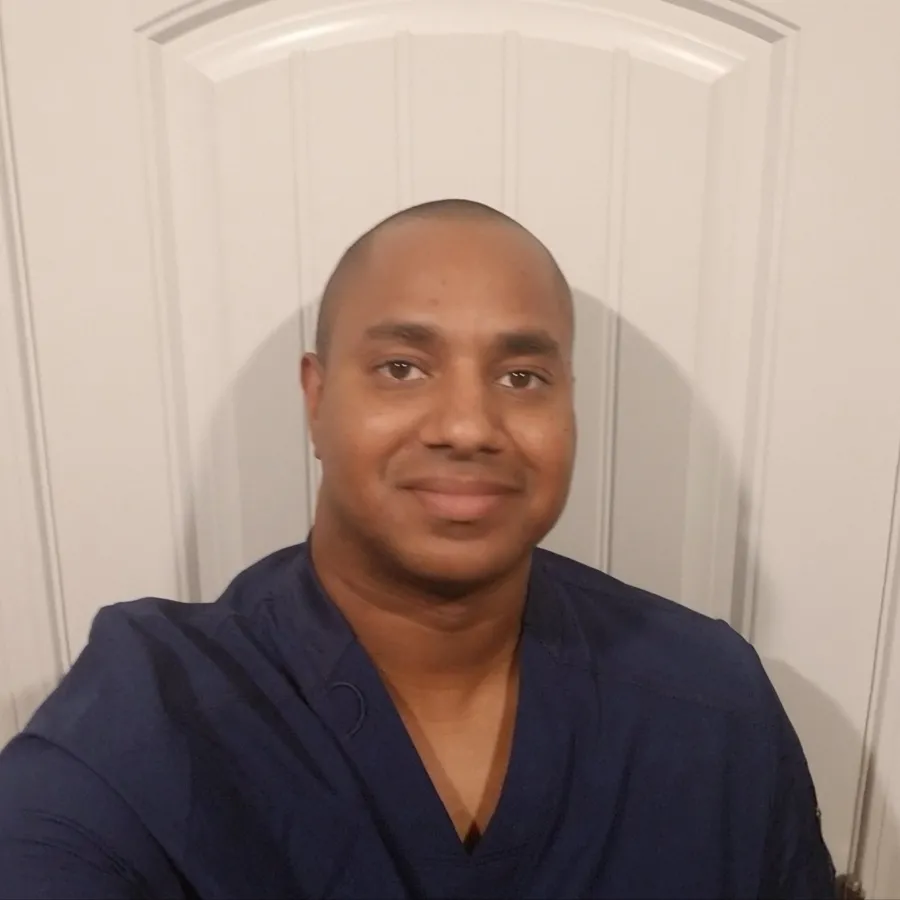 Anthony Pierson
Herzing Alumni
Herzing-Kenosha BSN graduate Anthony Pierson thought he wanted to pursue a career in social work, but after joining the military in 2006, he discovered his true passion: nursing. 
Despite not having any healthcare experience, Anthony was assigned to be an Army Combat Medic, which essentially was like being thrown into the deep end of healthcare to learn in real-time.
"I had to learn everything from scratch – this was my breeding ground," Anthony said. "I served with some of the best in the world, learning everything from starting an IV to completing a head to toe assessment." 
The Army really opened Anthony's eyes to the passion he had for patient care. Serving with others helped him realize what was possible. While serving, he noticed a severe lack of diversity, aside from his black male Army Captain, who he learned medical skills from in a combat support hospital. Seeing him at work every day provided validation that Anthony could achieve success in nursing as a black male, an under-represented demographic in the profession. 
After his time serving in the military, Anthony continued his nursing journey thanks to encouragement from his family, friends and coworkers. He began his Herzing experience, which, incidentally, came out of pure luck. One of his coworkers told Anthony about Herzing-Kenosha, which happened to be just down the street. 
The next challenge? Balancing school and work, which was easier said than done. Anthony switched over to the night shift at the VA to work toward his degree, which wasn't easy, but keeping his job was a priority since it gave him the chance to give back to his fellow veterans.
"The veteran population is still massively underserved, and I want to do my part to help," he said. "This is an opportunity for me to continue to serve my brothers and sisters in arms."
Anthony was balancing a full-time job while going to school and raising his son with his wife, who is also active military. His son is following in his father's footsteps. He attends a military school in New Orleans and dreams of one day becoming a pilot. 
Despite multiple responsibilities, Anthony kept at it day in and day out and continues to do so. He's working toward his MSN at Herzing-New Orleans and works full time as a registered nurse at a veteran health care system in Mississippi. Getting to this point in his career didn't come without its obstacles, however.
 "Nursing school was the hardest thing I ever did in my life," he said. "The most challenging part, other than learning how to manage your time, is the clinicals."
Luckily, his experience in the Army helped immensely with clinicals. Anthony wasn't afraid to talk to or examine patients, which is something many struggle with initially. He credits Herzing's faculty for helping him through clinicals and his BSN program. 
"The instructors were great – very personable," he said. "The faculty and the admission staff very quickly became family."
Going to school to become a nurse was something Anthony took very seriously but he liked to joke with his younger nursing classmates. When they were tired, he would remind them that nobody dragged them out of bed to become a nurse – this was a path they chose.
"You don't have to be here – you're here because you want to be here. At the end of the day, you're caring for someone's child, mother, brother, etc. If you want to succeed in nursing school, you have to want it."