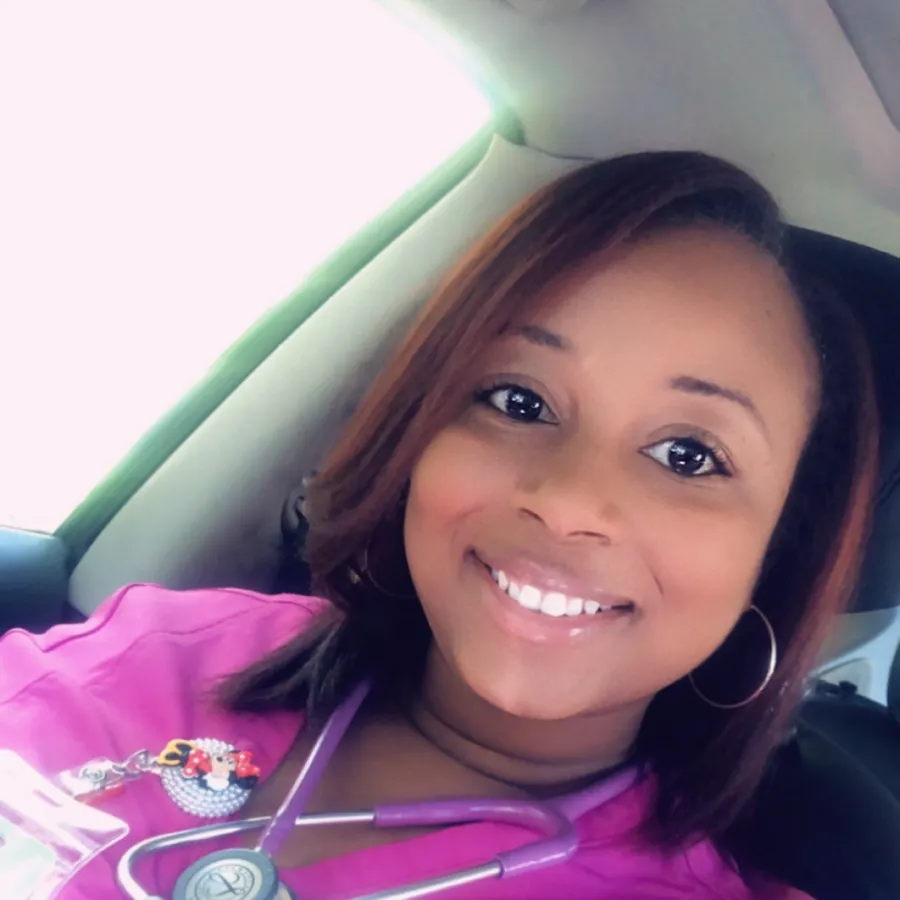 Holly Bell
Herzing Alumni
Holly Bell always knew she wanted to be a nurse, even as a kindergartener. She grew up watching her aunt work as a nurse. She saw her get ready for work each day and observed first-hand how much she cared for other people. It's what inspired Holly to follow her dreams to become a nurse. Today, she plays a critical role in patients' end of life care.
Her nursing journey began in 2013 when she enrolled in Herzing University's Licensed Practical Nursing (LPN) program. Holly learned that a traditional four-year university didn't work for her – she wanted to be more than just a number. Her mother encouraged Holly to enroll at Herzing, as Holly's mom had attended Herzing in 1996 and graduated with a business administration degree.
Holly worked as an LPN in Birmingham, Alabama, and despite the late nights and heavy workload, Holly persevered because she knew nursing was her calling. During her clinical rotations as an LPN, she got her first taste of what it was like to work in nursing.
"Clinicals were an adrenaline rush," Holly said. "You're not just sitting back watching, you're getting hands-on experience."
She gives credit to her clinical instructors for helping her and making sure she knew everything from start to finish. One of those clinical instructors was Vicki Molliconi.
"There were so many great clinical instructors, but Mrs. Molliconi really stands out," Holly said. "She made sure you knew what you needed to teach the patient when it came to their medication. She was always pointing out what to remember, what adverse effects to look for and more. She was amazing."
She returned to Herzing one year after working as an LPN to earn her Associate of Science in Nursing (ASN) and become a registered nurse (RN) – all while raising her son with her fiancé.
"I was fortunate enough not to have to work while earning my degree," she said. "But I did have a two-year-old at the time. I had to shift a lot of responsibilities to my fiancé so I could study and there was a lot of late-night studying. The hardest part about nursing school was the fast pace of it. You're covering 3 to 4 chapters a day. It's so important to stay focused so you can retain the information."
After graduating in 2015, she held several RN positions and took some time off to have her second child. When she was ready to return to work and started applying for jobs, she took an open position available in hospice, which quickly became her true passion. Today, she's a Case Manager for ExpectCare Hospice in Birmingham.
"Working in hospice is the toughest but most rewarding job," Holly said. "You get to help people and be there for them at the end of their life."
With the COVID-19 pandemic, Holly's job is more important than ever. She's working longer hours at her patients' homes and seeing more admissions, as more people want to be treated in their homes instead of the hospital. She's dealing with challenges she's never had to face before. While she was well prepared for working during natural disasters and pandemics, certain aspects were difficult to navigate.
"In this field, our patients rely on us for companionship," she said. "The last thing we want to do is expose our patients who are already compromised due to this virus. We can't hug them or physically touch them, and that's really hard."
Despite the challenges that come with working in hospice, it's where Holly wants to be long-term. She plans on getting her Bachelor of Science in Nursing (BSN), and eventually, her Master of Science in Nursing (MSN) in Nursing Education to achieve her ultimate dream of training and teaching future nurses.
"When I go back to school, I'll choose Herzing," Holly said. "When I got to Herzing it was like having a real-life family. Cynthia Hall, the Director of Nursing Programs at Herzing-Birmingham, called to check on me the morning of my boards. They truly care about their students."
Holly's advice to other nursing students is simple:
"Dedication and hard work are what it's going to take to become a nurse. If you're willing to put in the work, study and really go the extra mile for your education, then this is the field for you."