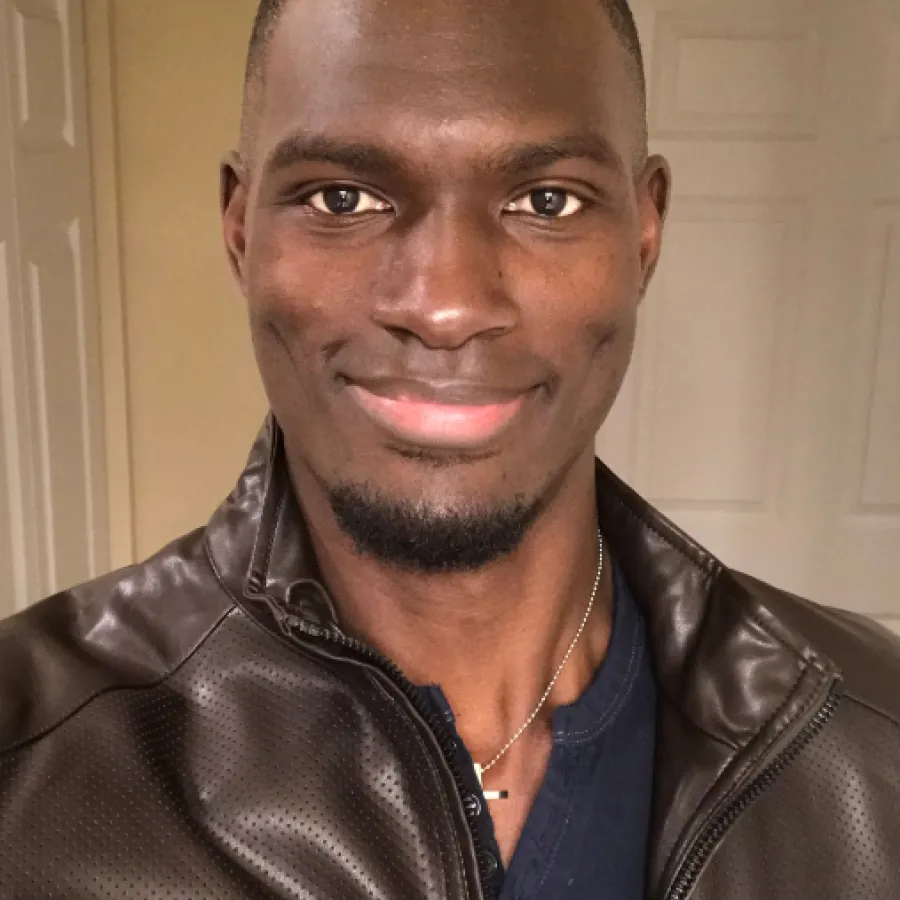 Richard Onyait
Herzing Alumni
In the last six years, Richard Onyait fled his home country of Uganda, immigrated to the U.S. and trained for a new career during a pandemic. With all his hard work and some help along the way, he is now a registered nurse (RN) in Madison, Wisconsin.
Richard became interested in a healthcare career when, as a young child, he witnessed the compassion and care nurses provided to his father after a horrific car accident. Inspired to give that same level of empathy, comfort and care to others, he went on to work as a clinician, which is similar to a physician's assistant, in Uganda for about seven years.
In 2015, Richard moved to the U.S. to escape the effects of authoritarian rule. He later received authorization to work in the U.S., but didn't have the required academic credentials to work as a healthcare provider.
"As I was trying to figure out what I could do in the U.S., I realized the only thing that matched my heart's desire was nursing," Richard said. "It took me back to that time when I lost my dad, and I knew it was my calling."
He took a job as the caretaker of a quadriplegic man and eventually enrolled in the Bachelor of Science in Nursing (BSN) program at Herzing University's Madison campus in 2018. Richard was eligible for a Herzing scholarship and used the earnings from his job to cover the rest of his expenses.
Richard excelled in nursing school, impressing his instructors with his clinical competence and therapeutic communication skills.
Not even the coronavirus pandemic could deter him. In his final year of school, his in-person clinical experiences were canceled due to safety precautions and the need for social distancing. He quickly adjusted and completed some of his remaining clinical hours from home through virtual simulations. Virtual simulations were real-world scenarios that allowed students to practice nursing skills online and were a clinical option during the pandemic. While it wasn't what he originally had in mind, he was grateful to complete his courses on schedule. He credits his instructors with guiding and supporting him and his classmates through the uncertainty.
In December 2020, Richard was selected as a student speaker during a virtual commencement ceremony held for Herzing's Wisconsin nursing graduates. A few weeks later, he passed the NCLEX on his first attempt. 
He's now working as an RN in the emergency department of a local hospital. He believes caring for others makes his life worth living.
"It's a blessing to have found my calling as a nurse. I want to give my patients hope and let them know we'll do everything we can to take care of them," he said. "Caring for others gives me strength and satisfaction. Knowing that I can make even one more life better is what pushes me to carry forward every day." 
To aspiring nurses, he says, "Nursing is not just a paycheck. It's a calling to serve humanity at its most difficult times when life is challenged. It calls for utmost commitment, hard work and humility.