Banner Image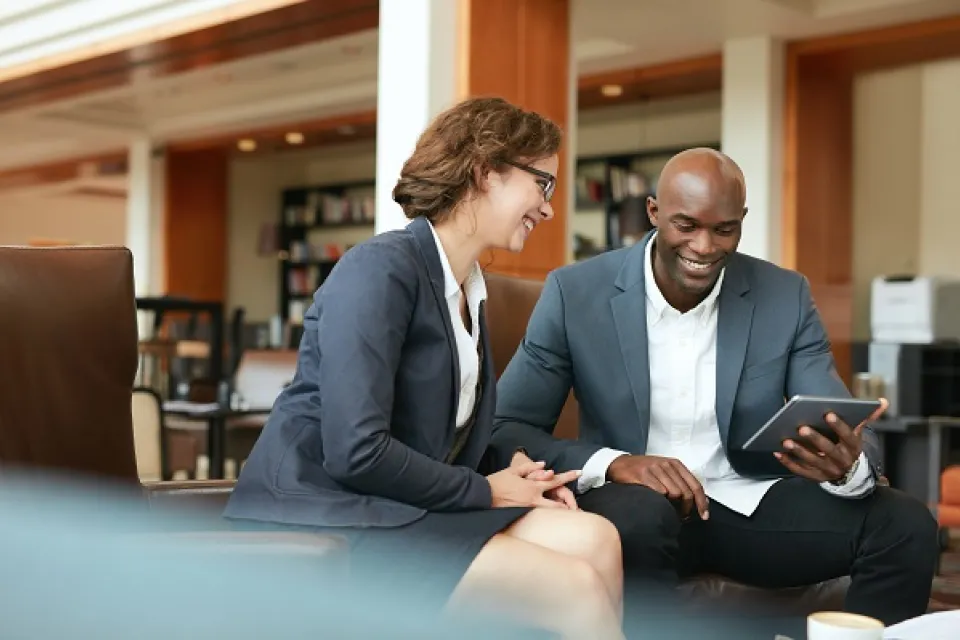 Interested in earning a business management degree? You're not alone. According to the U.S. Department of Education, business is the most popular major for bachelor's degree students based on degree conferred, with 390,564 graduates in 2018-2019 alone. Business degrees are popular because they teach a broad range of versatile skills that can apply to many different jobs in many different industries.
With the right qualifications, you can pursue jobs in industries ranging from healthcare to Information Technology (IT) and from finance to advertising.
This article reviews possible career pathways you can pursue after earning an associate or bachelor's degree in business management online, including common entry-level job titles, their average salary, and job growth potential.
Jobs you can pursue with an associate degree in business management
Associate degree programs are two-year programs designed to teach foundational skills and concepts. They include general education courses that aim to develop your critical thinking, communication, and cultural awareness as well as business management-specific courses covering the basics of marketing, finance, accounting and management.
With an associate degree in business management, you'll be best positioned to qualify for entry-level business support roles that offer you a chance to start learning the ropes and gain crucial experience. Here are a few examples.
Financial Clerk
Job description: Financial clerks maintain financial records, process transactions, determine charges, generate invoices, and follow up with customers, creditors or suppliers. Their exact roles will vary by industry. Three examples include:
Brokerage clerks will handle all the paperwork involved with the sale or purchase of investment instruments like stocks and bonds—calculating taxes and dividends, for example.
Payroll clerks keep track of employee time, calculate wages, overtime and withholding, and ensure timely payment.
Procurement clerks oversee all aspects of purchasing supplies and equipment for their organization.
How much financial clerks earn: The BLS reports that the median annual salary for all financial clerks is $49,710 per year ($23.90 per hour).* Again, salaries vary by specialty and other situational factors.
Job outlook for financial clerks: Bureau of Labor Statistics projections forecast that jobs for financial clerks will decrease 1% from 2022-2032.
First-Line Supervisor of Office and Administrative Staff
Job description: Office staff supervisors oversee the work of secretaries and administrative staff. They participate in recruitment, training, and performance reviews, set work schedules, develop policies, and work with management to determine the types of support needed from the teams they run.
How much office supervisors can earn: The BLS reports that first-line supervisors of office and administrative staff earn an average salary of $65,510 per year ($31.49 per hour).*
Jobs you can pursue with a bachelor's degree in business management
Bachelor's degree programs in business management aim to produce candidates who are ready to step into junior management-track roles. In a business management bachelor's degree, you will gain a broad base of skills and knowledge in everything from human resources and marketing to technology, analytics and managerial ethics.
Some of the jobs bachelor's graduates may qualify for include:
Administrative Services Manager
Job description: Administrative services managers oversee the support systems that keep organizations operational. Common areas of authority for these managers include facilities, utilities, logistics and security. As organizations generate ever-increasing amounts of data, these managers may also oversee the maintenance of records and information for their organization.
Administrative services managers will take charge of all aspects of an area of operation, including managing budgets, staffing, overseeing purchasing, and generating reports for upper-level management.
How much administrative services managers can earn: The BLS reports that administrative services managers earned an average annual salary of $115,640 per year ($55.59 per hour).*
Job outlook for administrative services managers: Job opportunities for administrative services managers are projected to expand by 6% over the 2022-2032 period.*
Sales Manager
Job description: Sales managers are responsible for the sales activities of an organization. They direct the activities of sales staff, including training, defining territories, and setting performance goals. They provide information about their team's performance to upper management in the form of projections, presentations and reports. Finally, they will work with customers to resolve problems with sales or service.
How much sales managers can earn: The BLS reports an average salary of $150,530 per year ($72.37 per hour) for sales managers.* The BLS notes this figure can vary widely based on bonuses, commissions, or other forms of compensation common in sales environments.*
Job outlook for sales managers: The BLS projects 4% growth for sales management jobs between 2022-2032.*
Management Analyst
Job description: Management analysts carry out evaluations of organizational operations to identify areas of improvement. These areas of improvement are aligned with business goals, whether it is inventory management, corporate restructuring, social responsibility initiatives, or other aims. Management analysts will conduct research into business finances, personnel decisions, and day-to-day operations, then compile and present findings along with potential solutions.
How much management analysts earn: According to the BLS, the average annual salary for management analysts was $104,660 per year ($50.32 per hour).*
Job outlook for management analysts: Management analyst job openings are projected to grow at a rate of 10% over the 2022-2032 period.*
How do I know if a career in business management is right for me?
The word "management" implies a high degree of responsibility and leadership. If you're dependable, good at group work and goal-oriented, you already have several important personality traits for a future in business management. Good managers are also capable of taking responsibility for what their team achieves—or fails to achieve—and capable of offering credit to co-workers who deserve it.  
If you are looking to get on the business management or business administration career ladder, you should also accept that many companies will require ongoing formal training of management-track candidates or additional industry-specific requirements. Earning your degree is just the beginning of a career-long journey of learning.
Finally, it also helps to have some aptitude for mathematics, statistics and technology, all of which come as part of the job in the vast majority of today's business careers.
What to look for in business management degree programs
Business management programs at the undergraduate level should help you understand business operation fundamentals like finance and accounting, emerging trends in business IT, and important professional concepts such as ethical and legal aspects of business. They should also provide opportunities for you to strengthen your communication, project management, and collaboration skills—all essential "soft skills" in the modern workplace.
Learn more about business management degree programs at Herzing University
Herzing University's Associate of Science in Business Management and Bachelor of Science in Business Management offer all this, plus the flexibility of online learning. Our bachelor's program also features built-in industry certification opportunities and a dual MBA credit option.
Find out how you can get on the business management track with Herzing today!
---
* Bureau of Labor Statistics (BLS), U.S. Department of Labor, Occupational Outlook Handbook 2022. BLS estimates do not represent entry-level wages and/or salaries. Multiple factors, including prior experience, age, geography market in which you want to work and degree field, will affect career outcomes and earnings. Herzing neither represents that its graduates will earn the average salaries calculated by BLS for a particular job nor guarantees that graduation from its program will result in a job, promotion, salary increase or other career growth.
Classes Start January 8th
Learn More Today