Banner Image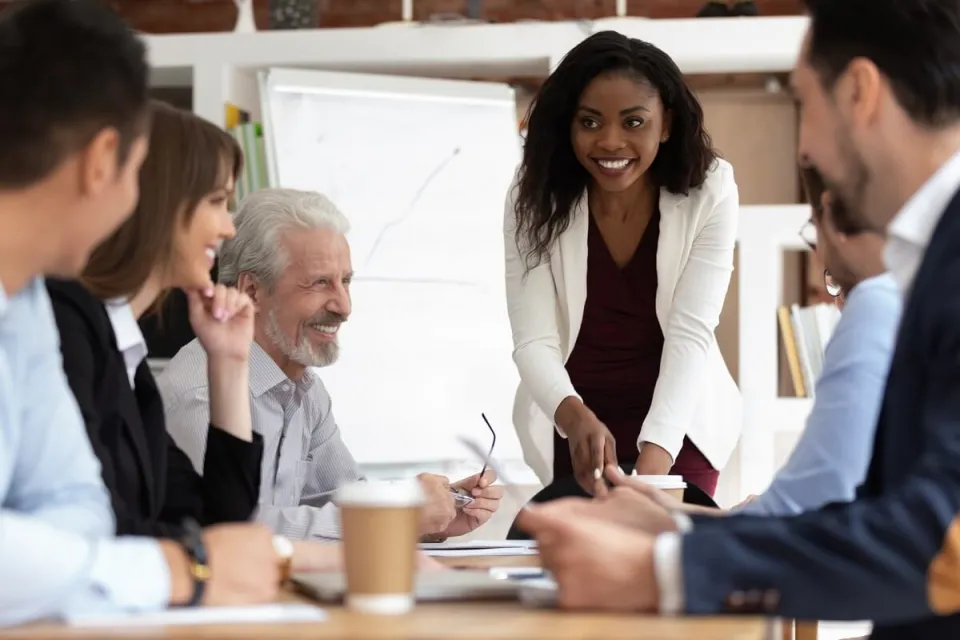 A business degree is a popular choice for students because it can be used in in a variety of jobs across a wide range of industries. Yet students often face two similar degree options: business management and business administration.
Business administration focuses more on planning and organizing the strategic view of business goals and operations, often with a quantitative focus on planning and execution and sometimes with a particular area of concentration.
Business management covers a broad foundation in business practices, often focusing on day-to-day and people management skills, but often with a concentration related to a particular set of skills (like project management) or within a defined industry (such as healthcare).
Understanding the differences between a business management and business administration degree—as well as job and continuing education options—can help you make the best choice and set you on a path to success.
What is a business administration degree?
A business administration degree focuses on the principles of business management and the bigger economic picture. It can help you better understand business operations and prepare for organizational leadership roles. Often, the curriculum is designed to provide students the training to make critical, far-reaching decisions for their companies.
Students who major in business administration are provided the opportunity to gain a broad understanding of business trends. The curriculum includes core subjects like accounting, economics, marketing, and finance - with a focus on how these different areas interact. This helps students gain an understanding of how businesses work, from sourcing and supply chain, to manufacturing and marketing. In addition, a business administration degree offers students a background in entrepreneurship and what it takes to build and grow businesses.
A degree in business administration also emphasizes the human aspects of running a business, including leading and motivating teams, managing consultants, and working closely with clients. To this end, courses often include communication and human resources.
What is a business management degree?
A business administration degree provides students with a broad understanding of business theories, including operational planning, management, and leadership. An associate or bachelor's degree in business management helps students develop the practical skills they need to work in a variety of business settings—such as offices, manufacturing, or healthcare—immediately.
Because of their nature, these degrees often include a concentration related to a particular set of skills, or an industry. This ability to specialize allows students to often focus on one particular area of study, and may choose to specialize in a specific area such as marketing, accounting finance, entrepreneurship, healthcare management, international business or operations management.
What can I do with a business management degree?
Whether you pursue a bachelor's degree in business management or business administration, you can prepare you to find jobs in a variety of industries, including finance, healthcare, technology, and human resources.
Some popular business jobs include:
Finance manager: Finance managers develop long-term strategies for an individual or organization's financial wellbeing. Duties may include reviewing financial analytics, guiding investment activities and producing and explaining financial reports. According to 2019 data from the Bureau of Labor Statistics (BLS), the average annual salary for financial managers is $147,530 per year ($70.93 per hour).* You may bolster your career potential in finance with an MBA in Accounting and Finance.
Medical services manager: Health and medical service oversee nurses, aides, and other healthcare workers and compile information about patients, workflow, and daily operations. They typically work in hospitals, clinics, nursing homes, and private practices. The BLS reports the average salary for medical and health services managers is $115,160 per year ($55.37 per hour).* Earning an MBA with a concentration in Healthcare Management can help you best qualify for management-level roles in healthcare.
Human resources manager: HR managers direct the overall administrative functions of an organization. They may focus may focus on one specialty, such as benefits, or act as an HR generalist, providing expertise in a variety of areas. The BLS reports the average salary for human resources managers is $129,570 per hour ($62.29 per hour).* Earning an MBA in Human Resources can also help increase your earning potential.
Increase your earning potential with an MBA
An undergraduate college degree in business management provides a solid foundation for a variety of jobs—and a Master's of Business Administration (MBA) degree can help you obtain higher-level positions, such as manager, director, or executive.
An MBA can also help increase your salary potential. If you have a particular area of business you are most interested in, you can pursue an MBAs tailored to specific focus, such as accounting, healthcare management, project management, and technology management.
Preparing you for a career in business management
If you are interested in a broader scope of businesses, from operations to communications, a undergraduate degree in business management is a smart choice. Whether you start with a business management associate or bachelor's degree program, you can build the skills needed to earn professional experience and potentially advance into an MBA degree program.
No matter which pathway you choose, a business degree can provide you a solid foundation for a variety of careers.
---
* Bureau of Labor Statistics (BLS), U.S. Department of Labor, Occupational Outlook Handbook 2020. BLS estimates do not represent entry-level wages and/or salaries. Multiple factors, including prior experience, age, geography market in which you want to work and degree field, will affect career outcomes and earnings. Herzing neither represents that its graduates will earn the average salaries calculated by BLS for a particular job nor guarantees that graduation from its program will result in a job, promotion, salary increase or other career growth.
Classes Start January 9th
Learn More Today