Banner Image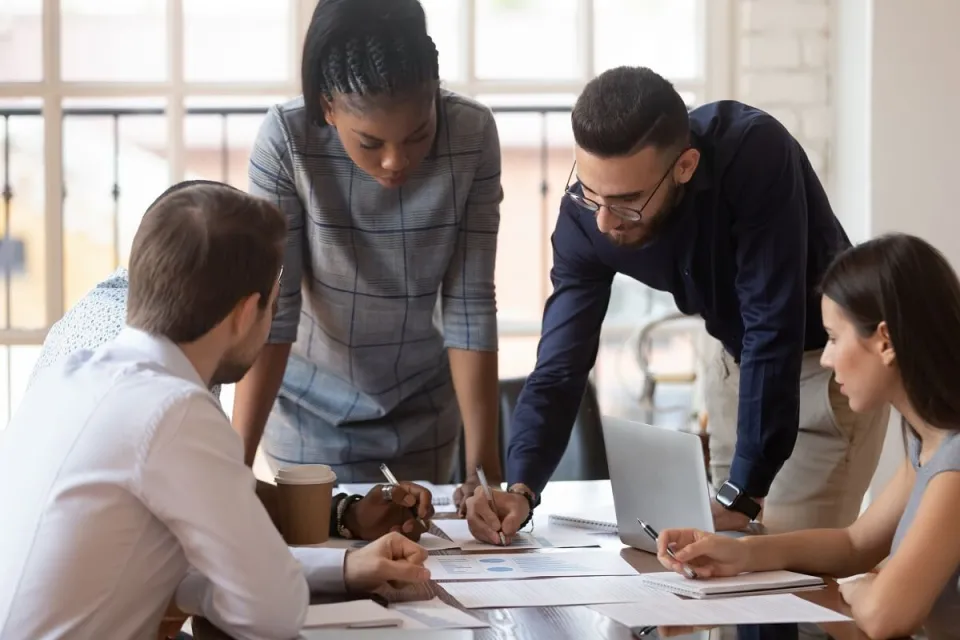 Business is a growing industry. According to the Bureau of Labor Statistics (BLS), 476,200 new business and financial operations jobs will be created between 2019-2029. The increased usage of data and market research, globalization and complex regulatory environments will continue to lead to strong demand for business degrees.
There appears to already be a demand for a variety of business degrees. According to the 2019 National Association of Colleges and Employers (NACE), one of the most in-demand bachelor degrees were in business and nearly 80% were seeking specifically finance and accounting majors to hire.1 Earning a business degree is a great way to not only start a career in a growing industry but also learn many of the skills needed to work in a variety of careers.
What can you do with a business degree?
The short answer—quite a lot!
With a business degree, it seems like there are endless possibilities for potential careers. Business careers are available in almost every sector. Organizations need strong business leaders to help coordinate and run their organization whether that be in human resources, accounting or management. Roles can be administrative, corporate or managerial, but you could end up working for many types of businesses.
If you are someone who leans more towards a traditional pathway, you could consider taking your business degree into an industry like banking, finance, consulting or marketing. If you are looking for something more creative, you might consider working in a more creative industry such as fashion, media or for a non-profit charity.
If you have a great idea or would like to work for yourself, earning your business degree is a great way to learn new skills to help start your own business.
What types of jobs are there?
According to 2020 research from Indeed, some of the highest-paying jobs for business degrees include:
Financial Advisor
Business Analyst
Product Manager
Individual wages can depend on a variety of factors including: education, experience, and location.
While all these jobs can lead to a successful career in business, it is important to note that all jobs will have different requirements for the position. Some positions may be entry-level while others will require you to have several years' worth of experience before you can start the position.
Some positions may also require you to have a specific degree to accompany your career. For example, a role as a Mental Health Program Manager might require you to have previous experience working in healthcare along with your master's in business administration (MBA) in healthcare management. It is always a good idea to do research before starting your degree to determine what requirements there are to start your career.
What kind of business degrees are there?
Herzing University offers several undergraduate business degrees:
Specializing in a field can help you stand out against other job candidates, highlighting that you're a master in your field. You will learn specifics about your field that will give you leverage over other candidates. Specializing in your business degree leaves you well-placed to pursue an MBA in the same or related field. Herzing offers seven MBA concentration degrees through its online graduate program.
Earning a general business degree has its benefits, especially if you aren't sure exactly what you want to do. You will acquire general business skills that will translate well into almost any business career.
What kind of skills do I need?
Within business, you also have a wide spectrum of different skillsets that accompany your degree. For example, someone who is in sales will need to have great interpersonal and communication skills. However, someone who is in commerce or accounting will have to have a strong grasp of finances.
Here are some skills and abilities that translate well into any job in business:
Leadership: Although you might not be in a management position right after graduation, you should be prepared to take initiative. You should have confidence in yourself and your abilities to perform your job through stressful situations. You might not be the expert capable of solving every problem, but you must be able to find the people who can and facilitate those discussions.
Motivated: Even though you might really love your job, there will always days when you won't feel particularly motivated to go to work. That is totally normal! A successful business professional is not someone who is always thrilled about their career, but they are passionate and give their best no matter what. They should also help motivate the other members of their team to do their best as well.
Learner: An important aspect of being a business professional and leader is to be open to learning new things. No matter how long you have worked in a specific role, there will always be new things to learn in your career. Continually asking questions, reading up on the latest trends and learning from your co-workers is a great way to help you stay on top of your career. You might also choose to go back to school to earn your MBA or a post master's certificate (PMC).
Why should I earn my business degree?
If you are debating whether a business degree is worth it- it absolutely can be!
A business degree has opportunities for a good return on investment (ROI). Outside of salary, earning your business degree allows you to pursue a more advanced career. Many business degrees will take only four years to complete, but some programs, like Herzing's marketing degree, can be completed in as few as 36 months.
By investing in your education, you will deepen your knowledge of the industry and be better able to apply the skills you learned in the classroom into real-life scenarios. You will also deepen your critical thinking and leadership skills. Your degree also demonstrates to potential employers that you are serious about your career.
Do you think that business is right for you? You can take our quiz and discover exactly which business degree is right for you!
1. Herzing University's Accounting program does not meet the requirements for a graduate to take the CPA exam in most states. Applicants interested in becoming a CPA should check with their state board of accountancy regarding CPA eligibility requirements prior to enrolling in any accounting program.
---
* Bureau of Labor Statistics (BLS), U.S. Department of Labor, Occupational Outlook Handbook 2021. BLS estimates do not represent entry-level wages and/or salaries. Multiple factors, including prior experience, age, geography market in which you want to work and degree field, will affect career outcomes and earnings. Herzing neither represents that its graduates will earn the average salaries calculated by BLS for a particular job nor guarantees that graduation from its program will result in a job, promotion, salary increase or other career growth.
Classes Start July 10th
Learn More Today