Make your impact in nursing
You can play an important role in improving care for community and global patient populations as a Public Health Nurse (PHN).
Becoming a public health nurse can be a great option for both:
Current licensed Registered Nurses (RN) who are interested in transitioning out of a bedside role—but remain passionate about nursing and wish to continue making an impact in the field
Those new to nursing who want to become a nurse and envision themselves on the pathway to leadership roles in the future
Public health nursing can be an incredibly rewarding and inspiring career path. Here's what you need to know.
Banner Image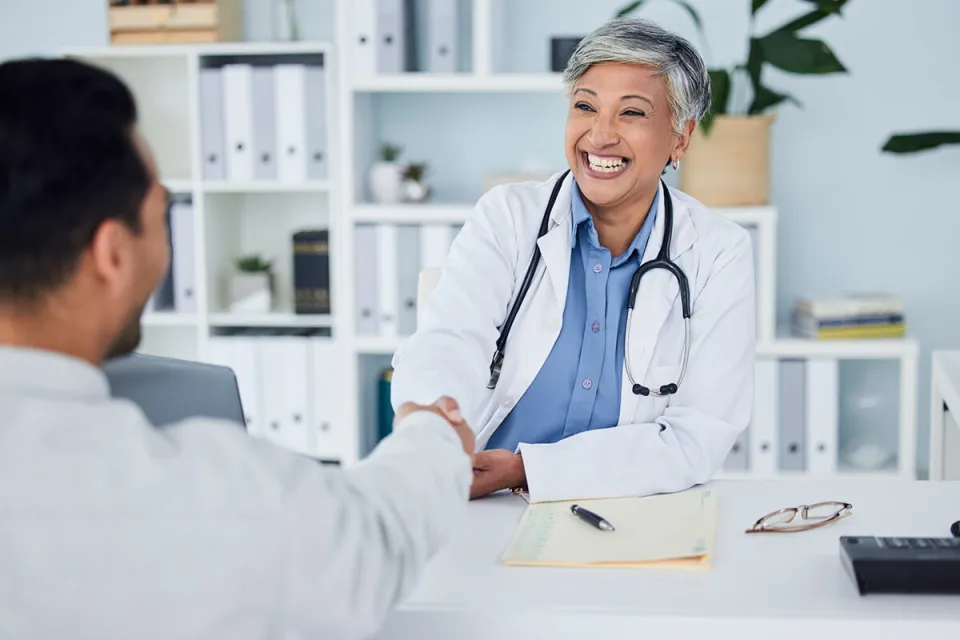 What is a public health nurse?
Public health nurses are registered nurses who assess, evaluate, and implement interventions to improve healthcare systems and policies. All types of public health nurses engage in the core functions of public health services from a nursing perspective: Assessment, Policy Development, and Assurance.
A public health nurse's work typically regards patient populations rather than exclusively individual patients, in contrast with bedside RNs who work directly with patients in a clinical/direct patient care setting. They can work in a variety of environments, including home care, schools, clinics, community centers, nonprofits, and governments agencies.
Bedside RNs often work to treat and manage illnesses and diseases. As a public health nurse, you can focus your energy health promotion and prevention, on stopping illness and disease before it ever begins.
General job duties for public health nurses
Educate members of the community who are at risk for particular illnesses
Case management: coordinating connections between patients/communities and applicable health resources
Design teaching programs targeting disease prevention
Assess risk factors and monitoring trends within communities
Provide information on available health programs and services
Program planning and policy development
Work with local, state, and federal governments to increase access to healthcare resources
What you can do as a public health nurse is a product of your particular job role, education, and experience level.
Examples of public health nursing tasks
Here are some common types of activities public health nurses may engage with on a day-to-day basis:
Assist in administering immunizations, taking blood, blood pressure checks, or other routine procedures at a community clinic
A public health nurse may visit a new mother in her home and advise her on best practices to ensure the baby is healthy and happy
Make home visits for patient check-ins, or to seek patients who hospitals or clinics cannot reach
A school nurse may provide nutritional recommendations to students and their parents to prevent future health issues
Visit recently discharged patients who no longer need to be in the hospital but remain in recovery and need assistance
Collaborate with advocacy groups to get involved at the policy level to improve healthcare systems
Skills required for success as a PHN
You'll need a diverse set of skills to succeed as a public health nurse, as daily tasks can vary widely as you start in the field and potentially climb the ladder.
For instance, if you're an RN just starting out in the public health specialty, you may be more involved in providing hands-on care for a community-based health organization as you develop the knowledge and skills to grow into a leadership position in the future.
Strong hands-on nursing skills as a foundation for expertise in evaluating systems
Cultural competence and communication skills necessary to understand what is needed for underserved populations
Writing skills and an ability to clearly communicate complex ideas and initiatives
Strong capabilities in epidemiology, with an ability to detect trends in the spread of diseases and conditions – and an ability to chart a path to remediation
Analytical mindset with an ability to analyze and interpret data
True compassion and empathy for underserved populations in need of a fierce advocate for their health and well-being
Advance your nursing career
As you advance your career in public health nursing, you'll continue to develop the knowledge and skills needed to qualify for influential positions in management and leadership.
You can reach new heights by earning a Master of Science in Nursing with a Concentration in Public Health. Discover the leadership knowledge and skills to continue advancing your career and qualify for jobs at the highest levels of public health nursing.
Our MSN program in Public Health is open to both associate and bachelor's degree holders. Take the next step towards making your impact in the field of nursing.
---
* Bureau of Labor Statistics (BLS), U.S. Department of Labor, Occupational Outlook Handbook 2022. BLS estimates do not represent entry-level wages and/or salaries. Multiple factors, including prior experience, age, geography market in which you want to work and degree field, will affect career outcomes and earnings. Herzing neither represents that its graduates will earn the average salaries calculated by BLS for a particular job nor guarantees that graduation from its program will result in a job, promotion, salary increase or other career growth.
Classes Start January 8th
Learn More Today