Find your place in the field of public health nursing
There are many types of opportunities in public and community health nursing you can pursue to target your area of interest and utilize your greatest strengths as an RN. Every public health nursing job is different and has its own roles and requirements.
Public health nurses can work in a variety of environments, including community clinics, outpatient clinics, schools, government agencies, nonprofit organizations, and more.
We've put together examples of common types of public health nurses below. The specialty areas described are not always fully exclusive—meaning some public health nurses may have daily responsibilities across several categories, especially in rural areas where specialty care is harder to find.
Banner Image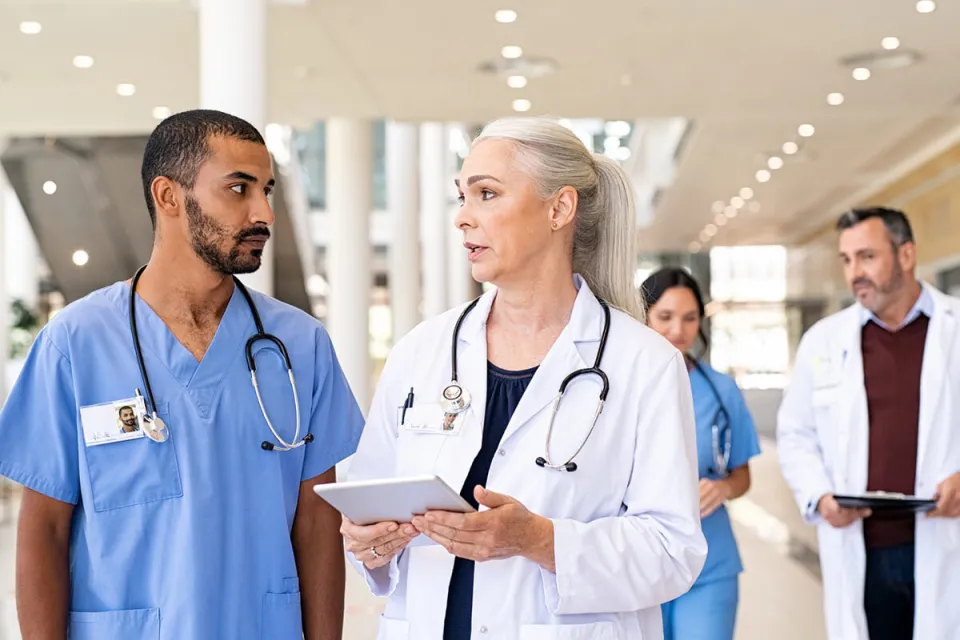 1. Occupational Health Nurse
As an occupational health nurse, you can help companies ensure their employees develop safe, healthy habits and minimize the risk factors most prevalent in their industry.
These types of nurses perform occupational healthcare duties including educating employees on preventative health and wellness, conducting safety training, assisting in employee health services, or supporting compliance efforts. Occupational health nurses help coordinate return-to-work plans after an injury or leave of absence due to medical circumstances, and conduct fitness-for-duty assessments to ensure those plans stay on track.
The nature of the work can vary substantially based on the type of occupations involved. Safety training and strategies for injury prevention are very different between a factory and an office setting.
2. Maternal and Child Health Nurse
These types of nurses provide direct support for prenatal, postpartum and newborn patients after delivery.
They can provide home visiting services, particularly for high-risk pregnant women or first-time mothers who need support in establishing consistent behaviors and managing a well-conceived healthcare plan for everyone involved.
Maternal and child health nurses use a multidisciplinary approach. Health promotion, education, and knowledge of community resources are crucial for success. Clinical nursing skills are valuable for the role, but a broader understanding of public health nursing provides these professionals with the expertise to discover areas of need and find the resources to address them.
3. School Nurse
If you enjoy working with the pediatric patient population, you may be interested in becoming a school nurse. Depending on the school system, school nurses can work in one school or multiple.
These nurses provide direct healthcare services to students such as first aid, administering medication, or even emergency care if needed. The allowed scope of practice can vary by state. Many nurses find this to be a great alternative to a traditional bedside hospital environment.
While the clinical aspect of this job is important, you'll also play a role as an educator for both students and staff. With enough experience and education, you may qualify for director or supervisory roles for school nursing-specific teams.
4. Nurse Case Manager
Public health nurses who work in a case management role conduct complete nursing assessments or reassessments of patients/clients. Case managers play a key role in determining how to navigate difficult medical and social circumstances for clients in their homes or community-oriented settings.
This is a more individual-focused role compared to many other types of public health nurses who more often focus on the broader patient population rather than individual patients themselves. However, case managers must have strong foundations in public health nursing to educate clients and help them access the healthcare services they need.
5. Nurse Consultant
Public health nurses may also work strictly as consultants to assist other professionals, such as social workers. These nurses may provide office, in-home, or on-site consultation when medical and health factors become a priority.
Consultants can support in gathering information from clients, their families, and medical providers to determine the next steps to take and provide recommendations for healthcare services. A nurse consultant may not administer the care directly but can clearly chart a course towards the best possible outcomes for clients with unique and complex circumstances.
Once again, a strong background in public health is key for success in this kind of job. Consultants must have a good grasp of the range of local medical and social services available for clients with a wide variety of potential conditions, living arrangements, and personal preferences.
6. Director of Public Health Nursing
Earn enough experience and education and you can potentially qualify for leadership positions in public health nursing, including positions like Director, Deputy Director, or Chief Nursing Officer (CNO).
Success as a director requires putting everything you've learned and experienced into practice as a true leader in an executive role. You can become a leader of a team of nurses, with your day-to-day involving planning, implementing, and evaluating public health programs. You'll need excellent oral and written communication skills and a strong command of public health nursing practice to succeed as a manager or director.
In order to reach the highest levels of public health nursing, a master's degree education becomes increasingly important. Our MSN program in Public Health is designed for nurses looking to qualify for these types of jobs, emphasizing the advanced knowledge and skills needed to become an influential leader in the field.
---
* Bureau of Labor Statistics (BLS), U.S. Department of Labor, Occupational Outlook Handbook 2022. BLS estimates do not represent entry-level wages and/or salaries. Multiple factors, including prior experience, age, geography market in which you want to work and degree field, will affect career outcomes and earnings. Herzing neither represents that its graduates will earn the average salaries calculated by BLS for a particular job nor guarantees that graduation from its program will result in a job, promotion, salary increase or other career growth.
Classes Start January 8th
Learn More Today