Banner Image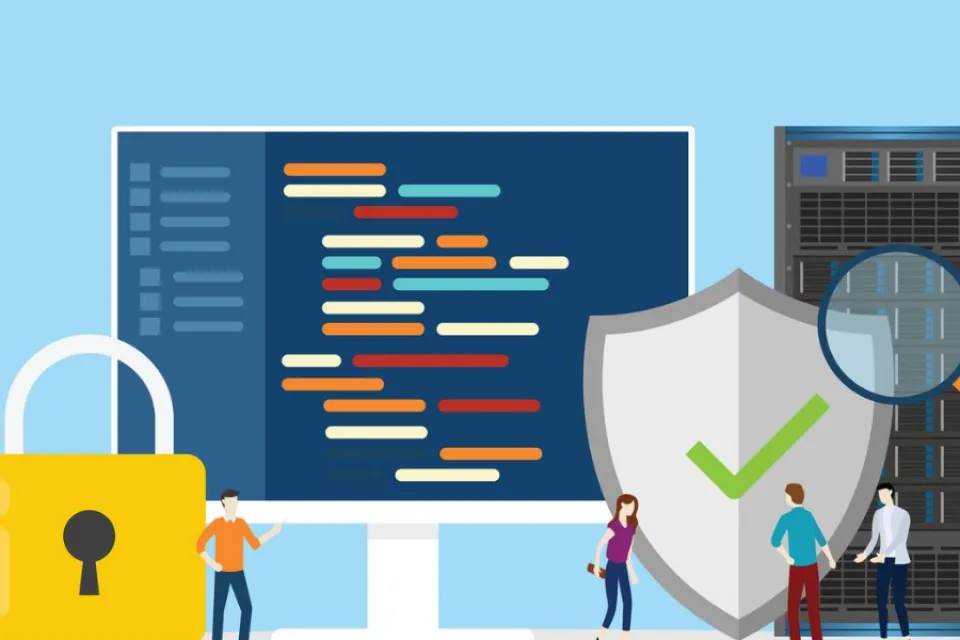 Technology has become standard in the workplace and its presence is only becoming more vital. The Bureau of Labor Statistics (BLS) predicts a 12% growth in computer and information technology from 2018 to 2028. This demand stems from technology's evolving role in healthcare and a greater need for cloud computing, data collection and security in businesses.
Without technology professionals, many organizations could not run as safely or smoothly. Both cybersecurity and network security are subsets of information security and aim to protect systems from unauthorized access. Here's what's involved in both career paths and how they differ:
What is Cybersecurity?
Cybersecurity is the practice of protecting a computer's internet, network and applications from security threats. Cybersecurity professionals defend systems from outside attacks and other potential security breaches by monitoring all incoming and outgoing data as well as organizational security processes. They check for system breaches, and any unauthorized electronic access or hackers. It's the goal of these professionals to find gaps in their company's system and build security awareness in their workplace.
One of the most common cybersecurity threats is social engineering in which threat "actors" manipulate people in order to gain access to sensitive information. Some of those threats include phishing emails as well as CDs or USBs with viruses to corrupt devices and malware.
What is Network Security?
Network security is a more specific type of cybersecurity. Network security professionals protect any data that is sent to your device through your networks to ensure that the information is not altered or corrupted. Network security professionals protect an organization's IT infrastructure. They install, configure and maintain the hardware and software to detect security threats.
Network security professionals will set up firewalls, antivirus software and virtual private networks (VPNs) to protect their organization.They attempt to make their company's network secure by providing technical expertise to install preventative measures.
What are the Differences?
While both cybersecurity and network security are focused on protecting a company's information, how they go about this is different.
The role of the cybersecurity professional is focused entirely on defending and protecting the system. They must be experts in recovery, response and detection of all threats. Some cybersecurity professionals are also ethical hackers for their organization in order to more effectively locate breaches in their system.
Network security professionals take more offensive measures since they have a more proactive role in leveraging tools to prevent an attack. These professionals install tools to protect information and are focused on defending a company's IT infrastructure. They handle an organization's password security, firewalls and encryption.
How Do I Start my Career?
Herzing offers a variety of technology degrees to start your career in cybersecurity or network security.
Herzing's online cybersecurity bachelor's degree program focuses on the foundational elements of network infrastructure administration, security, technical communication and user support. Course topics include ethical hacking, network defense, cyber law and ethics as well as cryptography. The program can be completed in as few as 32 months, with the option to transfer up to 90 approved credits. At the completion of the program, you will be prepared to take key cybersecurity certifications such as CompTIA, Cisco and EC Council.
With your cybersecurity degree, you could potentially qualify for careers such as:
Computer and Information Systems Manager
Cybersecurity Technician
Incident Responder
Network Engineer
Ethical Hacker
And more!
To begin a career in network security, you may want to consider getting your bachelor's degree in Information Technology (IT). Herzing's program provides vital skills and knowledge needed to defend and protect an organization's network.
The degree program can be completed in as few as 32 months with the potential of transferring 90 credits from previous experience. While you complete the 100% online program, you can also begin earning credits toward your MBA in Technology Management. Herzing's undergraduate program prepares you to take certifications such as the CompTIA Security+, Cisco Certified Network Associate (CCNA) and LPI-1 / Linux +.
With your IT degree, you could be eligible for entry-level positions such as:
Network Administrator
Computer System manager
Information System Manager
Network Architect
Systems Analyst
And more!
---
* Bureau of Labor Statistics (BLS), U.S. Department of Labor, Occupational Outlook Handbook 2021. BLS estimates do not represent entry-level wages and/or salaries. Multiple factors, including prior experience, age, geography market in which you want to work and degree field, will affect career outcomes and earnings. Herzing neither represents that its graduates will earn the average salaries calculated by BLS for a particular job nor guarantees that graduation from its program will result in a job, promotion, salary increase or other career growth.
Classes Start October 30th
Learn More Today