Become an indispensable defender of information
Modern business increasingly relies on information security to defend against cyber crime and safeguard sensitive personal information. As a skilled defender and protector of digital information, you can become a highly coveted resource for employers across many different industries.
U.S. News and World Reports names Information Security Analyst as the #2 Best Technology Job of 2023, citing salary, job market, and future growth as the primary reasons for their top ranking. Now is an excellent time to begin developing professional skills in this vital, growing field.
Take these steps to become a cyber security professional: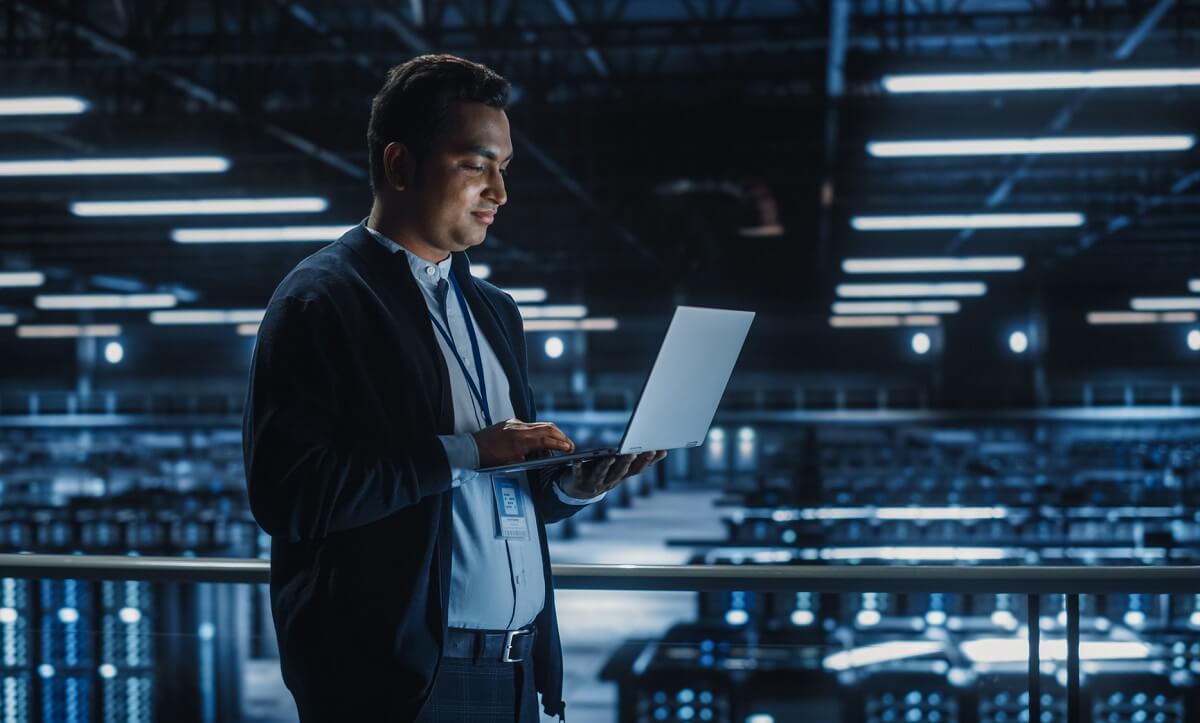 Choose Your Path
1. Choose your path in cybersecurity
There are many different types of jobs you can get in cybersecurity spanning a range of potential disciplines, including information systems analyst, computer systems analyst, computer and information systems manager, network engineer, network systems administrator, or even upper-level roles like Chief Information Security Officer (CISO, which may demand a master's degree education).
Every job will have their own unique requirements for employment, including degree type, certification, years of experience, and more.
The field can potentially include roles in consulting, research, or network/systems architecture. You can potentially work as an internal cybersecurity analyst, or work as part of a team at a cybersecurity agency or firm. Some cybersecurity experts, after developing enough experience, can even work as freelance consultants.
You don't need to identify every stop on your entire career path just yet. But depending on the type of career you're interested in pursuing, you may be able to make better choices for your education.
Requirements
2. Get educated
A cyber security bachelor's degree program provides a broad foundational education in information security that can apply to many different positions in the field.
In some cases, a graduate-level education and multiple years of experience will be required to compete for certain positions, especially managerial or senior-level specialist roles in cybersecurity.
However, holding a bachelor's degree can help you qualify for entry-level positions.
Our Bachelor of Science in Cybersecurity curriculum includes classes covering topics such as:
The Internet of Things
Applied Cryptography
Cyber Law and Ethics
Computer Architecture and Troubleshooting
Network Security
Information Assurance and Security
Ethical Hacking
Information Technology (IT) Project Management
Computer and Network Forensics
You can choose a selection of elective IT or computer science courses to complement your cybersecurity education. This is a good opportunity to customize your education to the career path you have in mind. Depending on your elective choices, you can focus your education into a specific aspect of computer science or information security—or emphasize managerial/administrative skills for a future management role.
Our program is designed to provide you with the comprehensive education you need to succeed throughout your career, from your first job to your dream job to come in the future.
Do I need a degree in cybersecurity?
While it's possible to find an entry-level job in the field of IT security without a degree, you can better qualify for jobs and build a foundation for long-term career success by first earning formal training as part of a bachelor's degree program.
Becoming a cyber security professional goes beyond your first job. The field of information security is constantly evolving, and it's your responsibility to continue your education in order to keep up with current trends and remain effective in your role.
Earning a bachelor's degree now can also help you qualify for graduate-level programs in the future—many of which will require a bachelor's degree to apply.
Get Certified
3. Get certified
In addition to your education, certifications help show employers you've developed the proper skills and knowledge to succeed in your work.
There are many widely respected industry certifications you can pursue to improve your qualifications and better compete for entry-level positions in cybersecurity:
CompTIA A+i
CompTIA Network+i
CompTIA Security+i
PCEP – Certified Entry-Level Python Programmeri
CompTIA Linux+
Red Hat Certified System Administrator (RHCSA)
Certified Ethical Hacker (CEH)
VMware Certified Technical Associate (VCTA)
i. As part of our cybersecurity bachelor's degree program, we pay for your first attempt on these certification exams. Our curriculum contains courses that will help you prepare for the additional certifications listed. Certification is not a state requirement. Payment for first exam attempt(s) requires meeting certain University guidelines, including passing specified courses, completion of exam preparation materials, and more. Please contact admissions for more information.
Gain Experience
4. Find a job and earn experience
By earning a bachelor's degree and becoming certified, you'll be in a great position to compete for entry-level positions in the field of cybersecurity.
Even if you don't find the perfect job right after graduating with a degree, the experience you can earn in your first job will be invaluable to future career prospects. You can discover your strengths and weaknesses, learn more about yourself and the industry, and determine the best next step forward in your career.
According to the Bureau of Labor Statistics (BLS), employment of information security analysts is expected to increase 33% from 2020-2030, much faster than the average across all U.S. occupations.*
In fact, the BLS has ranked it among the fastest growing occupations in the country over this timeframe.
Frequently Asked Questions
Yes, it's worth it!
Today, cybersecurity is more important now than ever before. There are large amounts of sensitive data online, including personally identifiable information (PII), protected health information (PHI), and intellectual property, all of which needs protecting.
In addition to potential high earnings and a strong projected job outlook, the field can also be personally rewarding because you can help protect important data belonging to people and organizations. The field is growing, with more and more doors opening up to great career opportunities.
If you enjoy IT, problem solving, and enjoy technical challenges, take the first step with Herzing University and start your new career.
Cybersecurity specialists develop and deploy the plans and software that keep data secure, private, sound, and accessible by the right people within a business or organization.
Information assurance professionals focus on the business more than the software. Instead of focusing on the design of the security, they focus more on determining what data to protect, to what extent, and whether the protections are effective. and whether the protections are effective.
As with any skill, learning cybersecurity takes study, practice, and hard work. However, anyone who takes genuine interest in programming, how computer networks work, and security in the age of technology is capable of learning the fundamentals of cybersecurity.
Keep Learning
5. Always continue learning
The most important part of ongoing career success in cybersecurity is continuing to advance your education.
Hackers and attackers are always seeking new techniques to exploit vulnerabilities in computer systems. As a cybersecurity analyst, your role is to quickly adapt and preventatively diagnose potential issues and implement solutions to never experience the worst-case scenario.
Becoming a cybersecurity professional requires more than checking today's boxes. This career represents a commitment to continually fortify your skills, earn your stripes, and remain an impermeable obstacle for cyberattackers all over the world.
It's never too late to start. We are here to help you take your first step.
---
* Bureau of Labor Statistics (BLS), U.S. Department of Labor, Occupational Outlook Handbook 2021. BLS estimates do not represent entry-level wages and/or salaries. Multiple factors, including prior experience, age, geography market in which you want to work and degree field, will affect career outcomes and earnings. Herzing neither represents that its graduates will earn the average salaries calculated by BLS for a particular job nor guarantees that graduation from its program will result in a job, promotion, salary increase or other career growth.
Classes Start July 10th
Learn More Today