Banner Image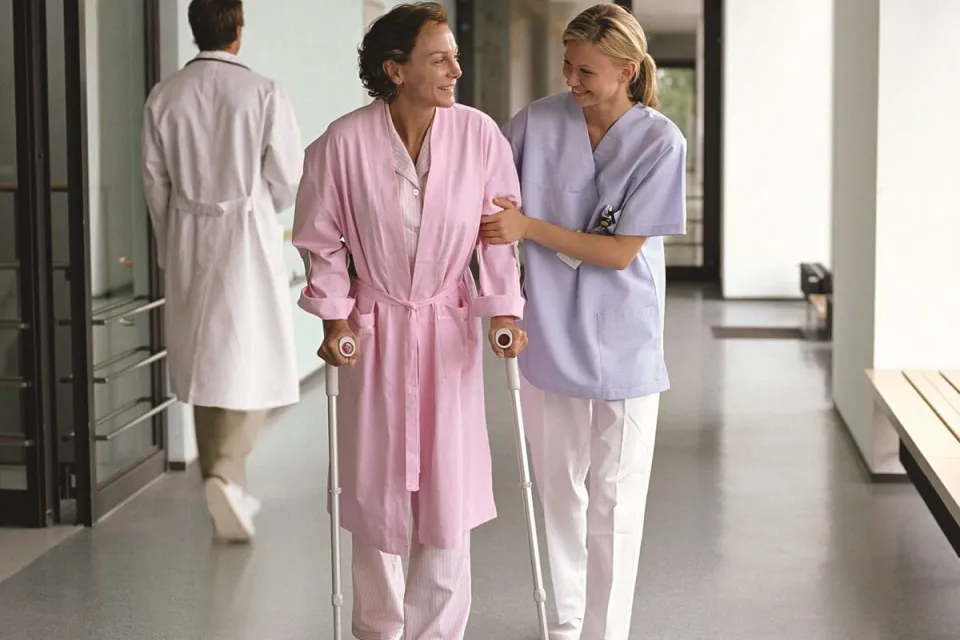 Do you love working with people and find fulfilment in empowering them to get better? You may be considering a career in healthcare. There are many rewarding, fast-growing career paths in this field for which you can train in as few as two years of study.
Two options for people who love to be hands-on include occupational therapy assistant (OTA) and physical therapist assistant (PTA). These two roles have similar-sounding names. Both involve helping patients regain mastery over movement. However, OTAs and PTAs have different purposes, patients, and functions within the healthcare system. Here are four major differences between OTAs and PTAs.
1. OTAs and PTAs focus on different types of movement.
While OTAs and PTAs both help patients stretch and do exercises, those exercises have very different purposes.
Physical therapy is focused on helping people recover from injuries or illnesses that have limited their ability to move. PTAs focus on helping patients regain range of motion, strength and flexibility in the affected areas of the body, improve balance and coordination, and relieve pain.
Occupational therapy aims to help people learn to accomplish tasks for independent living or carrying out job functions. This can be in response to an injury or illness which results in a need for long-term or permanent adaptations. It can also be in response to a permanent physical, mental or developmental disability.
2. OTAs and PTAs complete different types of tasks.
PTAs will aim to help their patients as they coach them through a range of exercises planned by the physical therapist. PTAs will also help patients learn to use adaptive equipment, such as crutches, prosthetics or wheelchairs. In addition, PTAs administer massage therapy and may use ultrasound or hydrotherapy equipment.
OTAs will coach patients through performing daily tasks. This may involve stretching and other therapeutic exercises, but occupational therapy is more about developing confidence and adapting to disability rather than regaining strength. OTAs may help people adapt to permanent injuries—for example, helping someone who has lost fingers use special equipment to feed themselves. OTAs who work with children with developmental disabilities such as autism spectrum disorder (ASD) and will also help them develop social and play skills.
Both OTAs and PTAs, however, will need to clean and prepare therapy equipment prior to sessions and maintain records of each patient's progress. In some practices, OTAs and PTAs may also have clerical duties—answering telephones, arranging appointments or referrals, and managing insurance claims or billing issues.
3. OTAs and PTAs see different types of patients.
Physical therapy patients will be recovering from a specific event, whether it is a sports injury, a surgery, or an illness that has impacted motor function, such as a stroke.
Occupational therapy patients have difficulty carrying out tasks for independent living. This can include people who are recovering from specific events, but also takes in children (pediatric) and adults with developmental disabilities who need additional support to perform at school or work.
4. OTAs and PTAs need slightly different skill sets.
OTAs and PTAs both need to show compassion and respect for patients. Both roles require clear communication, problem solving and patience. They also need to be expert motivators who can help keep patients moving even when exercises become challenging or uncomfortable.
PTAs need physical strength and stamina. PTAs often help move or support patients during exercises. Strength and stamina are also important for providing massage therapy.
OTAs who work with people who have limited capacity for speech or other communication need exceptional "people-reading" skills to gauge how patients are handling their therapy sessions. A positive attitude is a must.
What's in common? Strong job & salary prospects.
Finally, there's two major things OTAs and PTAs have in common: strong job demand over the next ten years. One is projected growth in employment.
OTAs and PTAs also have very similar salaries. Here's how much they make on average:
Discover how much a physical therapist assistant makes.
Train to become a PTA with Herzing University
If you want to become a physical therapist assistant, you will need to pursue an associate degree and pass licensure/certification exams to practice in your state.
Herzing University programs:
Our program features clinical experience opportunities, online gen ed classwork, benefits and training materials included in tuition, and financial aid for those who qualify. Find out how you can get started today!
---
* Bureau of Labor Statistics (BLS), U.S. Department of Labor, Occupational Outlook Handbook 2021. BLS estimates do not represent entry-level wages and/or salaries. Multiple factors, including prior experience, age, geography market in which you want to work and degree field, will affect career outcomes and earnings. Herzing neither represents that its graduates will earn the average salaries calculated by BLS for a particular job nor guarantees that graduation from its program will result in a job, promotion, salary increase or other career growth.
Classes Start October 30th
Learn More Today