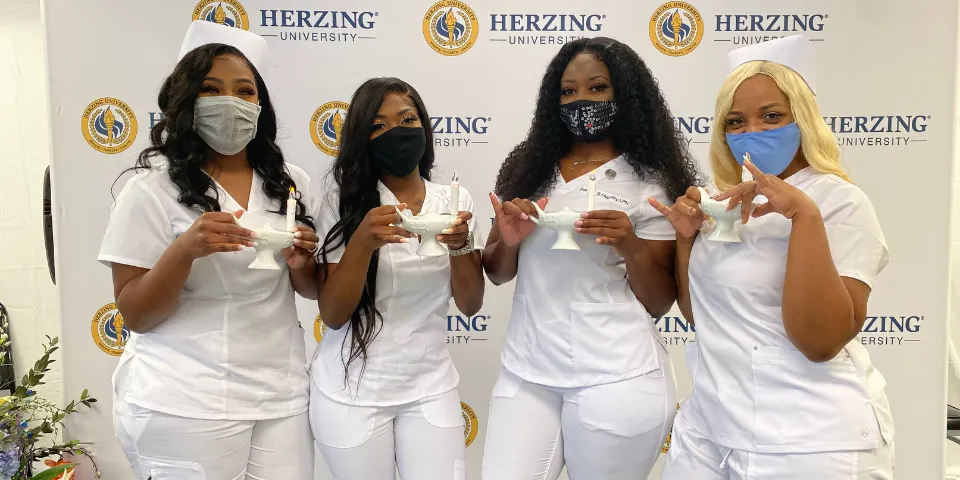 The graduating class of 2021 nursing students was honored on January 7, 2022, with a pinning ceremony at the Georgia Pacific Auditorium. The ceremony, held in addition to the traditional graduation commencement, celebrates the achievements of Herzing graduates as they begin their nursing careers.
Nursing students who have finished their Bachelor of Science in Nursing (BSN) degree to become a registered nurse (RN), their associate degree in nursing (ASN) or their diploma in practical nursing participated in the ceremony which has its roots in the 12th century when knights who aided the ill received a Maltese cross.
The pinning ceremony is also tied to nurse Florence Nightingale, known as the mother of modern nursing, who was awarded the Red Cross of St. George in the 1860s. The ceremony featured multiple speakers who gave a history of the pinning ceremony followed by a candle lighting ceremony to commemorate Florence Nightingale as the "lady with the lamp." During the lighting of the candle, students recited the Nightingale Pledge.
Family and friends of the graduates gathered to share in the celebrations, and graduates were encouraged to dedicate a pin to a significant person in their life.