Step earnestly into your healthcare career
Medical Assistant (MA) represents an excellent next step for current Certified Nursing Assistants/Aides (CNA) who are looking to bridge to the next level in healthcare—but aren't 100% sold on nursing as your long-term career path.
By becoming a medical assistant, you can potentially pivot towards more administrative healthcare duties, or find your calling on the clinical side in allied health. With a relatively low barrier to entry given the educational requirements, becoming a medical assistant can be a great way to find your new career pathway and do it fast.
Here's what you need to know about going from CNA to medical assistant: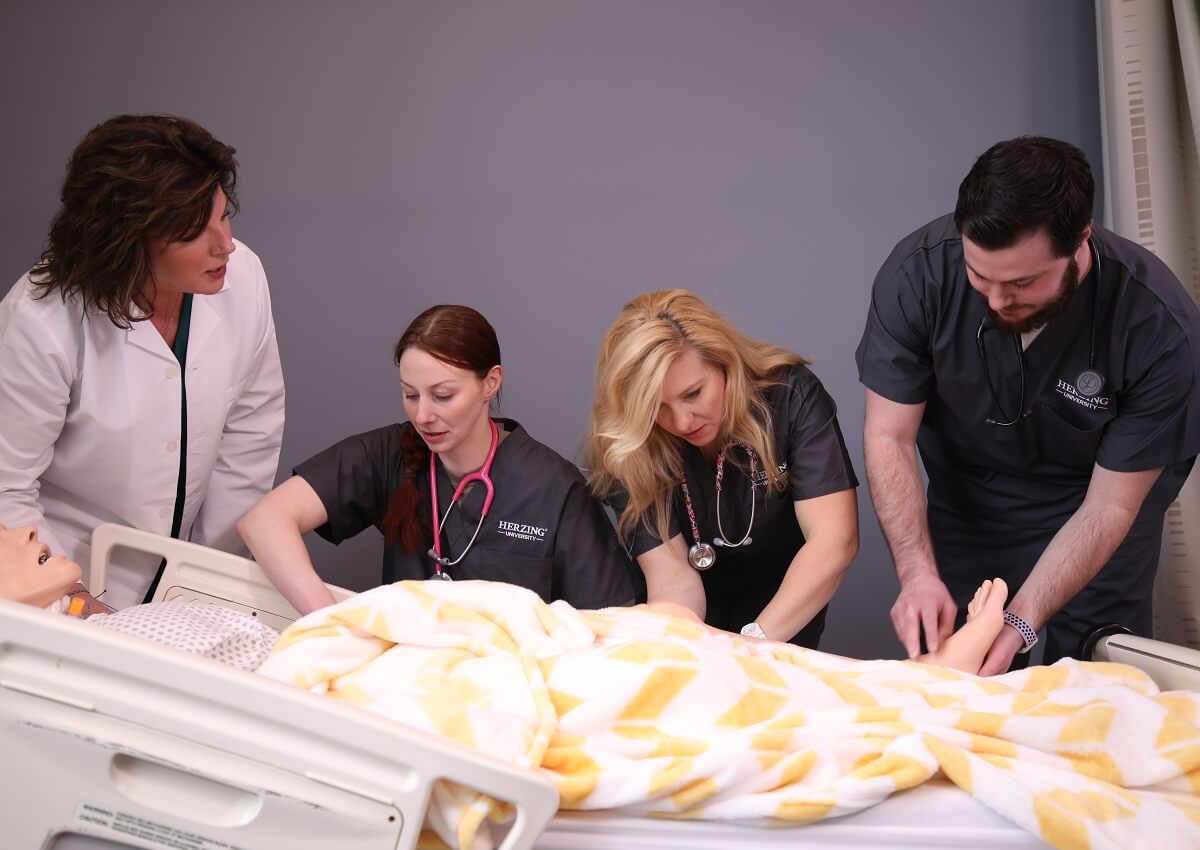 1. Medical assistant duties & responsibilities
The biggest difference between CNA and MA is the scope of duties you are qualified to perform.
Working as a CNA involves helping patients with basic living activities, including bathing, eating and drinking, getting dressed, or using the toilet. CNAs can also take vital signs such as temperature or blood pressure.
There are two primary types of medical assistants: clinical medical assistants and administrative medical assistants:
Clinical medical assistants work hands-on with patients. This is similar to what you're already used to, but MA duties go beyond those of a CNA, including administering injections/medications, EKGs, phlebotomy, and additional assistance with exams and procedures.
Administrative medical assistants work in a non-clinical role, primarily responsible for administrative tasks such as answering phone calls, scheduling appointments, updating electronic medical records, and coordinating practice operation reports.
Every job is different, and you may discover an overlap in clinical vs. administrative job responsibilities depending on where you work. When applying for MA jobs, make sure to closely compare job descriptions so you know exactly what will be expected of you.
Going from CNA to MA represents a step up in what you're qualified to do in a healthcare facility.
2. Education requirements
Given the expanded scope of duties, becoming a medical assistant requires additional education beyond what's required to work as a CNA.
Our goal is to help our students become maximally qualified both for the first medical assistant job and future career advancement. That's why we offer multiple educational pathways for prospective medical assistants:
3. Certification requirements
You'll want to become certified—this is key! The best way to maximize your qualifications for your first MA job is earning certification.1
Keep certification in mind when you're choosing an educational program. Both our diploma and associate degree curriculums include preparation for key medical assisting certification exams:
Diploma program: Certified Clinical Medical Assistant (CCMA) from the National Healthcareer Association (NHA)
Associate degree program: Registered Medical Assistant (RMA) from the American Medical Technologists (AMT)
To help ensure you get certified and best prepare yourself for career success, we pay for your first attempt on the certification exam you choose.
Employers know medical assisting graduates who earn certification are ready from day 1 and have the potential to blossom into key team members.
4. Higher salary
You'll need to advance your education to qualify to become a medical assistant, which will cost you both time and money. But it's an investment in yourself that can potentially lead to a higher salary in the future.
Medical assistants earn a 15% higher average salary than nursing assistants, according to 2021 data from the Bureau of Labor Statistics.
Importantly, the college-level credential you earn as part of becoming a medical assistant can set you up for a wider variety of career options in the future.
By earning a diploma or associate degree, you'll raise the ceiling on both your immediate and long-term earning potential.
5. Job outlook
While both CNAs and MAs are expected to add more jobs each from 2022-2032, total employment of MAs is expected to rise at a faster rate, according to the Bureau of Labor Statistics.
By comparison, medical assistants are projected to be in higher demand in the coming years.
Now is an excellent time to begin earning the education you need to compete for more jobs—and potentially earn a higher salary.
6. Where you may work
Transition to a job as a medical assistant and there's a strong likelihood you'll be working in a different type of healthcare facility.
Percent of total occupational employment in industry, May 2021i
Industry
Nursing Assistants
Medical Assistants
Nursing Care Facilities (Skilled Nursing Facilities)
35.8%
1.0%
General Medical and Surgical Hospitals
29.4%
14.7%
Continuing Care Retirement Communities and Assisted Living Facilities for the Elderly
10.7%
1.1%
Home Health Care Services
6.4%
0.3%
Employment Services
3.0%
1.9%
Offices of Physicians
1.3%
58.0%
Outpatient Care Centers
0.9%
8.9%
Offices of Other Health Practitioners
0.3%
8.1%

i. U.S. Bureau of Labor Statistics. (2021). Occupational employment and wage statistics, May 2021: All data. United States Department of Labor. https://www.bls.gov/oes/tables.htm. This table includes the top 5 industries for each occupation, 2 of which are shared by both occupations. That's why there are only 8 industries and percentages do not add to 100%.
Examples of how to interpret this data:
35% of all Nursing Assistants are employed in Nursing Care Facilities
14.7% of all Medical Assistants are employed in General Medical and Surgical Hospitals
As a medical assistant, you are much less likely to work in a nursing or elder care facility, and much more likely to work in a physician's office.
If you currently work in a hospital, you may be able to find an MA job internally after earning an education and getting certified.
7. Career prospects
Going from CNA to medical assistant represents an important career choice.
While becoming a medical assistant doesn't preclude you from a future career in nursing, this is clearly a step away from nursing and into allied health—a broad group of healthcare careers distinct from nursing, medicine and pharmacy.
Before you make a final decision, be sure to look ahead to who you want to become in the future to determine the better path for you:
I'm interested in non-nursing careers
Medical assisting can be a great way to work more closely with other allied health professionals and find your place. There are many career possibilities for medical assistants you might consider in the future, including healthcare administration or health informatics.
I want to continue in nursing
I'm not committed either way
That's OK. Choosing the medical assistant pathway today can qualify you for a good job in less than 1-2 years depending on the degree you choose. You can transfer credit earned in an MA program today into many different types of programs in the future.
We believe you are possible.
Transition from CNA to MA and you'll become qualified for higher-paying jobs projected to grow at a higher rate—and lay the foundation for future career advancement.
Your first step is getting educated. No matter which pathway in healthcare you choose, we exist to help you earn the career you've always wanted.
1. Certification in the Herzing University Medical Assisting program is not a state requirement.
---
* Bureau of Labor Statistics (BLS), U.S. Department of Labor, Occupational Outlook Handbook 2022. BLS estimates do not represent entry-level wages and/or salaries. Multiple factors, including prior experience, age, geography market in which you want to work and degree field, will affect career outcomes and earnings. Herzing neither represents that its graduates will earn the average salaries calculated by BLS for a particular job nor guarantees that graduation from its program will result in a job, promotion, salary increase or other career growth.
Classes Start January 8th
Learn More Today