What is the average salary for a Registered Nurse (RN)?
According to the Bureau of Labor Statistics, the average salary for registered nurses is $82,750 per year ($39.78 per hour), with the highest 10 percent earning more than $100,000. BSN-prepared nurses might have the opportunity to advance into higher-paying leadership and management roles more quickly than ASN nurses. How much you can make will vary based on your state of employment:
Average BSN salary by state
State
Per hour
Per year
Alabama
$29.77
$61,920
Alaska
$46.74
$97,230
Arizona
$39.23
$81,600
Arkansas
$31.64
$65,810
California
$59.62
$124,000
Colorado
$38.78
$80,670
Connecticut
$42.56
$88,530
Delaware
$37.39
$77,760
District of Columbia
$47.38
$98,540
Florida
$34.62
$72,000
Georgia
$36.24
$75,380
Hawaii
$51.22
$106,530
Idaho
$35.41
$73,640
Illinois
$37.63
$78,260
Indiana
$33.12
$68,890
Iowa
$31.25
$64,990
Kansas
$32.00
$66,560
Kentucky
$32.34
$67,260
Louisiana
$33.84
$70,380
Maine
$35.40
$73,630
Maryland
$39.74
$82,660
Massachusetts
$46.46
$96,630
Michigan
$36.51
$75,930
Minnesota
$40.40
$84,030
Mississippi
$30.35
$63,130
Missouri
$32.59
$67,790
Montana
$35.39
$73,610
Nebraska
$33.58
$69,850
Nevada
$42.69
$88,800
New Hampshire
$37.63
$78,270
New Jersey
$43.12
$89,690
New Mexico
$37.31
$77,590
New York
$44.86
$93,320
North Carolina
$34.23
$71,200
North Dakota
$34.23
$71,200
Ohio
$34.44
$71,640
Oklahoma
$32.78
$68,180
Oregon
$47.42
$98,630
Pennsylvania
$36.54
$76,000
Rhode Island
$40.99
$85,270
South Carolina
$33.45
$69,580
South Dakota
$29.11
$60,540
Tennessee
$32.06
$66,680
Texas
$38.04
$79,120
Utah
$34.99
$72,790
Vermont
$36.13
$75,160
Virginia
$36.87
$76,680
Washington
$45.84
$95,350
West Virginia
$32.52
$67,640
Wisconsin
$36.95
$76,850
Wyoming
$35.16
$73,130
Better your earning potential with a BSN
For future nurse leaders like Nabeela Rehan, earning a bachelor's degree is a logical way to ensure career advancement.
"I worked as a certified nurse's assistant (CNA) for eight years. I loved my job and I knew that nursing was the right career for me," she recalls. "But I wanted to be more hands-on with patients. My co-workers encouraged me to enroll in a BSN program."
Now, Rehan is a registered nurse at a local hospital and volunteers her time as head nurse at a camp for children who are victims of abuse, abandonment, or neglect. Earning her BSN changed her life and allowed her to make a difference in more ways than she could have imagined.
You don't necessarily need a BSN to be an RN - you can become an RN with an associate degree. However, whether you're new to nursing or looking to advance your career, there's never been a better time to advance your education to the bachelor's level. Hospitals and healthcare organizations are looking for nurses who are prepared to become leaders, and earning your BSN can help you do that.
"You can expect a better financial return on your investment if you choose to pursue your BSN," says Susan Austin, program chair of the online RN-BSN program at Herzing University.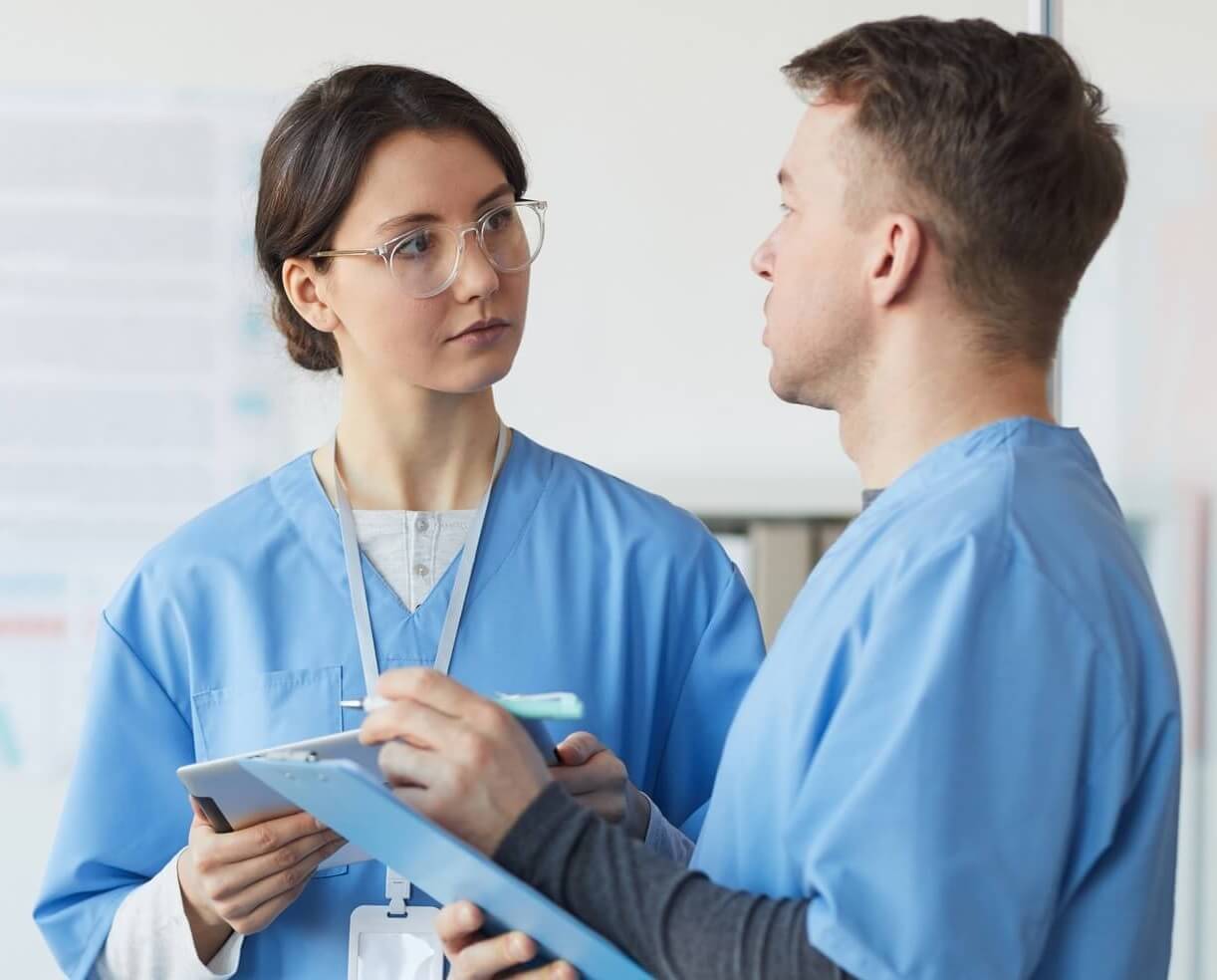 Frequently Asked Questions
Yes! Many schools offer flexible or online nursing programs that make it easier for you to fit education in to your life. At Herzing University, much of the coursework for the BSN program is online, allowing students to advance their nursing careers while balancing a full-time job and/or family commitments. New nurses enrolling the BSN program can also take advantage of night classes to fit education into their schedule.
"Being able to earn my bachelor's degree while working as a registered nurse was a huge advantage. It was a challenge managing a full-time job and new courses every eight weeks, but the classes were set up nicely, allowing me enough time to complete my assignments and projects," says recent Herzing University graduate Lindsey Van Galder.
As a registered nurse with a BSN, you'll be able to do more of what you already love most while leading the way in the future of healthcare.
BSN-prepared nurses are most desirable in the job market for registered nurses. Registered nurse positions are expected to grow 7 percent through 2029, adding more than 200,000 new jobs.
Additionally, as more new nurses join the workforce, healthcare organizations must rely on skilled and experienced nursing leaders to guide them in achieving the highest quality of care. For many BSN nurses, this opens up the opportunity to move into leadership positions or specialized roles, including becoming a pediatric nurse, traveling nurse, surgical/perioperative nurse, oncology nurse or advance to a master's degree program to grow into higher paying specialties.
The advantages of a BSN can include:
Increased autonomy in decision making while on the job
Open doors to more specialties in the nursing field
Become a more attractive candidate for hospitals seeking Magnet Recognition
Build a foundation to grow into education or leadership pathways
Positions you better for nursing jobs with higher pay
Qualify to enroll in an MSN program
Become more familiar and educated with evidence-based practice opportunities
Increase knowledge and understanding of RN specialties and skills
Transition from "technical" to "professional" RN
Gain a deeper knowledge of nursing theory and leadership theory
A 2017 study from the American Association of Colleges of Nursing (AACN) indicates employers have the level of education at top of mind in the hiring process. Based on results from 586 schools of nursing, the study revealed 49% of hospitals and other healthcare facilities require new hires to hold a bachelor's degree in nursing, and 86.3% of employers show a strong preference for BSN graduates.
The ultimate benefit is bettering yourself, becoming the best nurse you can be and following the career path of your choosing.
Because nurses with a BSN have earned that next degree level and generally have the edge on the job market, they will on average earn a slightly higher salary than nurses with an ASN. However, there are always exceptions; an ASN with several years of an experience may earn a higher salary than an RN with a BSN who is just starting their career.
It can take anywhere from 12 months to 3 years to earn your BSN depending on your prior education and experience. Herzing University offers many unique degree pathways to earn your bachelor's degree in nursing and advance your career (time estimates will vary by campus).
*Not all programs are available at every campus – you can find campus availability by clicking through to each program for further detail.
"Community-based work makes the difference between a BSN and ASN nurse," says Joan Neave, a clinical coordinator at Herzing University. "Most of the healthcare happens outside of the hospital walls. Providing public health education and increasing access to health services in the community ensures a healthier future for everyone."
The clinical experience you complete in a BSN program is very different than that of your ASN program. Through community-based clinical and volunteer work, you'll gain hands-on experience in providing holistic, personalized care to a diverse patient population. This not only prepares you to become a leader within a healthcare setting, but also a driver of community change.