Banner Image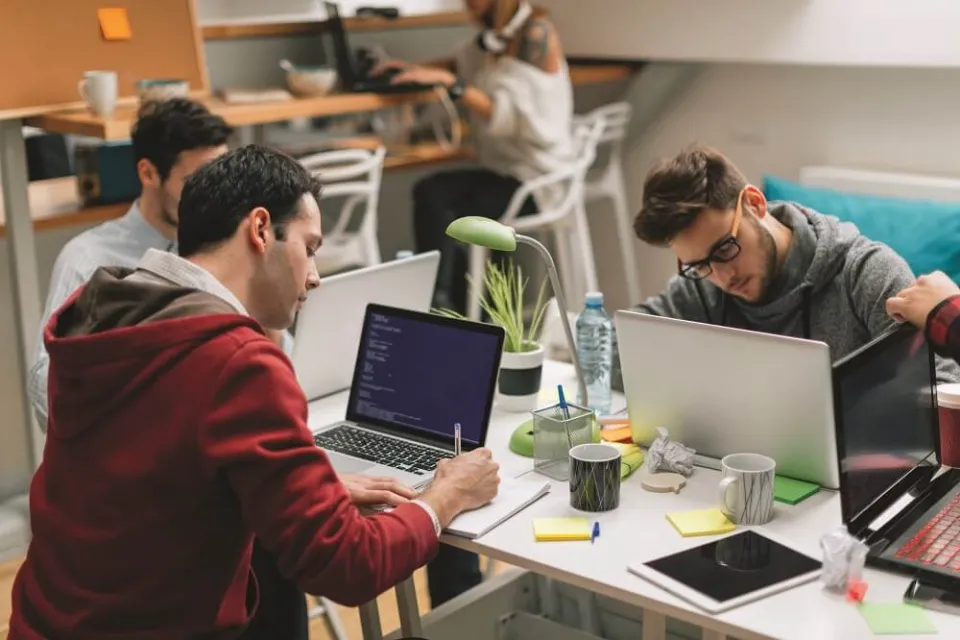 Software development becomes more and more specialized as the industry continues to mature and consumers continue to adapt to innovation in technology.
According to the Bureau of Labor Statistics (BLS), the average salary for software developers is $120,990 per year ($58.17 per hour).*
State
Per hour
Per year
Alabama
$49.48
$102,920
Alaska
$47.50
$98,810
Arizona
$50.32
$104,660
Arkansas
$42.17
$87,720
California
$66.16
$137,620
Colorado
$54.18
$112,700
Connecticut
$51.70
$107,550
Delaware
$55.57
$115,580
District of Columbia
$57.52
$119,630
Florida
$48.09
$100,030
Georgia
$49.92
$103,830
Hawaii
$51.15
$106,390
Idaho
$46.24
$96,180
Illinois
$51.49
$107,110
Indiana
$44.88
$93,360
Iowa
$47.11
$97,990
Kansas
$45.34
$94,310
Kentucky
$44.46
$92,480
Louisiana
$43.05
$89,540
Maine
$45.90
$95,480
Maryland
$55.38
$115,190
Massachusetts
$57.59
$119,790
Michigan
$44.51
$92,580
Minnesota
$51.95
$108,060
Mississippi
$42.32
$88,020
Missouri
$46.41
$96,530
Montana
$44.99
$93,570
Nebraska
$45.39
$94,400
Nevada
$46.84
$97,430
New Hampshire
$52.73
$109,670
New Jersey
$54.44
$113,220
New Mexico
$45.63
$94,910
New York
$58.80
$122,300
North Carolina
$51.09
$106,260
North Dakota
$40.87
$85,010
Ohio
$49.47
$102,900
Oklahoma
$43.29
$90,050
Oregon
$51.67
$107,470
Pennsylvania
$48.13
$100,110
Rhode Island
$51.95
$108,060
South Carolina
$43.72
$90,930
South Dakota
$37.76
$78,540
Tennessee
$43.61
$90,710
Texas
$52.68
$109,570
Utah
$49.00
$101,910
Vermont
$48.92
$101,750
Virginia
$56.18
$116,850
Washington
$66.54
$138,400
West Virginia
$39.31
$81,770
Wisconsin
$45.62
$94,900
Wyoming
$38.37
$79,820
Job outlook for software developers
From 2020-2030, the BLS projects that job openings across the entire U.S. economy will grow by 8%. Job openings for software developers are projected to grow much faster than this overall pace. Overall, the BLS projects software developer jobs to increase by 22% from 2020-2030.
Now is a great time to become a part of a quickly growing career field.
What do software developers do?
Software developers play an important role in keeping our digitally enhanced world running. They combine computer programming knowledge and creativity to conceptualize, design, code and produce the programs we use every day—from the word processing software used to write this article to the web browser you're reading it on.
As mentioned above, systems software developers create the operating systems which run our devices. Application software developers create the individual programs for those devices.
Their specific tasks and duties will vary depending on the employer and industry. Generally, software developers do the following:
Evaluate user needs to determine whether they will need existing, modified, or new software
Plan out each part of an application or system, creating diagrams and models of how the program will flow and which programming languages will be used
Direct the work of software programmers as they code and test the program
Create reference documentation so the program can be upgraded and maintained
Conduct testing of the program and create regular updates
Possible job titles in software development
Companies will use different job titles when recruiting computer programmers. Titles may include:
Application Developer
Software Architect
Software Developer
Systems Coordinator
Technical Consultant
How to become a software developer
According to the Bureau of Labor Statistics, software developers typically hold a bachelor's degree in software development, computer science, or a related discipline.
Coding is not a software developer's primary function, but it is important to be familiar with programming languages and experienced writing code to be employed as a developer. Analytical skills, design skills, and problem-solving capabilities are all critical to success in software development.
At Herzing University, our Bachelor of Science in Software Development program offers students the foundation of skills and knowledge they need to enter the software development field. The program features:
Project-based learning which replicates the cooperative workflow found in many programming work environments
Comprehensive preparation in web and application development, database applications, systems software and security concepts, and more
Virtual programming labs featuring state-of-the-industry tools and processes
A flexible online learning format so you can study from anywhere
The option to add up to 12 MBA-level credits to your program
You may also consider an associate degree program to earn a credential faster and get started in your first job. You don't need experience to change careers to software engineering, but prior experience can help. For instance, those looking to go from IT support to software development may be familiar with certain IT topics present in a software development curriculum.
Learn how you can train to become a software developer in as few as 32 months of online study: contact Herzing University today!
---
* Bureau of Labor Statistics (BLS), U.S. Department of Labor, Occupational Outlook Handbook 2021. BLS estimates do not represent entry-level wages and/or salaries. Multiple factors, including prior experience, age, geography market in which you want to work and degree field, will affect career outcomes and earnings. Herzing neither represents that its graduates will earn the average salaries calculated by BLS for a particular job nor guarantees that graduation from its program will result in a job, promotion, salary increase or other career growth.
Classes Start July 10th
Learn More Today