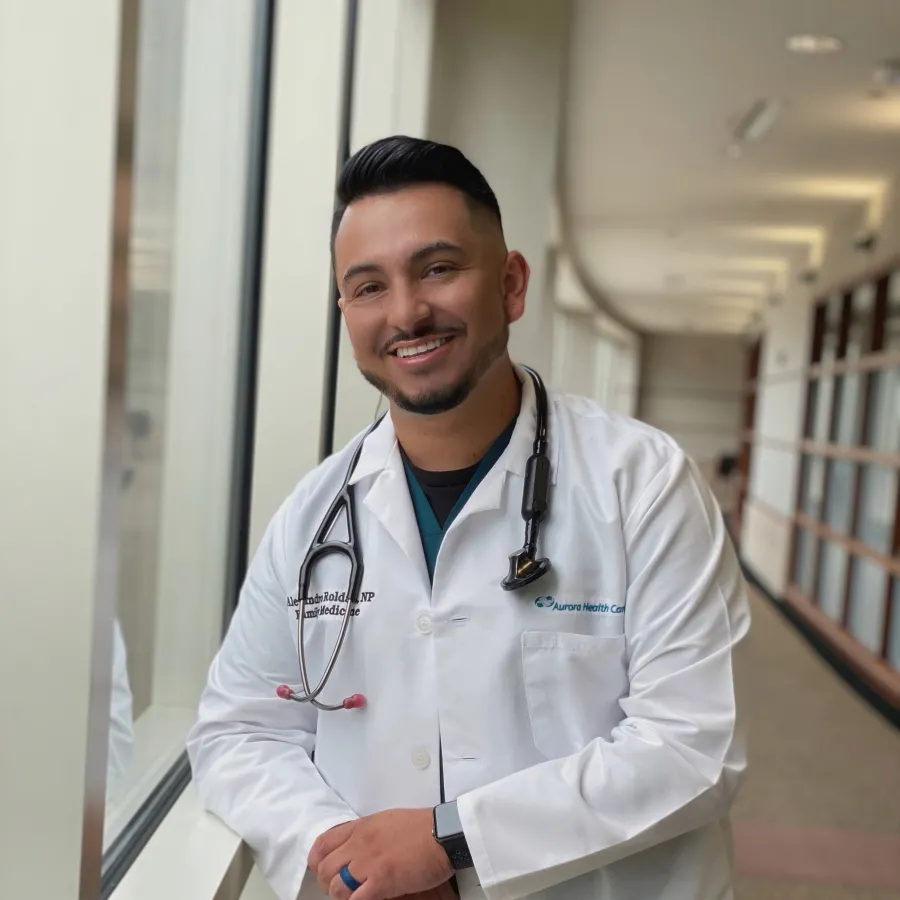 Alejandro Roldan
Herzing Alumni
Alejandro Roldan has seen the profound influence of healthcare from multiple perspectives. As a child, he admired his family already in the field, who provided him with a first-hand understanding of the fulfilling career path. His interest was further shaped by seeing his grandmother's courageous battle with cancer. These experiences ignited both a passion for medicine and a commitment to aiding those in need.
With his sights set on a healthcare career, Alejandro earned a biology degree but knew that he wanted more. That's when he discovered Herzing's BSN program, which could be completed in as little as 18 months and was extra attractive for someone wanting to jump right in. 
"Not only was I able to start my program quickly, but I knew I could earn my degree in less than 4 years, ultimately fast-tracking my plans for career advancement," Alejandro shared. "It felt like the perfect fit."
From there, Alejandro dove into the accelerated BSN program headfirst.
"My journey at Herzing played a pivotal role in molding my nursing foundation," he recalled. "The hands-on curriculum and the unwavering dedication of my professors instilled in me the significance of approaching patient care holistically. It's a perspective that I'm committed to passing on to both my students and patients."
During his studies, Alejandro balanced coursework with his role as a Certified Nursing Assistant (CNA). Beginning in the ICU, he started as a nurse extern and worked his way to eventually become a registered nurse (RN). His journey involved managing demanding schedules alongside teaching clinicals. Yet the experience in a unit dealing with high-acuity cases broadened his understanding of healthcare and also took him along a path he never expected, one where he would teach others the skills and career he loved.
"I was never going to become an educator after graduating from nursing school. It was not in the plans, but sometimes plans change," he confessed. "I agreed to give it a try for one semester. That was six and a half years ago. I love it. Every day I strive to be the kind of professor that I knew I needed during my own educational experience. I also want to promote diverse representation that so much of healthcare is lacking."
As someone of Hispanic heritage, Alejandro is a strong advocate for diversity, equity and inclusion (DEI) in healthcare. 
"Promoting DEI should start in schools to build a foundation for culturally competent care. Having a diverse healthcare team fosters varied perspectives, trust, innovation and better patient outcomes," he said. "It's crucial that patients see healthcare providers who understand their culture, language and background, as it leads to more effective care."
Another significant aspect of Alejandro's journey is his commitment to promoting neurodiversity. Drawing from his personal experience with ADHD, Alejandro stresses the importance of understanding neurodiversity and understanding the strengths and uniqueness of each individual's brain. Influenced by his youngest son's experience with an IEP, Alejandro has seen how neurodiversity training is often overlooked. The need to introduce educational programs and awareness campaigns, especially in minority communities, is something deeply important to him.
"I discovered my own ADHD later in college, as I struggled academically. Being evaluated for ADHD made things finally click for me. I want to ensure other families, parents, teachers and students understand neurodiversity and how it impacts their lives," Alejandro shared. "This is personal to me because, as a person of color, I believe everyone deserves the best care, regardless of their background. We should make the effort to better collaborate with experts to promote more comprehensive care in our communities."
To do this, Alejandro recommends every healthcare worker find ways to volunteer and give back both in their time and their knowledge. In 2018, he joined the Greater Milwaukee chapter of the National Association of Hispanic Nurses (NAHN), an inspiring and rewarding experience that he is heavily involved in.
His involvement reinforces the importance of community engagement, advocacy and mentorship in healthcare. Currently serving as the academic liaison for NAHN, Alejandro actively forges partnerships with academic institutions, promoting their organization, and encouraging students of color to step forward. He points out the doors that have opened through this involvement, not just for personal growth but for creating a supportive community. 
"Being in a group that had all these Hispanic and Latino professionals who were also in the healthcare field, who were also nurses, was amazing," he said. "My involvement has opened so many doors that I'm forever grateful because it created a greater sense of community. It's all about helping others who may feel isolated in their journey, perhaps being the only Hispanic or Latino nurse in their cohort or on their floor."
As many healthcare workers know, balancing so many responsibilities can be exhausting, but for Alejandro, it's a constant motivator as he pursues his true calling to make the healthcare field more inclusive and progressive.
Madison365 recently named Alejandro as one of Wisconsin's Top 40 Leaders. This achievement speaks to Alejandro's impact on the community and ability to positively influence his peers and the next generation of healthcare workers.  
"I want to make sure that I help build everyone who's around me up to where we can help elevate each other," he states firmly. "To do the most you can do to help others, you need to embrace every opportunity you get while surrounding yourself with those who bring out the best in you. We are stronger together."