Bachelor's Degree
Go from Paramedic to RN
ASN/BSN Degree Options
Bachelor's Degree
Go from Paramedic to RN
ASN/BSN Degree Options
Bridge from paramedic to nursing faster
| | |
| --- | --- |
| Accreditation | CCNE accredited BSN program option1, Accredited by the Higher Learning Commission |
| Program length | 20-28 months, depending on your degree choice |
| Options | Choose an ASN or BSN degree pathway (Paramedic to ASN only available in Nashville, Orlando and Tampa) |
| Credits to graduate | 72-120 credits |
| Transfer credit | Up to 52-90 approved credits |
| Format | Online general education classes + core on-campus courses; you may also choose our online BSN bridge option with 100% online didactic classwork |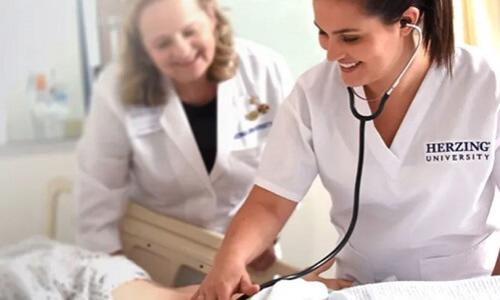 Overview: Paramedic to ASN/BSN Degree Options
The Paramedic to RN pathway includes associate and bachelor's degree in nursing program options which prepare you for a career as a registered nurse. Each program provides students with fundamental knowledge and skills in the nursing process, health assessment, managing care, evidence-based practice, and much more.

Career-focused curriculum
Discover the crucial knowledge and skills required to succeed in your work and build a foundation for continued career growth.

Flexible schedule
We work hard to help you maintain school-life balance, striving to be as flexible as possible for busy non-traditional students.

Experienced faculty
Get face-to-face instruction from experienced and credentialed faculty with real-world success in the field.

Lifelong support
We support your ongoing career advancement by providing comprehensive, personalized student services with lifelong career coaching.

Rolling admissions
No application deadlines to worry about. Apply when you're ready and prepare to get started soon.
Classes Start January 8th
Learn More Today
Choose your career pathway with Herzing
Bachelor's degree
Paramedic to BSN
Program length: 28 months
Credits: 120 credits to graduate
Campus availability
Your nursing career is possible
Join Emily and embark on a complete, holistic, career-focused education preparing you with the skills and knowledge to succeed as a registered nurse.
Job outlook and pay potential
According to the Bureau of Labor Statistics, employment of registered nurse is expected to increase 6% from 2021-2031, about as fast as the average across all U.S. occupations.*
Registered nurses earn an average salary of $82,750 per year ($39.78 per hour). That would represent a significant raise for the average paramedic in the US ($49,500 per year, $23.80 per hour).
You can take a big step forward in your nursing career by becoming an RN.
Going from paramedic to RN
Pursuing the RN career path means transitioning from working as a first responder to becoming a crucial contributor to ongoing care once the patient reaches the hospital (or other medical facility).
As a registered nurse you'll be the backbone of day-to-day operations in many healthcare settings. RNs help to:
Develop and direct treatment plans
Counsel patients and family members
Ensure patient comfort
Serve as the key connection between doctors and patients
Registered Nurse ranks as the #8 Best Healthcare Job for 2023 according to U.S. News & World Report.
Can I specialize? RNs can specialize in an area of their choosing with enough education and experience. You may be able to use your experience as a paramedic to help become an emergency/ER nurse in the future.
Disclosures
Accreditations
Accreditations & Disclosures
1. The baccalaureate degree program in nursing at Herzing University Brookfield, Kenosha, Madison, Minneapolis and Orlando are accredited by the Commission on Collegiate Nursing Education (http://www.ccneaccreditation.org). This accreditation includes the baccalaureate degree program offered at the satellite Herzing University Tampa location. Herzing University is approved to offer programs in an online learning modality through association with the main campus in Madison, Wisconsin.
Herzing University is accredited by the Higher Learning Commission (hlcommission.org), an institutional accreditation agency recognized by the U.S. Department of Education.