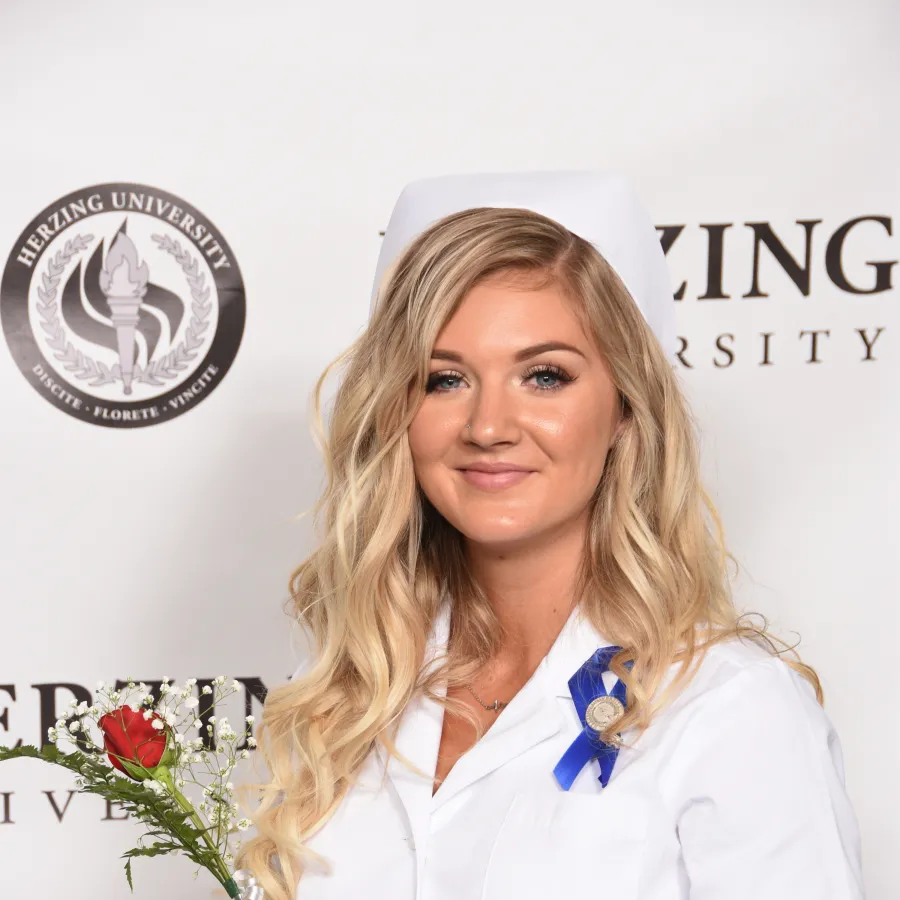 Jordan Sharon
Herzing Alumni
Growing up, Jordan Sharon always thought she wanted to go to medical school, and her family encouraged it – but two significant events changed her perspective. While she was still in high school, Jordan's brother underwent spinal fusion surgery and landed in the ICU with complications. As he recovered, she noticed the compassion shown by the nurses and the time they spent with him. That experience first opened her eyes to the valuable and rewarding work that nurses do.
The second event occurred while Jordan was working towards a bachelor's degree in biology from a traditional four-year school about 600 miles away from her home and family. Jordan said the time away from home, on her own, was transformative and led her to realize her true calling was to become a nurse.
After finishing her bachelor's degree in biology, she quickly pivoted to pursuing a nursing career at Herzing-Orlando. She enrolled in the accelerated BSN program, which is designed for students who already have a bachelor's degree and takes about 20 months to complete.  
"The accelerated program is condensed. It's not for everyone," Jordan said. "It's a full-time commitment, with quizzes and tests every week and classes that change every 8 weeks, plus clinicals and community service work. It requires expert time management skills and serious dedication. I knew if I could get through all of that, I would be able to handle anything my career threw at me."
Jordan honed the skills she was learning in classes and labs through a variety of clinical experiences at a nursing home, a rehabilitation floor, a transplant unit and more. She realized she wanted to work in the ICU during her eight-week practicum at a regional hospital.
"I had a great experience with my clinicals and practicum, and that was partly because my nurse managers and charge nurses already had a positive attitude toward Herzing from their work with previous students," Jordan said. "It was nice knowing that they respected me, and getting to know the nurses you work with can give you an advantage when job searching."
Jordan finished the program in August 2018 and passed her NCLEX to officially become a registered nurse (RN) before walking at graduation that October, where Herzing presented her with the Clinical Excellence Award. She started a full-time position as an RN in the ICU at a local hospital the same month.   
"I chose to work in the ICU because I like to be challenged every day," Jordan said. "Doing my practicum in the ICU showed me that I would learn something during each shift. I'm also grateful to have the opportunity to save lives by providing patient care right there at the bedside."
In addition to working full-time in the ICU, Jordan was recently commissioned to be a critical care nurse as a First Lieutenant with the Army Reserve. Her 3-year contract allows her to continue working fulltime in the ICU while she fulfills her Army training duties during one weekend each month and two weeks every summer. Herzing Nursing Professor Dr. Alina Ruiz submitted a letter of recommendation on Jordan's behalf, one of many requirements for her to join the Army as an officer in nursing.
Jordan wants to continue her education to graduate school in hopes of becoming a nurse anesthetist.
"My ultimate goal is to go active duty in the Army as a nurse anesthetist," Jordan said. "I want to be an advocate for veterans and other military personnel and help ensure they get the best possible care. I want to be of service, and I want to help."