Banner Image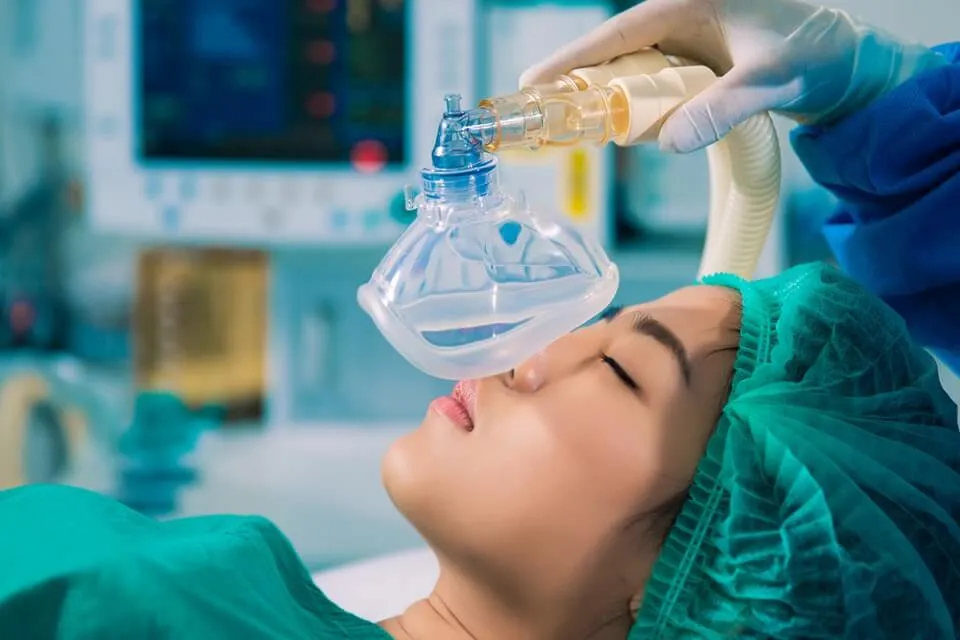 A nurse anesthetist represents one of the most advanced and qualified specialties in nursing. This special type of advanced practice registered nurse (APRN) is certified and trained in administering anesthesia to patients.
They play a critical role in a variety of healthcare settings, command high salaries and continue to be in demand across the United States. For these reasons and many more, now's an excellent time to map out your future in nursing—and an extremely rewarding career as a nurse anesthetist. Here's how to get started.
How long it takes to become a CRNA depends on where you are in your nursing career. It could take several years of education and working experience to reach such a professional height.
Note: Herzing University does not offer a master's level CRNA program. However, if you are 1) not yet a nurse or 2) a registered nurse with an associate's degree, we offer BSN programs to help you take a big step to becoming a nurse anesthetist. See step 2 for details.
1. What is a nurse anesthetist?
A nurse anesthetist is an advanced practice registered nurse (APRN) certified and trained to administer anesthesia for surgery, labor and delivery, emergency care or pain management. It surprises many people to learn that anesthesia services are provided the same way by nurses and physicians (anesthesiologists); they provide the same service for the same procedures in the same types of facilities. The anesthesiologists provide a collaborative oversight of the CRNA's to ensure best practice for patients.
In fact, according to the American Association of Nurse Anesthetists (AANA), most of the hands-on anesthesia patient care in the United States is delivered by nurse anesthetists.
Commonly called CRNAs (Certified Registered Nurse Anesthetists), the profession got its start during the Civil War when nurses were on the front lines administering chloroform to wounded soldiers. Today, they are the anesthesia providers in nearly all rural hospitals and the main providers of anesthesia to the men and women serving in the U.S. Armed Forces.
Become a CRNA and you'll discover a vibrant, in-demand career, but you need to have specialized training and an excellent education to pave the way for a future at the top of the nursing profession.
Life as a nurse anesthetist: Career profile
U.S. News and World Report ranked nurse anesthetist #19 on its 2021 list of the 100 best jobs in America and #8 on its list of Best Healthcare Jobs. There are a lot of reasons this career path is attracting the attention of high school and college students as well as RNs ready to advance their practice. For starters, it's extremely fulfilling to know you're playing a vital role in patient care. It's also a job that offers a high salary and a manageable work-life balance.
Where can you work?
Demand for nurse anesthetists continues to grow across the United States, according to the Bureau of Labor Statistics.* Once you become a licensed CRNA, you'll be needed in many different healthcare environments:
Medical and surgical hospitals
Outpatient care enters
Offices of dentists, plastic surgeons, pain management specialists, and other medical professionals
U.S. military facilities
What will your workdays be like?
Whether you end up working in an intensive care unit (ICU) of a busy urban hospital or a walk-in clinic in small town America, your day as a nurse anesthetist will be varied and interesting. Typically, you'll work in collaboration with anesthesiologists, anesthesiologist assistants, physicians, nurses and other healthcare professionals.
There are numerous tasks you'll be responsible for, including caring for patients under anesthesia, intubating patients who may require it, monitoring their vital signs, administering medications, managing ventilators or simply talking with them and calming their nerves. As a nurse anesthetist you will:
Provide patient care before, during and after surgery.
Tend to expectant mothers before, during and after labor and delivery.
Participate in diagnostic and therapeutic procedures.
Provide trauma stabilization and critical care interventions.
Diagnose and deliver acute and chronic pain management.
When you're not actually tending to your patients, you'll spend time reviewing their histories, setting up the room where procedures are conducted and organizing the meds that will be required. At the end of the day, you'll go home knowing you played a vital role in the advocacy and care of the patients for whom you were responsible.
How much can you make as a nurse anesthetist?
Loving what you do for a living is important. Being acknowledged and paid well for your specialized knowledge and training is an added bonus.
According to the Bureau of Labor Statistics, the average annual salary for nurse anesthetists is $202,470 per year ($97.34 per hour).* Of course, your pay will depend on what state you work in and the type of facility where you are employed, but no matter where you live, becoming a CRNA can be a very lucrative career choice. Learn everything you need to know about how much a nurse anesthetist makes.
There are many different kinds of nurses and anesthesiology represents one of the higher paying specialties in the nursing profession. The cost of a graduate-level education can be a deterrent for some students, but in the case of CRNAs the return on your investment can be substantial.
What is the current job market for nurse anesthetists?
To help meet the growing and consistent need for safe and effective anesthesia care, the American Association of Nurse Anesthetists (AANA) strongly encourages high school and college students to consider this highly rewarding career path. Advanced practice RNs like nurse anesthetists are being increasingly counted on to provide care to patients in a broad range of settings and environments, particularly in medically underserved areas such as inner cities and rural areas.
Here's how great the need has become for these master's-educated nursing professionals: The U.S. Bureau of Labor Statistics projects overall employment for nurse anesthetists to grow 13% from 2020­­-2030, faster than the national average for all other occupations.
If you're looking for a nursing career that comes with a high level of autonomy, professional respect, increasing opportunity and an excellent average salary, you'll want to consider becoming a CRNA.
2. Become a registered nurse with a Bachelor of Science in Nursing (BSN)
To become a nurse anesthetist, you must have a registered nurse (RN) license and a master's degree from an accredited MSN program with a CRNA program. While it's true that you can become an RN after earning your associate degree in nursing, a key requirement for earning your master's degree and becoming a CRNA is getting your BSN.
Certain BSN programs are specifically set up for future-focused students who've set their sights on advanced practice, specialized careers. For example, Herzing University offers a frequently updated BSN curriculum based upon the needs and demands of today's job market.
The time needed to become a nurse can vary. At Herzing, there are several different entry points to the BSN program, depending on where you are in your current career and the amount of transferrable credits you already have from prior learning and work experiences.
If you are new to nursing, you can pursue a bachelor's degree program designed to help you become an RN and equip you for a graduate nursing program. We offer on-campus programs at several locations, and an online BSN degree program eligible for enrollment in select U.S. states.
If you are already an RN, you can choose an RN to BSN online program that can be completed in 12 months or less.
If you already have a bachelor's degree in a different field, you can choose an accelerated BSN program designed to prepare you for professional nursing practice in just 20 months. You may also be eligible for our online Direct Entry MSN program, in which you can alternatively earn a master's degree in as few as 20 months.
Once you complete your BSN, pass the NCLEX exam and become licensed in your state, you'll be eligible to practice as a registered nurse. From there, it's just a matter of gaining enough experience in an acute care setting before you can apply to a nurse anesthesia program and earn your master's degree.
One significant advantage of choosing Herzing is that the school's BSN program has six start dates throughout the year, ensuring you can start soon, but allowing enough time to make any necessary adjustments to your personal and work schedules to accommodate your studies.
To make sure you're on the right track towards a career as a nurse anesthetist, it'll help if your bachelor's degree also prepares you for continuing your education. Herzing's BSN curriculum emphasizes a professional ethic that includes lifelong learning and continuous professional development in an ever-evolving healthcare environment.
3. Gain experience and pursue your master's degree
After working in an ICU or the emergency room of a hospital or an ambulatory center (usually for 2+ years), you must earn a master's degree from an accredited nurse anesthesia program, which typically takes between 24 and 36 months to complete (with a BSN as a prerequisite for enrollment). Many MSN programs will allow you to complete a certain amount of coursework online.
Your chosen program will typically include clinical practice near you where you'll become familiar with a number of procedures requiring anesthesia.
The most prominent accreditation board is the Council on Accreditation of Nurse Anesthesia Educational Programs (COA). The organization grants public recognition to nurse anesthesia programs and institutions that award post master's certificates, master's, and doctoral degrees that meet nationally established standards of academic quality.
Admission to accredited programs can be very competitive, so start doing your homework and researching programs as early as you can.
Herzing University does not currently offer a nurse anesthetist program. You can find an accredited CRNA program in your area by searching this list.
4. Get certified as a nurse anesthetist
The last hurdle to qualifying for a nurse anesthetist position will be to pass your National Certification Examination (NCE), offered by the National Board of Certification and Recertification for Nurse Anesthetists (NBCRNA).
The NBCRNA reports about 84% of students pass the exam on their first try, and you'll need recertify via the Continued Professional Certification (CPC) Program every 4 years. The NBRCNA website offers exam tutorials and practice exams to help you prepare.
5. Start a rewarding career as a nurse anesthetist
Regardless of where you are in your academic and professional life, there's a clear path to follow that can lead to a satisfying career as a nurse anesthetist. It starts with earning a CCNE-accredited bachelor's degree from a highly respected school of nursing if you haven't already done so.
If you're inspired to learn more, we're here to make sure your next step will be a sound investment in your future in nursing.
---
* Bureau of Labor Statistics (BLS), U.S. Department of Labor, Occupational Outlook Handbook 2020. BLS estimates do not represent entry-level wages and/or salaries. Multiple factors, including prior experience, age, geography market in which you want to work and degree field, will affect career outcomes and earnings. Herzing neither represents that its graduates will earn the average salaries calculated by BLS for a particular job nor guarantees that graduation from its program will result in a job, promotion, salary increase or other career growth.
Classes Start January 9th
Learn More Today