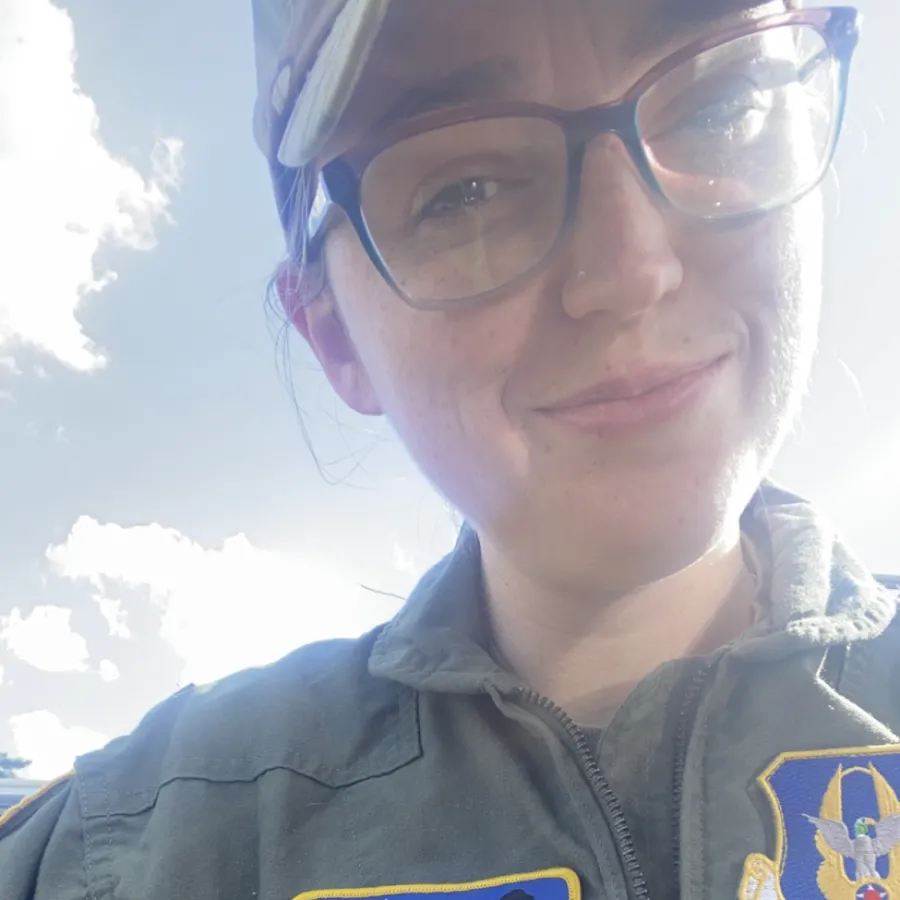 Lauren McCue
Herzing Alumni
Each Veterans Day we honor the brave individuals who have selflessly served our country. At Herzing University, we proudly embrace this opportunity to recognize the dedication of our student veterans and our continued commitment to their education and success as reflected in our designation as a 2022-2023 Military Friendly® School by VIQTORY, as well as our recognition by U.S. News & World Report as one of the "Best Online Bachelor's Degree Programs for Veterans" and "Best Online Master's in Nursing Programs for Veterans." 
This year, we proudly shine a spotlight on Lauren McCue, a remarkable member of the Herzing community who exemplifies the significance of supporting veterans and is a symbol of the profound impact that a veteran-friendly education can have. Lauren's journey, as both a nurse and an Air Force veteran, embodies the essence of service and compassion. 
Lauren originally worked as a nurse after graduating from college. She was drawn to nursing through a passion to serve others and be a catalyst for positive change, but she couldn't help but think about another path that she had always been interested in.
"I always wanted to join the military," Lauren shared. "It's a desire that's been with me since I was a kid. The idea of serving my country and making a meaningful impact has always resonated with me."
Lauren's interest in the military was heavily influenced by her father's service in the New York Fire Department. During the September 11 attacks, Lauren's father was working as a volunteer fireman/EMT in New York City. This event and the response it prompted from healthcare workers and military personnel planted a seed of interest in the military that would later blossom into a life-changing career choice.
Her path, though unconventional, led her to a unique intersection of careers that came to define her life. The transition into the military marked a significant turning point in her story, as she ventured into a new chapter of dedication, selflessness and a patriotic commitment to her country.
Lauren's nursing experience benefitted her military service, where she worked as an Air Force flight nurse, playing a vital role in bringing critically injured soldiers home to their families. Lauren also has worked to oversee mass-casualty simulations, a critical part of preparing healthcare professionals and military personnel for high-stress experiences where composure and confidence converge.
Because of her experience with simulators, Lauren has seen first-hand how technology and innovation can influence the next generation of heroes, both in healthcare and on the front lines.
"Simulations are instrumental in the education and preparedness of both healthcare and military professionals," she observed. "I see them as a bridge between theory and practice, a vital tool in honing the skills and quick thinking required for life-saving situations."
In Lauren's line of work, one bad day on the job can leave a lasting impact, take a toll on one's mental health and turn motivation into a sense of panic. But Lauren's experience on the front lines and in healthcare has taught her that staying composed is a significant part of pushing through and succeeding in your mission.
"It can be extremely challenging to manage my own emotions in high-stress situations," she would say, often asking herself how she can best handle those moments without panicking about those she cares for. 
With such an emotionally taxing career path, it's essential to have a strong support system. But who supports those who support others?
Lauren finds solace in her family, who continue to motivate her and provide the guidance that has been instrumental in her achievements. She also values the support and camaraderie of her friends in the industry, who provide a network to lean on and discuss the unique challenges they face.
"The unwavering support of my family has been a driving force behind my achievements. Their encouragement and guidance have played a pivotal role in my journey, and I'm truly grateful for their presence in my life," she said. "My friends in the industry are like a second family, always there to lend an ear or offer insights into the challenges we face."
After returning home from the military, Lauren became an adjunct professor at Herzing, where her experience in both nursing and the military enabled her to provide students with a unique perspective on the healthcare field.
"My experience here at Herzing has been instrumental in the advancement of my career," Lauren shared. "I've always been grateful for the exposure and learning opportunities that the university provided, which I believe are crucial for students to thrive in the real world. I've witnessed firsthand how far hands-on experience can go, giving students the confidence to succeed in even the most high-pressure situations."
Now, Lauren is adding to her Herzing experience by returning to the classroom as a student, pursuing her nurse practitioner's degree.
As both a student and educator, Lauren offers advice to future nursing students: "You are going to learn new things every day of your nursing career. Be accepting of the fact that you don't know what you don't know. Everybody is going to teach you something. Soak it all up. Be curious. Be compassionate. Be courageous."