Natasha Spieth
I was tired of low-paying, dead-end jobs. I wanted more out of life and I wanted to set a good example for my children. I chose to study medical billing and coding at Herzing University because I have healthcare experience and wanted a career in a growing field.
At first, I was skeptical that being an online student would work for me, but at Herzing, I never felt alone. All of my instructors were helpful and made me feel like they took a personal interest in me and my success.
The very beginning of classes was the hardest challenge for me to overcome. Growing up, I struggled in school. I was diagnosed with a learning disability at a young age. I had a hard time keeping up, and I was guilty of not putting forth a real effort. When I passed my college algebra class, it was a proud moment for me. I put forth the effort and it paid off!
I want other students to know that when you first get into the coding classes, it can feel overwhelming! There is a lot of information to absorb, but if you stick with it and use the tools Herzing provides, you will be successful!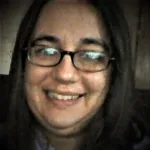 Natasha Spieth
Healthcare Student