Samantha Hudson
I wanted to be in a career where I could use compassion and medical knowledge to help others, and that's why I chose to earn my nursing degree. Despite the COVID-19 pandemic happening during my program, Herzing did a great job of getting all my courses, labs and clinicals scheduled!
Everything didn't always go smoothly, however! For example, on my first ATI test, I didn't do too well. Thankfully, my instructors helped and I increased my study time so that I was able to do much better and find success.
This program will test you, but always remember why you started. It helps to think back to when you were first accepted into the program and how happy you were. If you start to doubt yourself, just remember all the good that you will accomplish from hanging on and getting through nursing school. The Herzing staff, facility and instructors were so helpful, and I want to give a special shout-out to Mrs. Downs and Mrs. Julie Johnson for their help!
Nursing is definitely a hard career choice, but Herzing's program helped me find confidence in myself. At first, I thought that I wasn't smart enough to go to nursing school, but now am graduating with honors! I credit this to the teachers and classes for helping me evolve and learn. In particular, the Med/Surg and pharmacy courses were especially helpful in preparing me for my career.
After graduation, I hope to work as a nurse on a Med/Surg Unit. I have an interview for a new grad program, so hopefully, I will end up there. I enjoyed my time at Herzing and am now ready to get out there and start working as a BSN, RN!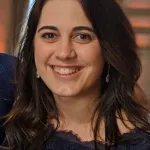 Samantha Hudson
Nursing Student